1984
Ron Shuman wins the Western World Championship for the 4th time, and the Turkey Night Grand Prix at ASCOT for the 5th time.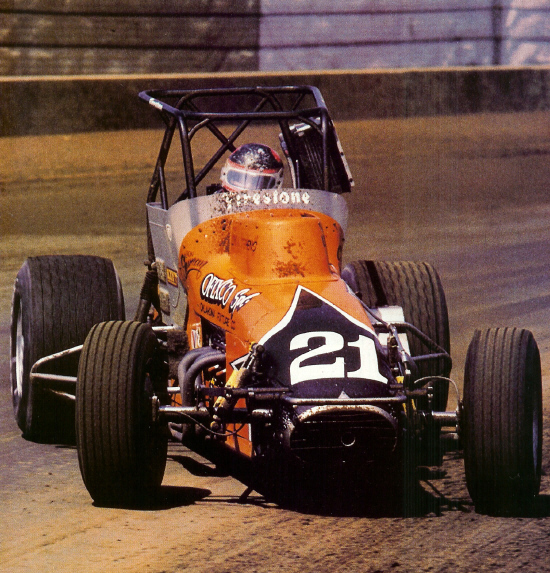 Scanned from Open Wheel, from the Holtsman collection, Ron Shuman is in the Ofixco Champ Dirt car. Shuman was easily one of the best non-wing dirt drivers we ever saw compete.
Steve Kinser is the World of Outlaws champion.
Doug Wolfgang won the Knoxville Nationals and the National Open at Williams Grove.
Bubby Jones is CRA Champ.
Fred Linder All-Star Champion.
Dave Bradway Jr. is Bayland Track Champion.
Doty Dominates But Kinser Wins Gold Cup.
Mark Kinser shares World of Outlaws Rookie of the Year honors with Greg Wooley.
Rick Hood is USAC Sprint Car champion.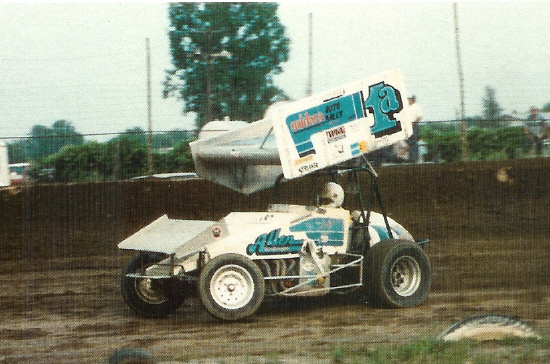 Hall of Famer, Bobby Allen hustles the low groove - 1984 WoO Yearbook - (Holtsman Family Collection)
LeRoy Van Conett wins an unprecedented 8th NARC Championship.
Steve Siegel is Lincoln Speedway Champion.
Lealand McSpadden wins the Dirt Cup.
Tom Bigelow earns USAC Midget championship.
Brent Kaeding is Kings Speedway Track Champ
Rocky Hodges sets a World Record for Mile Dirt Tracks, goes 134.449 MPH at Syracuse.
Chuck Gurney Breaks Through on Springfield Mile, wins USAC Silver Crown.
Sammy Swindell wins $6,000 in East Bay Nationals.
Dan Burton is Silver Dollar Speedway champ.
Russ Gamester is the USAC National midget Rookie of the Year.
Johnny Herrera runs his first sprint car race at age 17.
Jimmy Carr is a Modified Rookie.
Mike Keller is Santa Maria Speedway Track Champ.
Shane Scott Named NARC Rookie of the Year after finishing 2nd in points.
---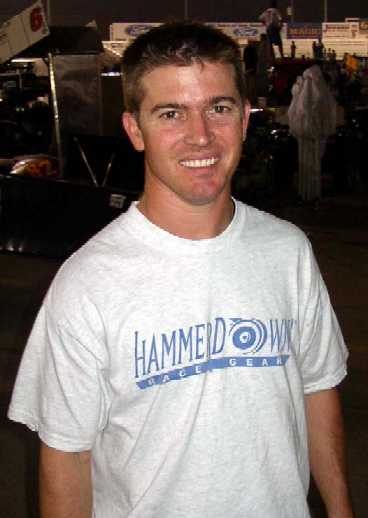 Paul McMahan wears the HammerDown! logo tee. (Jim Fleming Photo)
---
Drivers Index - Over 140 drivers with their own page!
Images

HammerDown! for Her
The HammerDown! Hat
Art Spaulding Photography Portfolio
Yearbook Headlines - ...Yet another HammerDown! "work-in-progress" that we enjoy sharing with our readers. Please check back often, as each year will be updated further.
1968 1969 1970 1971 1972 1973 1974 1975 1976 1977 1978 1979 1980 1981 1982 1983 1984 1985 1986 1987 1988 1989 1990 1991 1992 1993 1994 1995 1996 1997 1998 1999 2000 2001 2002
25 Greatest Sprint Car Drivers of All-time
40 Most Exciting Drivers in NARC History
---