DRIVERS
Mark Kinser
Roth Hires Mark & Karl Kinser - By Richard Day - FRESNO, CA (June 9) – Mark Kinser has been hired as the driver and Karl Kinser is the new crew chief for the #83 Beef Packers Maxim that races with the World of Outlaws Sprint Series, car owner Dennis Roth announced Wednesday. "This is exciting!" Roth exclaimed. "I really wasn't sure if we would be able to put something together with them. It came up on the spur of the moment. Karl is the greatest mechanic in sprint car racing history and Mark, his son, has won a lot of races. I think, with my help, they can put together a team that will win a lot of races. I think this will be exciting for the fans and we will be a player out there every night." (more)

Mark Kinser Wins Budweiser Spring Classic at Knoxville By Richard Day KNOXVILLE, IA (May 1) – The last time Mark Kinser raced at Knoxville Raceway, his father, Karl Kinser, underwent an emergency appendectomy at Knoxville Area Community Hospital during the Knoxville Nationals. That somber memory was still on Kinser's mind Saturday when he won the Budweiser Spring Classic – only his second World of Outlaws Sprint Series event this season. "I have to thank pretty much the entire staff of Knoxville Hospital," Mark said. "They got us through a rough time, and I still get pretty choked up even thinking about it. "We finally got some good help. We've had trouble keeping good help around. I guess when you're not running up front, they don't want to stay. We have Chris (Strait) working for us now, and I think he's one of the best mechanics I've ever had. "I have to thank Chuck Merrill of Maxim Chassis. We have an experimental car – it's the only one like it in the field. He and my dad put their heads together and came up with something that really worked here tonight. I didn't really think I was that well liked or respected around here, but I've had a lot of fans come up this weekend and say they're glad to see me back. That really means a lot." (More)

Karl Kinser Recovers from Surgery By Richard Day OOLITIC, IN (September 8) – It's almost impossible to keep a living legend down. Karl Kinser, who missed his first Ford Dealers of Iowa Knoxville Nationals in 27 years when he was taken to Knoxville Area Community Hospital August 16th for an emergency appendectomy, is recovering at his home these days. "I'll remember that Nationals," Kinser said with a laugh Monday. "I was there for the races and I couldn't believe I was going to get sick and not be able to go. I couldn't do much more than get out of bed for two days at the motel and finally, I had to get up and go. I missed being at the track, but was only about five blocks away." Kinser, who has won 17 O'Reilly World of Outlaws Series car owner championships, has even been tinkering with his #5M SABKO Maxim. Karl's son, Mark, finished 16th in the Nationals championship race despite racing with a heavy heart. The two-time series champion has not raced during his father's recovery. Mark and his wife, Cindy, drove Kinser home to Oolitic after he spent a week in the hospital. Karl still visits his local doctor for checkups as he completes his recovery. "I'm doing good," Karl said. "I'm getting back on my feet full strength now. I'd say in another week or week and a half, I'll be back 100 percent. I can be up now for three or four hours, then I need to go rest a little bit. When I first got home, I couldn't be up 45 minutes or an hour. "We're hoping to get arranged around here and go racing again soon. It's a good possibility the car will be at Eagle (Raceway for the One/Third-Mile Short Track Nationals September 19-20). Mark's run there enough; he can run there without me. I'm hoping to go to the Williams Grove National Open (October 3-4).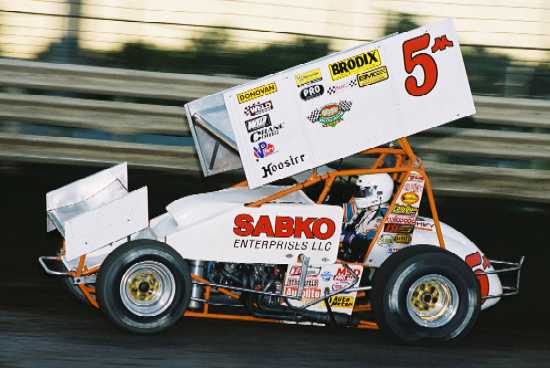 Mark Kinser charged from 14th to 2nd in the 25 lap feature at the Knoxville Raceway on Sat. night July 12th, 2003. Doug Johnson Photos

Mark Kinser Wins First Feature of the Year at Hagerstown By Richard Day HAGERSTOWN, MD (May 19) – Before Monday at Hagerstown Speedway, the last time Mark Kinser won an O'Reilly World of Outlaws Series "A" Feature he was leading the point standings. The two-time series champion dominated Monday's rain-delayed main event at Hagerstown, leading all 30 laps to win for the first time this season. Almost 13 months passed since the 1984 co-Rookie of the Year paased Danny Lasoski for the points lead while winning at Lakeside Speedway. The $10,000 victory was Kinser's fifth at Hagerstown's ½-mile oval. "Man, it feels good," Kinser yelled to the capacity crowd. "It's been over a year for us. We picked up a sponsor for the eastern swing here with Sabco, and it's nice to win for them. The car worked great all race long, but I knew there toward the end someone had to be coming. "We had to change engines after qualifying. A lot of times when that happens you can't get the car prepared for the later races, but my guys did a great job changing it in 15 minutes, and gave me a great car the rest of the night." (read it all)

...Good article about Mark and Karl Kinser by Jeff Bartlett of the Bedford Times-Mail in Bedford, Indiana. You can read it here.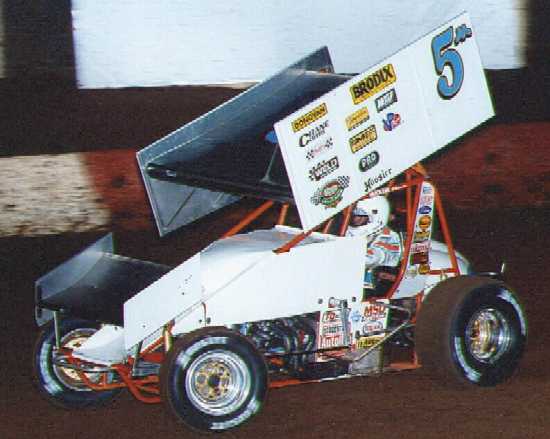 Mark Kinser drives the Karl Kinser #5m at Perris (Jim Fleming Photo)

July, 2002 - ...Speaking of tough, Mark Kinser says his hand, injured at W. Fargo, ND. Is now "good enough".

Hanford - 2001 (GT)

Mark Kinser Ends Slump in Grays Harbor Opener By Richard Day ELMA, WA (August 16) – Mark Kinser, struggling through his least productive season in 10 years, returned to victory lane Friday when the Pennzoil World of Outlaws Series opened a $95,350 event at Grays Harbor Raceway Park. The series' two-time champion passed cousin Steve Kinser following a third-lap restart and led the final 22 1/3 laps to claim his third Preliminary Feature victory of the year. The $5,000 victory was Mark's first since April 24th at Lakeside Speedway. "We've been in a slump – to say the least – for I don't know how long," Kinser said. "Cale Kahne, from here in Washington, and Dennis (Kohler) and Justin (Adams), they've been working really hard. They've stuck by me through some tough times, and Mopar has, too. (read it all)

...From Positivity - July, 2002 ...Tyler Walker and Mark Kinser are both lucky to be racing, after a violent accident in the Independence Day feature. Walker had taken the early lead, but had a piece of debris, or a rock, take out his engine. The motor seized, locking Walker's rear wheels, as he skidded to the inside edge of the back straight-away. Mark Kinser was blinded to the situation, as he was racing behind Tim Shaffer, who swerved at the last second. Mark had nowhere to go when he saw the stopped Walker's #35. At full throttle, Kinser drove through Walker's car, igniting a fire. Tyler jumped out of his car, and Mark was knocked unconscious. Kinser was "out" for a couple seconds, before being helped from the destroyed Mopar #5m. Despite a hand injury, Mark never went to the 'crash house', and returned to race the next two nights. Crewman, Dennis Kohler said "I know for a fact that's the hardest crash Mark Kinser has had in six years".

...The stuff you learn... Karl Kinser says you can build your own wings, by buying a wing-kit. Cost for the do-it-yourself is $300, nearly half of what it costs to buy a complete wing at the track.

Mark Kinser Wins at Nebraska Raceway Park - HD Staff, 05/03/02 - Greenwood, NE. - Mark Kinser has always been good at Greenwood. Friday night, Mark won again in World of Outlaws action at the scary fast 1/2 mile. Danny Lasoski finished second, ahead of Joey Saldana, who led 19 circuits of the 25 lap feature run. Steve Kinser finished fourth, with Tim Shaffer fifth. (read Greg Stephens' WoO results)

Lakeside's Fantastic Voyage to Mark Kinser - HD Staff, 04/24/02 Kansas City, KS. ...Mark Kinser led every lap of the Pennzoil World of Outlaws A feature at Lakeside Speedway, Wednesday night. 16-time WoO champion, Steve Kinser finished second, while Randy Hannagan was third. Johnny Herrera and Danny Lasoski completed the top five. Lasoski paced the 34 car field in time-trials, driving the Tony Stewart owned sprinter. (Summary and WoO points)

Magnolia is Mark's Too - HD Staff. Magnolia, MS. - 03/25/02 - Mark Kinser won his second straight World of Outlaws A-Main Monday night. Mark drove his father, Karl's #5m Maxim to victory at Pike County Speedway. Only 19 cars showed up. The top five included, Steve Kinser, Tim Shaffer, Craig Dollansky, and Joey Saldana. (summary)

Mark Kinser Wins Texas Shootout by an Eyelash By Richard Day BAYTOWN, TX (March 24) – Ronald Laney had to be smiling as he watched the Pennzoil World of Outlaws Series Third Annual Texas Shootout from heaven Sunday. Mark Kinser, who raced with Laney's wing cap on the #5M Mopar Maxim throughout the weekend in tribute to the late Humble, TX, driver, beat Donny Schatz under the checkered flag by only .012 seconds to win the Houston Raceway Park event for the second straight year. "I'm just really proud to win here with the Laney name on the wing," Kinser said. "This is Ronald Laney country, and we miss having him out here." (read the whole deal)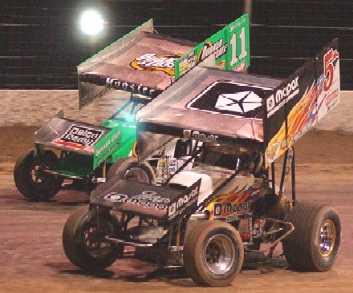 Mark races under Steve at Las Vegas 2002 (David Allio)
Friday Night is Mark's- 03/01/02 - HD Staff - Las Vegas, NV. ...Mark Kinser scored his first win of 2002 Friday night at frigid Las Vegas Motor Speedway. Driving his father's Mopar/Maxim, Kinser led from start to finish. Sammy Swindell continued his string of impressive drives in the Roth Motorsports #83jr, finishing second. Steve Kinser, Stevie Smith, and Jason Meyers rounded out the top five. ...Check out the updates we were receiving via cell phone, and pay phone from Steve Gomez, and Mike Zieske. READ HERE