1990
Bobby Allen wins the Knoxville Nationals in an Upset! Wolfgang 5th After Alphabet Charge From the D.
Bill Vuckovich III is killed at Mesa Marin Raceway in Bakersfield, CA.
ASCOT Park, in Gardena, CA. closes. Last Race in November.
Jeff Gordon is crowned USAC National Midget driving champion. He also set a one-lap track record at Indianapolis Raceway Park in a sprint car. 121.847 mph.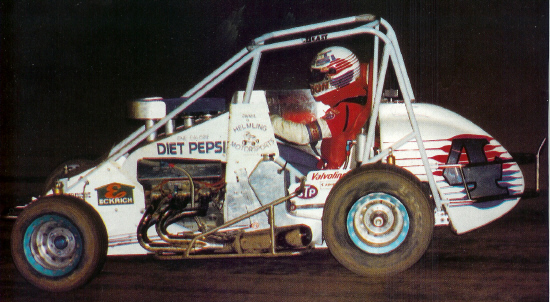 In 1990, Jeff Gordon won the Belleville Midget Nationals driving for Rollie Helmling.
Stan Fox won both Turkey Night (the final ASCOT race) & the midget portion of the Copper World Classic.
Doug Wolfgang Wins his 2nd Kings Royal $50,000

Steve Kent Snares his 4th Kings Speedway Title.
Stevie Smith is the World of Outlaws Rookie of the Year.
Jimmy Sills is the USAC Silver Crown Champion, winning at Cal-Expo's Golden State 100.
Chuck Gurney wins his 4th Springfield USAC Silver Crown race.
Tim Green wins his first NARC Championship.
Steve Kinser drove the Karl Kinser #11 to 27 World of Outlaws A-Main wins and another WoO Championship in 1990 after experimenting with the USA in 1989.
Sleepy Tripp is USAC Westen States midget champ for 5th time.
Brent Kaeding wins his 3rd consecutive Golden State Challenge title.
Steve Butler is USAC Sprint Car Champion for the 4th time. He is also Silver Crown, 4-Crown winner.
Sammy Swindell wins Ohio All-Star Speedweek title.
Rod Spencer wins his 2nd consecutive San Jose Speedway title.
Jack Hewitt wins his 2nd Hulman 100.
Ken Schrader repeats at Copper World Classic Silver Crown winner.
Jeff Swindell is DuQuoin 100 winner.
Greg DeCaires is the Chico, CA. track champion.
Gary Hieber is upset winner of the Hoosier Hundred.
Duane Scott is NARC Rookie of the Year.
Rick Martin wins the Beard Classic for the 2nd year in a row.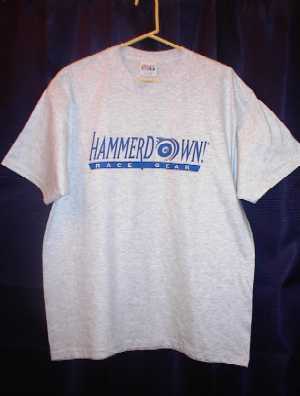 HammerDown! Publications. Now on sale in the HammerDown! Store

Art Spaulding Photography Portfolio
Images
Projects:
David Allio captures images at Las Vegas Motor Speedway. PHOTOS!
Yearbook Headlines - ...Yet another HammerDown! "work-in-progress" that we enjoy sharing with our readers. Please check back often, as each year will be updated further.