Welcome to HammerDownUSA.com, also known as HammerDown!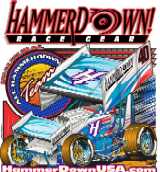 Drivers - 200 + Listed!
Mom's Tips - Apple Cake with warm sauce!
The top 100 driver pages for HammerDownUSA.com in 2004
USAC Western States Midgets Career winners
USAC Western States Sprint Cars Career winners:

25 Greatest Sprint Car Drivers
HammerDown! Hooded Striped Sweatshirts
Champions 2003, 2002, 2001, 2000
Yearbook Headlines - ...A HammerDown! "work-in-progress" that we enjoy sharing with our readers. Please check back often, as each year will be updated further.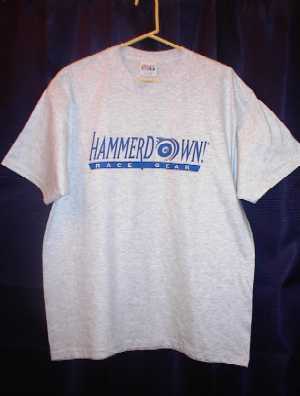 Common Destinations:
Google / Hoseheads / Open Wheel Times / SCRAfan.com / Skagit Speedway / Trophy Girls / USACracing.com / World of Outlaws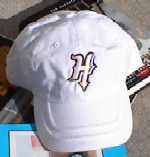 RRS Announces 2005 point earning events. - 01/15/05 - Rocklin, CA. ...The Racer's Racing Series (RRS) 2005 schedule is complete. The points system that rewards drivers in the biggest Sprint Car, Midget, and Championship-Dirt Car races in the USA will increase the number of point-earning non-winged events for its second season. The RRS was created to increase awareness of talented grass roots racers by highlighting their performances when the spotlight is brightest. In 2005, 60 races are available to choose from. 30 dirt and 30 pavement races are included, as are both winged and non-winged events. Unlike last season, the Racer's Racing Series will offer points at more than one venue on nights when big events conflict with one another. "The Dirt Cup, and Eagle Nationals fall on the same weekend", said RRS creator Bobby Gerould. "It was unreasonable to expect a driver in Nebraska to pass up a huge purse in his backyard and tow to Washington for an equally strong event just because we had that race on our schedule. So this year we will award points at both races." Similar scheduling conflicts are resolved the same way. Two events, identified as the biggest winged, and non-winged races, The Knoxville Nationals, and MOPAR Thunder at Eldora, will reward double points. In 2005, the top 15 finishers in the feature race at each event will score points. In 2004, points were given to the top 24 feature finishers. Funded by race fans and business contributions, the RRS will pay the top five drivers in 2005. All race fans and businesses that make a contribution will have their name or logo* listed on www.HammerDownUSA.com , and their names will be given to the winning drivers upon payment. Any size contribution will be accepted. Please mail to: HammerDown! Promotions, 5016 Knights Way Rocklin, CA. 95765. *($100 minimum for logo placement) --- See the entire 2005 RRS Schedule.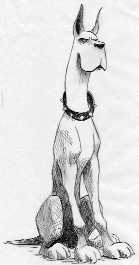 "RRs"
All content approved by HammerDog!