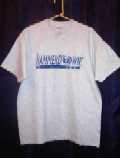 ---
Check out the Old School Drivers List
---
Drivers Index - Over 130 drivers with their own page!
Featured Writers
Images
Latest Projects:
Art Spaulding Photography Portfolio
David Allio captures images at Las Vegas Motor Speedway. PHOTOS!
See photos from the 2003 WoO season opener
Tangents
Yearbook Headlines - ...Yet another HammerDown! "work-in-progress" that we enjoy sharing with our readers. Please check back often, as each year will be updated further.
25 Greatest Sprint Car Drivers of All-time
40 Most Exciting Drivers in NARC History
---
ALL CONTENT APPROVED BY HAMMERDOG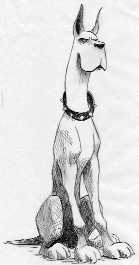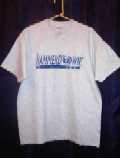 ---
HammerDown! law:
"I don't like people telling me what to do. I'm willing to give up a million dollars a year to do what I do best at" - Doug Wolfgang - Open Wheel magazine
---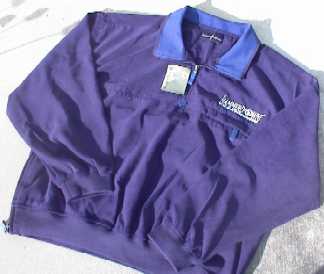 ---
Team HammerDown!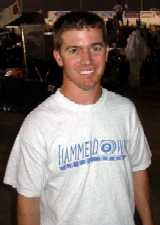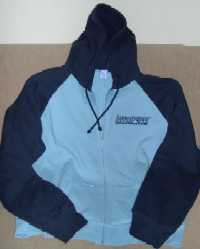 2004 - The Racer's Racing Series

Peter Murphy #1m dives under Dennis Moore Jr. in close action from Kings Speedway in Hanford, CA. (John's Racing Photos)

Triple Crown winner, J.J. Yeley works the high scary while eventual winner Cory Kruseman is hiking the left front at the Perris Oval Nationals (Jim Fleming Photo)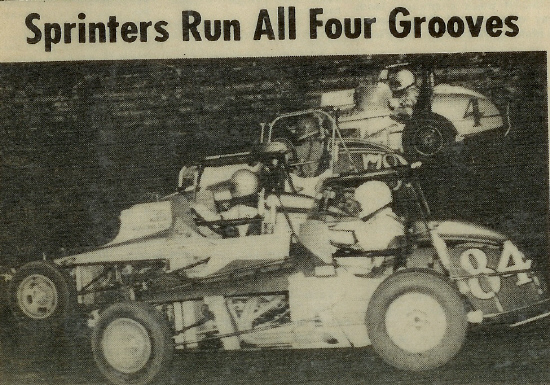 In classic 1978 NARC sprint car racing, Mike Wasina #84, Rendy Boldrini, Ron Horton #78, and Johnny Anderson #4 race 4-wide at Calistoga Speedway. (Scanned from the Anderson Family collection)
At the 2003 Trophy Cup, Steve Kent (eventual winner) and Ricci Faria fight tight cars on a rubber-down racetrack. (John's Racing Photos)

Brad Furr is on top, with Greg DeCaires on the bottom at Placerville Speedway. (John's Racing Photos)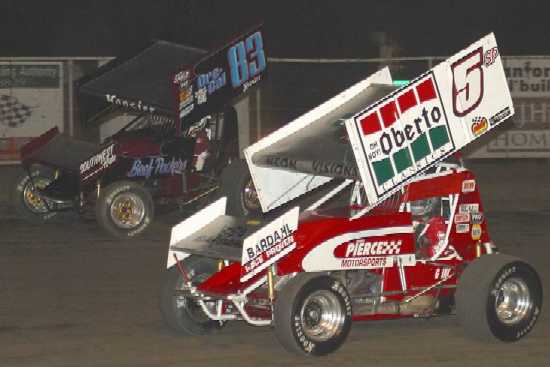 Shawna Wilskey drives the #5, with Tim Shaffer in the #83 at the 2003 Trophy Cup (John's Racing Photos)

How it used to be. 1978 at West Capitol Raceway in W. Sacramento, CA. Jimmy Boyd (XX) awaits pushoff after introductions. Johnny Anderson is in #21, Lee James is inside row two, and Dave Bradway SR. had quick time in Jack Gordon's #1c. - Thanks to Alan Bradway & Terry Buss for identifying the driver of the #1c. (Scanned from the Johnny Anderson collection.)

In this classic shot, Johnny Anderson lines up next to #46 which may have been driven by Bob Tweedy. We believe the photo is from 1966. (Johnny Anderson collection).

2004 Chili Bowl winner Cory Kruseman has a slight push in this shot. Kruseman won the prestigious indoor midget event for the second time in his brilliant career. Kruseman was named to the 2003 All-HammerDown! Team (Jim Fleming photo)

Rick Fowzer has the HammerDown! at Antioch Speedway (John's Racing Photos).