Johnny Anderson deserves a spot at the National Sprint Car Hall of Fame. He won ON THE ROAD vs. the World of Outlaws. He won in Australia. He won TWO Gold Cups, a West Capital Raceway Championship, and a NARC title. He won during a ferociously tough period in racing history. It certainly isn't easy to beat Kinser, Wolfgang, & Ferkel with wings (Champaign, Ill - WoO) and without (Calistoga Classic vs. WoO).

He was so dominant at one point, he lapped the field at Petaluma in a star-studded open comp race. He won in midgets regularly with BCRA. He won on pavement. ..And perhaps most importantly - this guy showed his toughness by beating racing on HIS own terms after nearly being killed in the prime of his career at Corona. His strong will led him to a return in midgets four years after his devastating crash.

Johnny Anderson is a RACER. He defines Hall of Famer.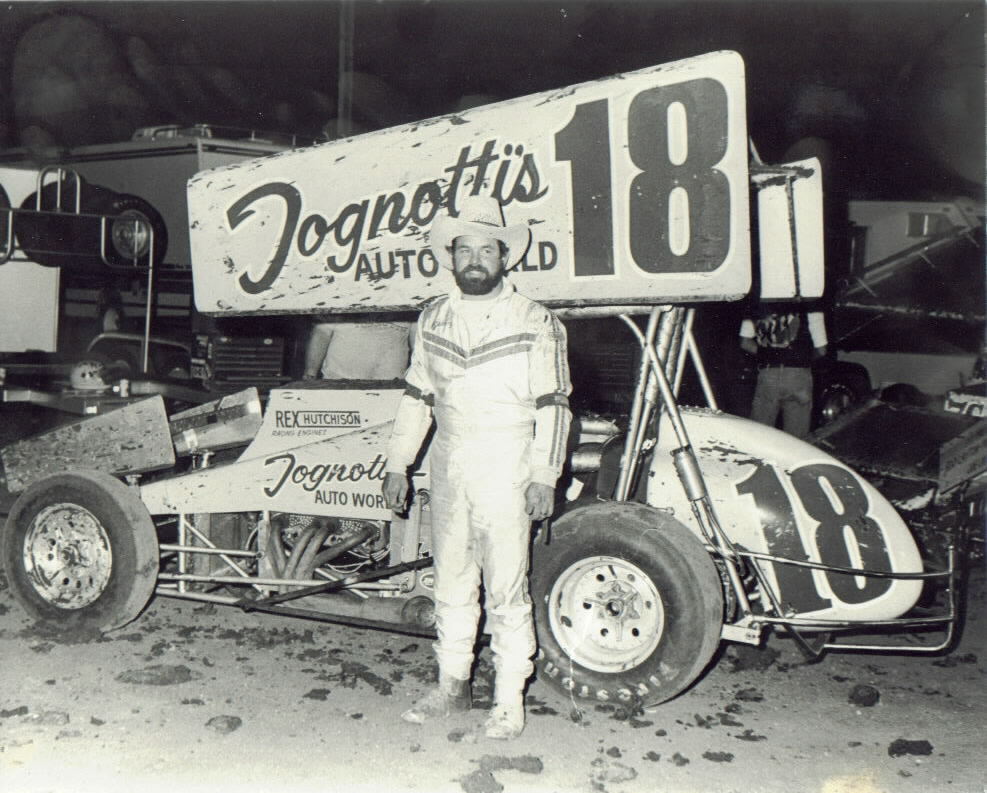 HammerDown! Hero Johnny Anderson poses in front of his DuWayne Starr #18.
Anderson won two Gold Cups, a NARC Championship, and three World of Outlaws
A-mains in 1978-79. (Photo by Art Spaulding).
Johnny Anderson
for
Hall of Fame
Tony Elliott looks ahead during the running of the Silver Crown 100 at Cal-Expo. (Cool Photo provided by Tear-Off Heaven)
Tim Kaeding flys around Sacramento's Cal-Expo mile in the Duke & Scott McMillen #10 (Photo by Tear-Off Heaven)
Brent Kaeding recaptured the feel of a non-wing sprinter at the Perris Oval Nationals - November 2000.
(Photo by Steve Lafond - Tear Off Heaven)
2001
Tony Stewart and Danny Lasoski take in the Chili Bowl action Friday night. (photo by Jim Compton)
1992 Calistoga Twin 20 winners Kyle Schild, and Marc Zieske chat with former WoO Mechanic of the Year
Brian Sperry. Schild will be racing in the California Civil War 360 series, while Zieske moves to the paved
USAC Western States Sprint series in 2001. Sperry is currently working with future super-hero, Chuck Gurney Jr.
who will race in the BCRA Midget ranks this year. (photo by T.J. Winningham)
Paul McMahan wheels the U2 at the Kings Speedway WoO Opener 2001. (Photo by Tear Off Heaven)
Randy Hannagan is interviewed by Johnny Gibson in victory lane after 'The Hurricane' posted his
first WoO A-Main win. (photo by Jim Compton)