1979
Ron Shuman wins the Knoxville Nationals for car-owner, Gary Stanton in #75. Shuman also wins his first Turkey Night Grand Prix for midgets. In all, Shuman had more than 20 wins in 12 states.
Steve Kinser wins his 2nd straight World of Outlaws championship.
CART is formed as car-owners split from USAC.
Tim Green won the Western World Championship at Manzanita Speedway in Phoenix, AZ. in the Jensen Construction #55.
West Capital Raceway races it's last full season. Nick Rescino is Champ.
Dirt Cup is Wolfgang's for the second year in a row. Prelims to Hewitt, Swindell.
Nick Rescino drove a Super Modified to victory at West Capital Rcaeway in World of Outlaws competition.
Steve Kinser wins the first Mini Gold Cup, June 10 at Chico.
Jimmy Boyd chased points and earned his only NARC driving championship.
Bobby Olivero is USAC Silver Crown champion. He won both Springfield, IL. and the Hoosier Hundred.
Dean Thompson wins the Pacific Coast Championship race at ASCOT.
Lealand McSpadden breaks his collarbone at Eldora but races the A-main to the checkered flag.
WoO Rookie of the Year is Tim Green
Greg Leffler is USAC Sprint Car champion.
Steve Lotshaw is USAC Midget Champ.
Stan Fox won the Belleville Midget Nationals & the Jimmy Caruthers Memorial at Manzy.
Doug Wolfgang Takes $10,000 win at Champaign, IL.
Brad Doty is the Lakeville Speedway Sprint Car Champion after winning 13 of 16 features.
Jerry Edson Claims Second Straight Skagit Sprint Car Championship.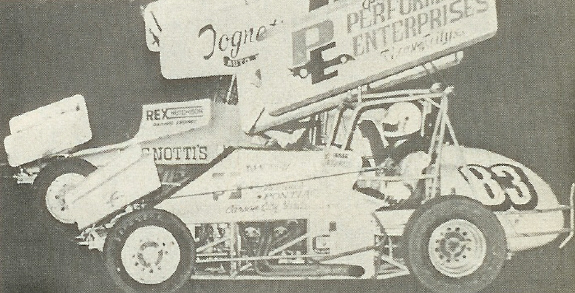 Jimmy Sills was crazy fast in 1979 in the Flammer #83.
Images
Latest Projects:
Yearbook Headlines - ...Yet another HammerDown! "work-in-progress" that we enjoy sharing with our readers. Please check back often, as each year will be updated further.
25 Greatest Sprint Car Drivers of All-time