1999
Kevin Gobrecht, at age 30, is killed on September 24 at I-80 Speedway in Greenwood, NE.
Mark Kinser wins both the Knoxville Nationals, and the World of Outlaws Championship is named Driver of the Year.
Jason Leffler won a record $20,000 for his midget win at the 16th Street Speedway's, "Summer Sizzle" in Indianapolis.

"Boston" Bob Blair at the 1999 Knoxville Nationals. (Photo by Kim)

Ryan Newman is the USAC Silver Crown Champ.

Kenny Jacobs is the All-Star Champion.

Gary Wright is NCRA's Champ
Dave Darland wins the Belleville Midget Nationals & is USAC sprint car titlest.
Richard Griffin snags the SCRA Championship
Tim Kaeding wins his first Silver Dollar Speedway Championship, and also wins Thursday's Gold Cup Prelim.
Brent Kaeding wins the Dirt Cup.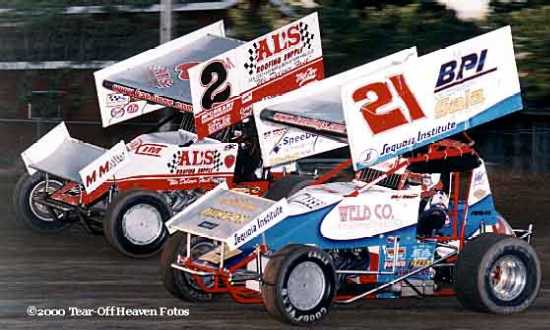 Brent Kaeding rides the outside in the M&M Racing #2, with Mark Monico in the #21
Dan Boorse won the Chili Bowl for Midgets in his own #88.
Tim Shaffer is the World of Outlaws Rookie of the Year
Brian Tyler was the USAC Silver Bullet winner at the Copper World
Jeff Shepard wins the East Bay Nationals ($10,000) in the Stewart #4J
Bud Kaeding wins the USAC Western States sprint car title on the strength of five wins at new Irwindale Speedway.
Jimmy Sills wins Again at Cal-Expo Silver Crown 100.
P.J. Chesson is National Sprint Car Poll Rookie of the Year, and Knoxville Nationals Rookie of the Year.
Dennis Moore Jr. wins the Knoxville 360 Nationals ($6,000).
David Robinson Jr. is the California Civil War 360 Champion.
Matt Streeter is the BCRA midget champion.
Tommy Tarlton wins his first NARC sprint car feature at Tulare's Thunderbowl.
Welcome to HammerDownUSA.com, also known as HammerDown!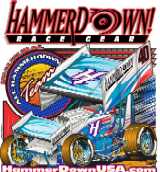 2005 Racers Racing Series Point Standings
---
25 Greatest Sprint Car Drivers
HammerDown! Hooded Striped Sweatshirts
Champions 2003, 2002, 2001, 2000
Yearbook Headlines - ...A HammerDown! "work-in-progress" that we enjoy sharing with our readers. Please check back often, as each year will be updated further.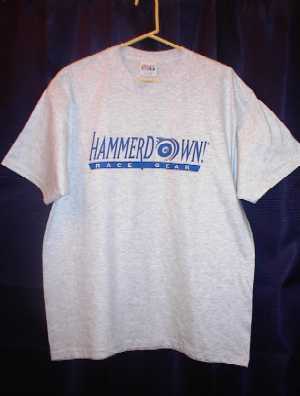 Common Destinations:
Google / Hoseheads / Open Wheel Times / SCRAfan.com / Skagit Speedway / Trophy Girls / USACracing.com / World of Outlaws