Images Page 8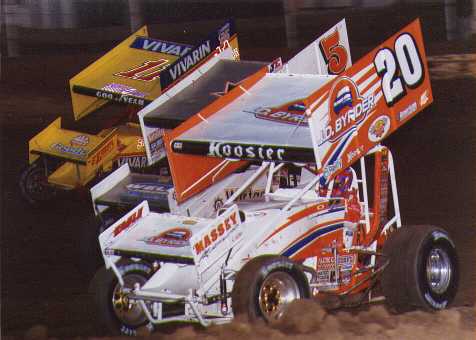 World of Outlaws racing 3-wide, Lasoski, Haudenschild, and Smith (Jim Fleming)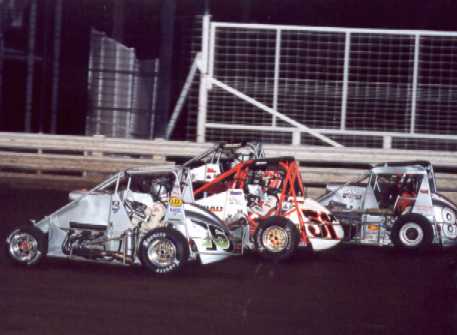 James Chesson leads the 30 car midget field to the green at the Knoxville Raceway. (Doug Johnson Photos)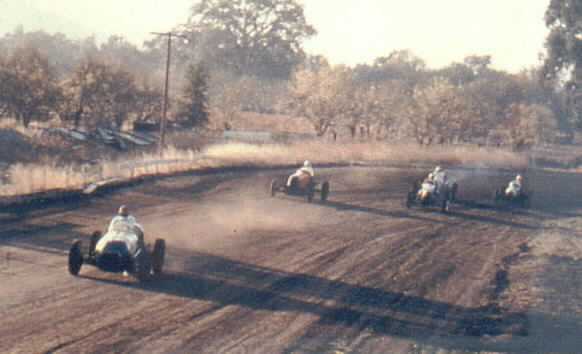 Believe it or not, this is Calistoga Speedway, coming out of turn 4. Racing started there in 1936. The date of this photo is unknown (From the collection of Dolan Lannan)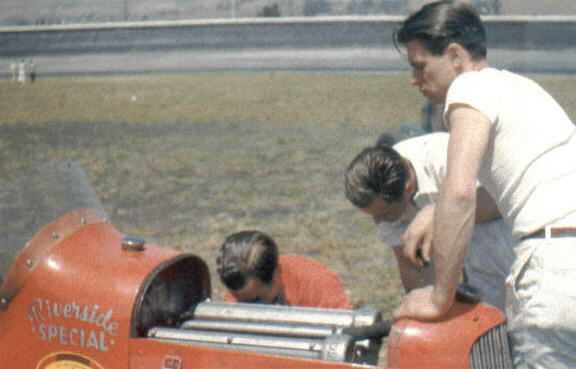 Hank Hanestad, Darrell's dad, was one of the most reknowned mechanics back in the day. This is a shot from 1948 at the now defunct, Oakland Speedway. The driver was Bud Kelleher (Photo from the collection of Dollan Lannan)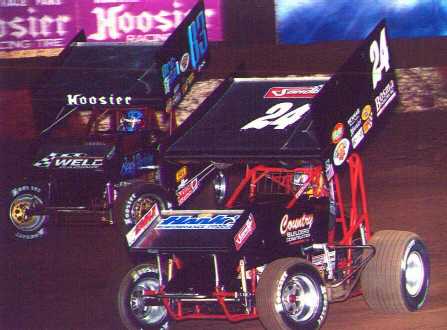 Terry McCarl races under Sammy Swindell at Perris, CA. WoO - 2002 - (Jim Fleming)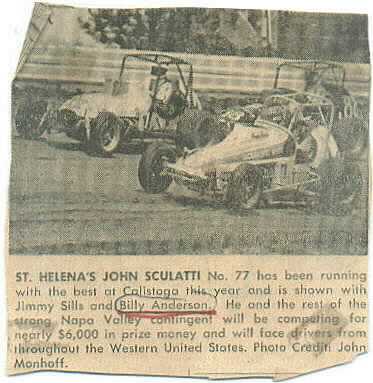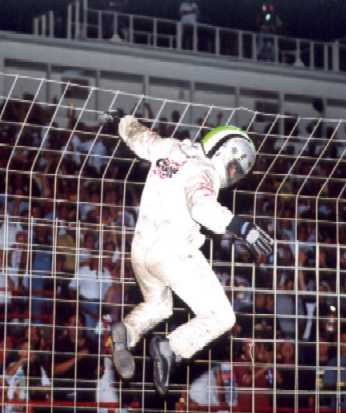 PJ Chesson leaps down from the 12' fence he had just climbed after winning at West Fargo, ND, Friday night, July 5th. The wild victory sequence that included 'donuts' on the front-chute, can be seen on Speed Channel, July 18th. (Photo by Doug Johnson)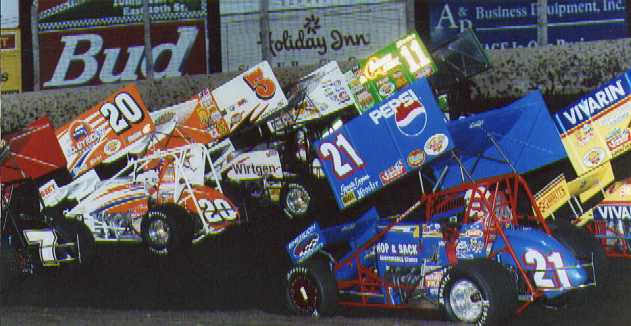 The backstretch of Husets Speedway. July 2002. (Photo by Jim Fleming)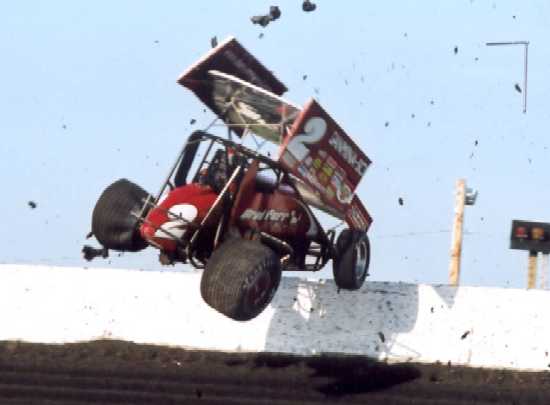 Brad Furr suffered no injuries in this West Fargo crash. The hot-laps crash wiped out the San Mina #2, forcing crew chief, Mike Harper to bring out the spare. (Doug Johnson)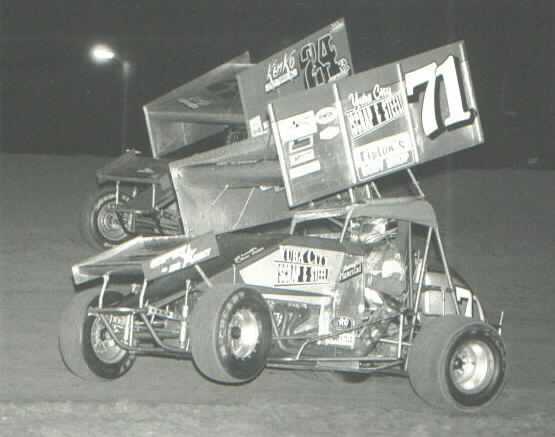 Darrell Hanestad on the methanol at Silver Dollar Speedway in NARC action fron 1994. Chuck Miller is on the outside. (Ed Bernhardt Photo)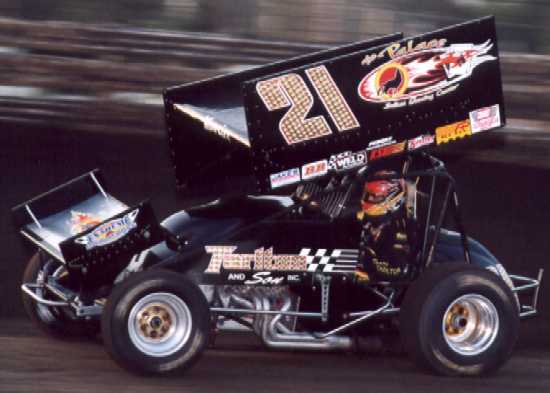 California's Tommy Tarlton has the HammerDown! at Knoxville Raceway (Doug Johnson)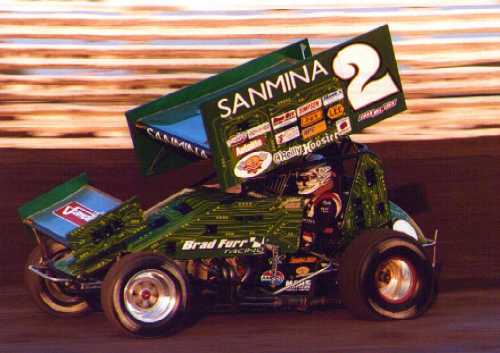 Brad Furr's computer circuitry styled #2 was a huge hit with fans at the 2001 Knoxville Nationals. The SanMina Team earned best appearing crew honors (Jim Fleming)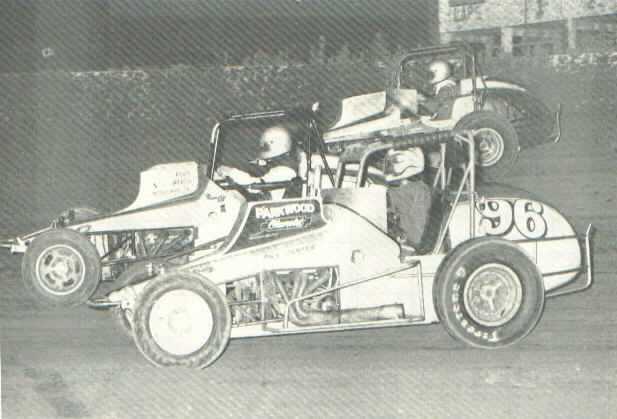 "Quick" Nick Rescino dives under Rendy Boldrini, and Hank Butcher in classic NARC West Capitol action.
Back to HammerDownUSA.com front page...
Jason Statler feature by Chris Lovett.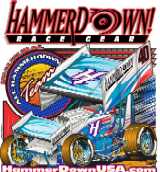 The Racer's Racing Series (RRS)

25 Greatest Sprint Car Drivers
New! HammerDown! Hooded Striped Sweatshirts
Champions 2003, 2002, 2001, 2000
Yearbook Headlines - ...A HammerDown! "work-in-progress" that we enjoy sharing with our readers. Please check back often, as each year will be updated further.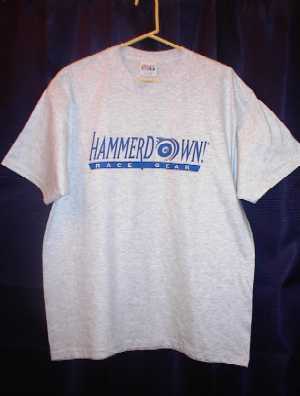 Common Destinations:
Google / Hoseheads / Open Wheel Times /
Skagit Speedway / Trophy Girls
USACracing.com / World of Outlaws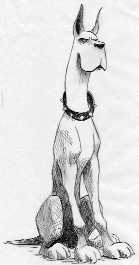 "RRs"
All content approved by HammerDog!
All HammerDown! hats are ON SALE! Half off! ...While they last.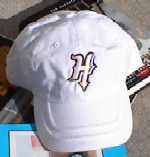 HammerDown! Hat ON SALE! 50% OFF

his for us in the mid-seventies at West Capital Raceway in
Sacramento, CA. - Sammy was 17 years old I believe, and was obviously in the white and blue #44.