1985
Doug Wolfgang won the Knoxville Nationals, the Kings Royal, and the Williams Grove National Open (for the second straight year). Wolfgang also won the NCRA season opener at Devil's Bowl. The Day show was run on March 3, 1985.
Mel Kenyon becomes USAC's only 7-time, Midget series champion.
Steve Kinser wins his 3rd Western World Championship
Rick Hood is USAC Silver Crown and Sprint Car Champ - wins DuQuoin 100.

Brent Kaeding wins his 2nd NARC Championship, and the Turkey Night Grand Prix for midgets at ASCOT Park.

From Calistoga Speedway, Jac Haudenschild is driving the Ed Watson Gambler #78, while Ron "RC" Horton is in Bill and Gaye DesChamps #44.

Sheldon Kinser wins both the Hoosier Hundred and the Hulman 100.
Danny Smith wins the Gold Cup in Trigueiro Bros. #1T.
Sleepy Tripp is USAC Westen States midget champ for 2nd time.
Chuck Gurney wins his 2nd Springfield Champ Dirt car race.
Larry Rice is Eldora 4-Crown, Silver Crown winner.
Mark Kinser wins his first World of Outlaws A-Main at Lanier Speedway in Georgia, March 24th.
Wally Pankratz is Sprint Car Champ at Kings Speedway.
Randy Tiner is Placerville Speedway champ.
Lee Brewer Jr. is CottonBowl Speedway Champ.
Joe Saldana ends his career.
Jimmy Sills wins his first CRA race at the California Mid-Winter Fair.
Bobby McMahan Named Most improved Driver at Baylands.
Jim Eiland is Santa Maria Speedway Track Champ.
Chuck Knuckey is Silver Dollar Speedway Champ.
Jason McMillen is NARC Rookie of the Year.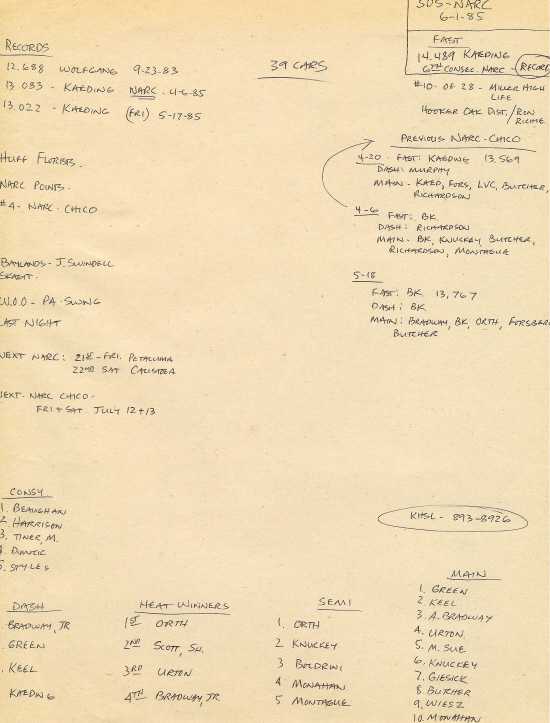 Gary Gerould was the announcer at Silver Dollar Speedway in 1985. Here is one of his prep sheets for a night of NARC sprint car racing.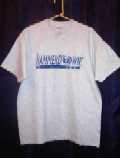 Get a HammerDown! Race Gear Logo T-Shirt at the HammerDown! Store
Images
Latest Projects:
Tangents
Yearbook Headlines - ...Yet another HammerDown! "work-in-progress" that we enjoy sharing with our readers. Please check back often, as each year will be updated further.
25 Greatest Sprint Car Drivers of All-time
40 Most Exciting Drivers in NARC History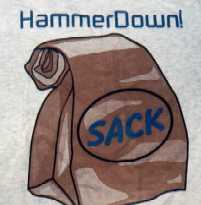 The HammerDown! Store is now OPEN!
---