1994
HammerDown! is formed, providing NARC programs, sold at California, and Nevada race tracks.

T-Shirts!

Robbie Stanley is killed at Winchester, IN. in May.
Tony Stewart wins the USAC National midget championship.
Kenny Irwin Jr. is the USAC Silver Crown series Rookie of the Year.
Steve Kinser is the World of Outlaws Champion.
Jimmy Sills wins three races in 8 starts, and his 2nd USAC Silver Crown Championship. He won the Hoosier Hundred, the Hulman 100, and the Cal-Expo, Silver Crown 100.

Jimmy Sills holds the winner's trophy after the Silver Crown 100 at Cal-Expo in Sacramento. Steve Kent, being interviewed, made his first Silver Crown start and finished third. Chuck Gurney was runner-up.

Jac Haudenschild is Kings Royal Champ

Andy Hillenburg won the Chili Bowl in an epic race with PJ and Page Jones
Shane Scott wins his third consecutive Chico championship.

Early in the 1994 season. Paul McMahan races with Gary Ferravanti at Silver Dollar Speedway in Chico, CA. - McMahan is driving the Bob Consani #4c. (Photo by Ed Bernhardt)

Stevie Smith wins the East Bay Nationals ($10,000) in the Hamilton #77. Gibsonton, FL.
USAC Sprint Champ is Doug Kalitta.
Chuck Gurney won the Copper World midget race for car owner, Steve Lewis. Gurney also took his second DuQuoin 100 Silver Crown win, and his 6th win at the Springfield Mile!
Jeff Shepard is seriously injured the night before the Kings Royal in a wicked Eldora crash.
Jack Hewitt won his 5th, "4-Crown" Silver Crown race at Eldora.
Rick Martin wins his 2nd San Jose Speedway Championship.
Ronnie Day wins the Trophy Cup at San Jose Speedway.
Johnny Cofer is the USAC Western States Midget champion.
Dave Darland won his first USAC sprint car race.
Randy Tiner wins the first HammerDown! Wheelie Contest at Silver Dollar Speedway in Chico. Randy was in the Orth #24.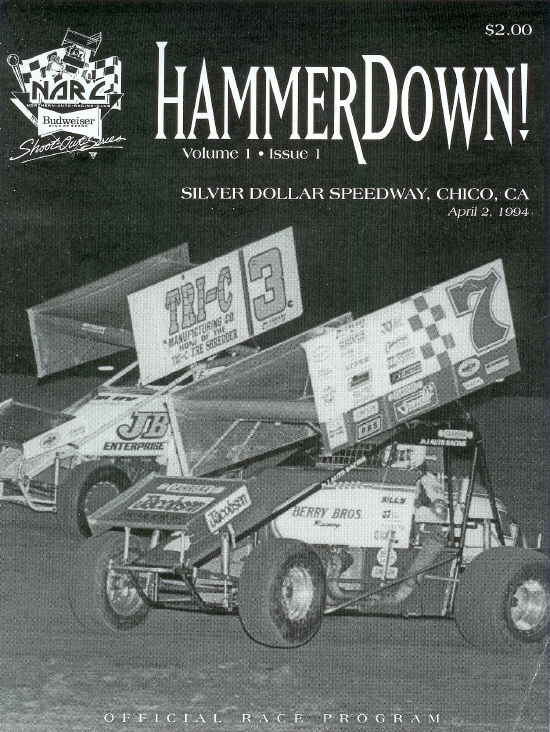 The cover of the very first issue of HammerDown! from April 1994 featured Jimmy Sills racing with Randy Tiner.