1977
Doug Wolfgang wins the Knoxville Nationals in the Bob Trostle #20. He also, incredibly, won the first ten races of the Knoxville season, on his way to a national record 45 A-main wins.
Gary Patterson wins Turkey Night Midget Grand Prix at ASCOT, The Calistoga Classic, the Gold Cup Race of Champions in W. Sacramento, the Ernie Purssell Memorial in Grass Valley, CA., as well as CRA features at ASCOT in March, April, and June in three different cars. "GP" won the CRA season opener in Walt Ross' #56. In April he won after taking over for USAC bound Clark Templeman in the Cunningham Chevy. The June win was in the Faas Chevy.
Ron Shuman wins his 2nd Western World, and his 2nd Pacific Coast Sprint Car Championship at Manzanita & ASCOT Park.
Mel Kenyon wins his 5th USAC Midget Championship.
Hank Butcher Becomes 4-Time BCRA Midget Champion.
LeRoy Van Conett won his 4th NARC driving title for the engine building, Bailey Bros.
Jimmy Oskie is CRA champion for the 4th time.
Sheldon Kinser is USAC Sprint Car driving champion.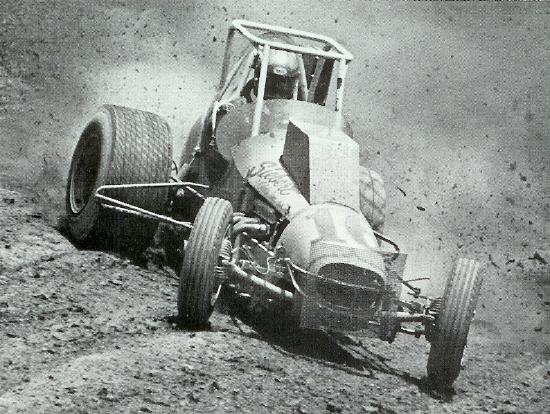 One of our favorite photos of all-time is this one from the 1977 Sprint Car Pictorial. This is Chuck Gurney mashing through the fourth turn at Eldora Speedway. Eldora will host the Mopar Million Sprint Car Race in September 2003. HammerDown! will be there. (John Mahoney Photo) - Part of the Holtsman Family collection.
Wayne Bennett is the Arizona Racing Association Champion.
Tom Bigelow wins his 2nd DuQuoin, IL. Dirt-Champ race.
Larry Rice is Silver Crown Champion, wins Springfield, IL. USAC Dirt-Champ. Rice also dominated the New Zealand midget racing scene.

Larry Rice was the 1977 USAC Silver Crown Champion (Scanned from Racing Cars Vol 1, No. 4 - Gerould collection)

Wayne Sue is West Capital Raceway Track Champ, Owner and Driver #12.
Mike Sargent is the California State Supermodified Champ as well as San Jose Speedway Champ.
Mike Wasina is Tri-Holiday Sweepstakes champion.

1977! Johnny Anderson is at the wheel of the Brandy & Glaspy XX. (Anderson Family collection)

One armed driver, Tony Simon earned a popular win at ASCOT in CRA action, July 9.
Pancho Carter Takes Hoosier Hundred.
Eddie Leavitt is USAC's Rookie of the Year in the National sprint car division.
J.C. Agajanian is Promotor of the Year.
Jimmy Boyd in the Ken Woodruff #21 led all 30 laps at ASCOT, September 10 for his first CRA career win.
Tommy Hunt won two CRA features at ASCOT. In both he led all 30 laps.
Mesa Marin Raceway in Bakersfield, CA. opens as a 1/2 mile paved.
San Jose Speedway (1/3 mile paved) closes.
Shawkeet Hindi is Speedway Park, New Mexico champion.
Jim Richardson is CSRA Modified Champion.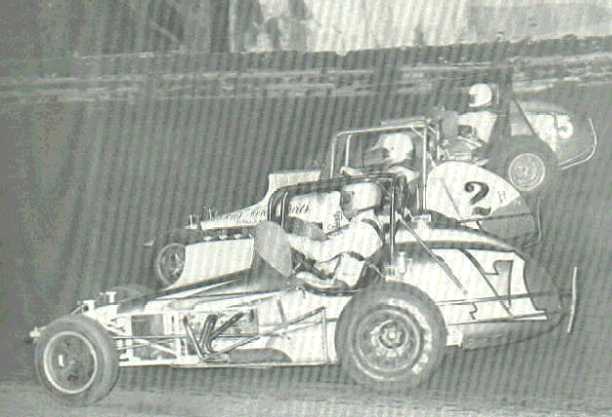 From the 1977 Calistoga Classic. Phil Pedlar moves under Rick Horton for 2nd place, as Butch Bahr of Nebraska gets lapped in his initial Calistoga visit.

Above is the flyer for the 1977 Calistoga Classic. (Anderson Family collection)

Images
Latest Projects:
Tangents
Yearbook Headlines - ...Yet another HammerDown! "work-in-progress" that we enjoy sharing with our readers. Please check back often, as each year will be updated further.
25 Greatest Sprint Car Drivers of All-time
40 Most Exciting Drivers in NARC History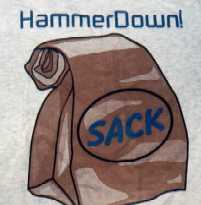 The HammerDown! Store is now OPEN!
---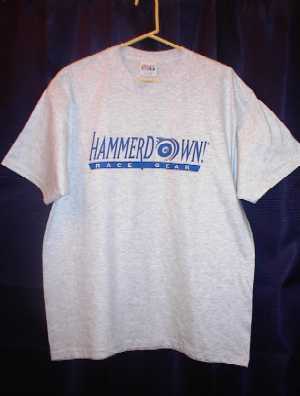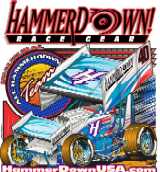 Images