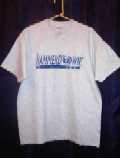 1991
Steve Kinser won the World of Outlaws title, the Knoxville Nationals, and the Kings Royal in the Karl Kinser #11
Sammy Swindell won the largest winner's share ever for a sprint car race, $65,000 (at that time), in the Fram Dash at North Texas Motor Speedway.
Jeff Gordon wins the USAC Silver Crown Championship with wins at both the Hulman 100 & Copper World Classic, showing dirt and pavement versatility.
Jack Hewitt wins the Belleville Midget Nationals and his 4th "4 Crown" Silver Crown race at Eldora.
Kara Hendrick is killed in sprint car crash.
Tony Stewart is the USAC National Sprint Car series Rookie of the Year.
Stevie Smith wins the National Open in Al Hamilton's #77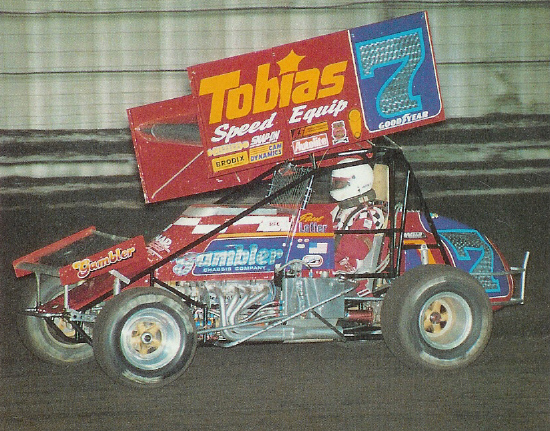 Paul Lotier graced Knoxville Raceway in 1991 (scanned from Knoxville Nationals program)
Brent Kaeding wins his 5th NARC Championship, the Dirt Cup, and his fourth straight Golden State Challenge "King of California" crown.
Robbie Stanley is USAC National Sprint Car Champion.
Ron Shuman CRA Champion.
Sammy Swindell wins points title for Ohio All-Star Sprint Speedweek.
Lealand McSpadden drives the Bondio midget to Chili Bowl victory.
Chuck Gurney wins Springfield for the 3rd year in a row, and 5th time overall.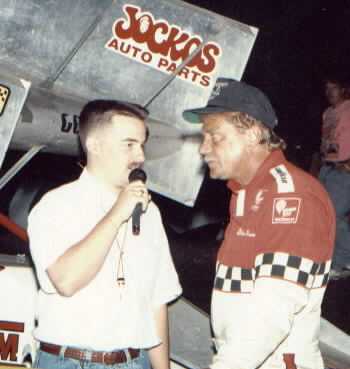 Steve Kinser is interviewed at the Gold Cup in 1991
Jeff Swindell wins Hoosier Hundred.
Sleepy Tripp is USAC Westen States midget champ for 6th time.
Joe Gaerte wins the Gold Cup Race of Champions at Chico, CA.
Stan Fox wins Turkey Night for 2nd year in a row. This race held at Saugus Speedway.
Bobby Davis Jr. won his 46th career WoO A-main in his own #4.
Stevie Reeves Takes DuQuoin 100.
Danny Burton wins his 3rd Silver Dollar Speedway title.
Mike Streicher is USAC Midget champ.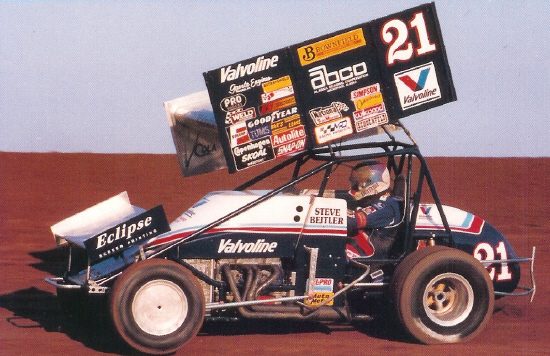 Steve Beitler - 1991. Beitler is now the main man at Skagit Speedway in Alger, WA., the home of the Dirt Cup. (Scanned from the 1991 Sprint Car Annual)
Rick Martin is the 1991 San Jose Speedway champ.
Monte Faccinto is Kings Speedway 360 Champ.
Chuck Miller is Kings Speedway Track Champ for 2nd Time.
Greg Brown wins Gold Gup prelim in a shocker.
Jeff Mauldin is Petaluma Speedway Sprint Car Champ.
Rich Tiner wins the Marysville, CA. 360 Sprint Car Championship.
Doug Kalitta is named USAC National Midget series Rookie of the Year.