DRIVERS
Johnny Herrera
...Johnny Herrera drove the Guy Forbrook #5 at Cedar Lake. Forbrook started the season with Jac Haudenschild, then moved to Blake Feese before Herrera's ride.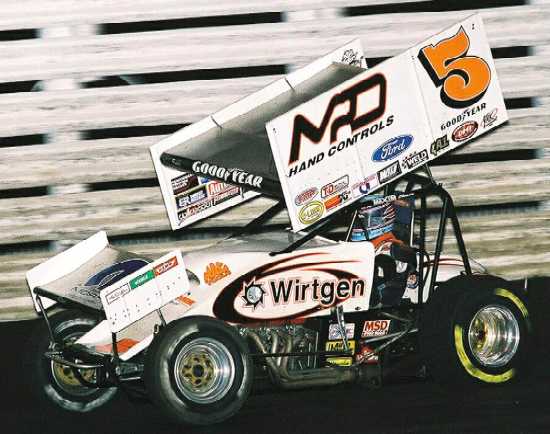 Johnny Herrera works Guy Forbrook's Maxim at Knoxville Raceway - Jim Fleming photo

It was good to see Johnny Herrera smiling after a strong performance at the Knoxville Nationals. Herrera finished ninth in the Nationals A-Main after struggling through a period of motor woes in the Wilburn #2w.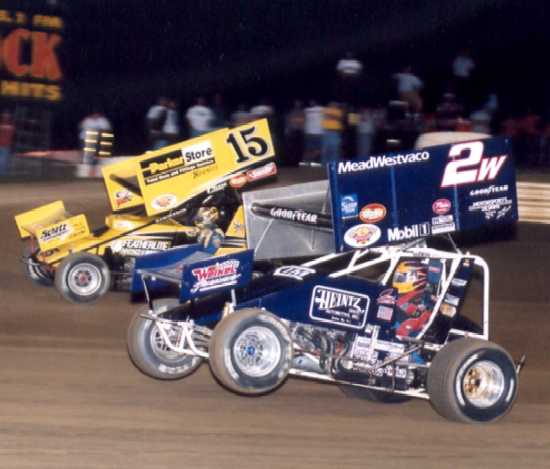 In this super shot, Johnny Herrera, gets a huge bite from the Eagle Raceway clay, as Donny Schatz works the outside. (Photo by Doug Johnson)
Las Vegas WoO Night #1 to Johnny Herrera - 02/28/02 - HD Staff (Las Vegas, NV.) - Johnny Herrera made his World of Outlaws 2002 debut a good one, winning the opening night of the Silver State Shoot-out at Las Vegas Motor Speedway. Driving the Wilburn Motorsports #2w, Maxim, Herrera inherited the lead on lap 21 when leader Craig Dollansky crashed in traffic, taking second running Lasoski with him. Herrera held off Sammy Swindell, and Daryn Pittman during the final four laps to record the first WoO win for car-owner, Billy Wilburn. Steve Kinser and Jac Haudenschild rounded out the top five. Read the updates we were getting from Steve Gomez.