HammerDown! Race Gear Beanies - $14.99
25 Greatest Sprint Car Drivers of all-time.
Images 1, 2, 3, 4, 5, 6, 7, 8, 9, 10
Positivity - By Bobby Gerould
HammerDown! Race Gear Online Store
Old School DRIVERS
Lealand McSpadden
Lealand McSpadden in 1978. "The Tempe Tornado" won the `78 Western World at Manzanita Speedway in Phoenix, AZ. (From the Holtsman Family collection)

Say a prayer for Lealand McSpadden. At age 56, the "Tempe Tornado" has been diagnosed with cancer. In February 2003, McSpadden noticed a lump in his neck. He had it checked, and was in surgery immediately following the doctor visit. Lealand who last raced in 1995, won nearly 200 races in his 26-year career, including a record 25 in five different divisons at Manzanita Speedway during the 1977 season. However, it was McSpadden's off-track demeanor that made him a hero to me. As a kid, Lealand always remembered my name, and seemed to have time for me even on his bad nights at the track. He was truly the finest goodwill ambassador of open wheel racing this side Ohio's Rick Ferkel. In 1998 he was elected to the Arizona Motorsports Hall of Fame, and in 2000 The Arizona Republic selected McSpadden as the state's fifth-greatest driver over the past 100 years.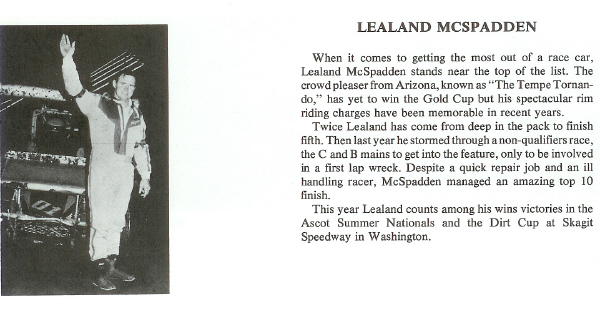 The above picture and brief capsule are from the 1981 Gold Cup program. (From the Brian Sperry collection)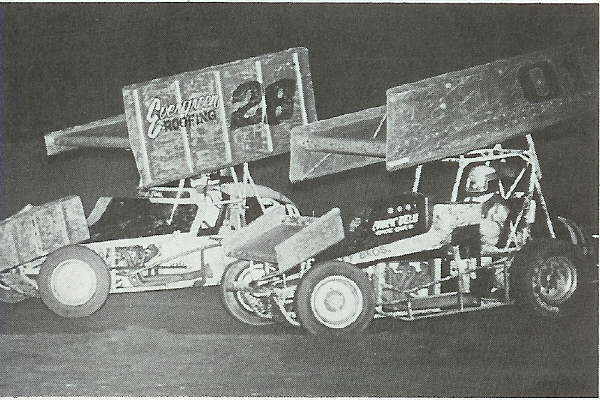 Lealand is in the Bailey Bros. #01, diving under Cheryl Glass. (From the Brian Sperry collection)