1983
Gary Patterson is killed at Calistoga Speedway - May, 29.
Sammy Swindell wins the Knoxville Nationals in the Raymond Beadle #1.
Steve Kinser snares his 3rd Gold Cup, laps up to 3rd place.
Lynn Paxton won the National Open at Williams Grove for the 2nd year in a row.
Rich Vogler nothces his 3rd USAC National Midget Championship
Lee Osborne wins his third straight All-Star title.
Ken Schrader is USAC Sprint champion, and he wins 4 Crown, Silver Crown at Eldora Speedway.
The first All-Star Ohio Speedweek is run, with Eldora's race paying $20,000 to winner Steve Kinser.
Steve Kinser wins the Western World Championship for the second straight year.

Chuck Gurney wins the NARC driving title, the Hoosier Hundred for the second straight year, and the Hulman 100.
Gary Lynch of Oregon won the Eldora Nationals in a huge upset.
Bobby Davis Jr. is Williams Grove Speedway track champ.
Doug Wolfgang wins the Syracuse mile, which paid $17,375.
Jerry Stone is NCRA Champ.
Wayne Sue wins his 2nd Silver Dollar Speedway title.

In 1983, during Ohio All-Star Speedweek, Jeff Swindell #80 races with Jack Hewitt #18, and Danny Smith #4.

Steve Siegel wins the Lincoln, PA. Track Title.
Gary Bettenhausen wins his 4th DuQuoin 100.
Bobby Olivero wins for 2nd time on Springfield, IL. Mile.
The Dirt Cup Purse is $60,000.
Tim Green wins the Dirt Cup with Wings, and Sweeps NARC vs CRA at Baylands.
Stevie Smith is Knoxville Nationals Rookie of the Year.
Kevin Olson wins Turkey Night.
Kenny Jacobs wins the All-Star season opener at Volusia County, Florida.
Sleepy Tripp is USAC Westen States midget champ.
John Andretti Honored as USAC National Midget Rookie of the Year.
Brad Doty wins his first World of Outlaws race. (Oklahoma City).
Bobby Michnowicz is CRA Rookie of the Year.
Dean Shirly wins the USAC Rookie of the Year for National sprint cars.
At Hagerstown, MD., Keith Kauffman is driver in Al Hamilton's first WoO win.
Kings Speedway in Hanford, CA. opens as a 1/3 mile dirt.

...Below is a scan of the first page of my 1983 race log that I kept as a 15 year-old.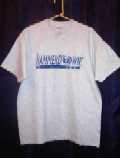 Get a HammerDown! Race Gear Logo T-Shirt at the HammerDown! Store
Latest Projects:
Yearbook Headlines - ...Yet another HammerDown! "work-in-progress" that we enjoy sharing with our readers. Please check back often, as each year will be updated further.
25 Greatest Sprint Car Drivers of All-time
40 Most Exciting Drivers in NARC History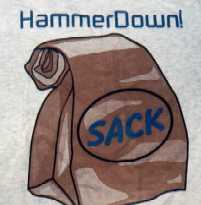 The HammerDown! Store is now OPEN!
---