HammerDown! Race Gear online store.
OPEN NOW. OPEN ALWAYS.
---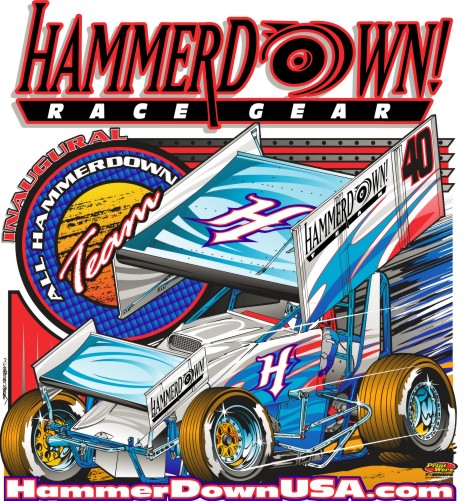 Images
Yearbook Headlines - ...Another HammerDown! "work-in-progress" that we enjoy sharing with our readers. Please check back often, as each year will be updated further.
25 Greatest Sprint Car Drivers of All-time
40 Most Exciting Drivers in NARC History
---
HammerDown! Race Gear
Always open.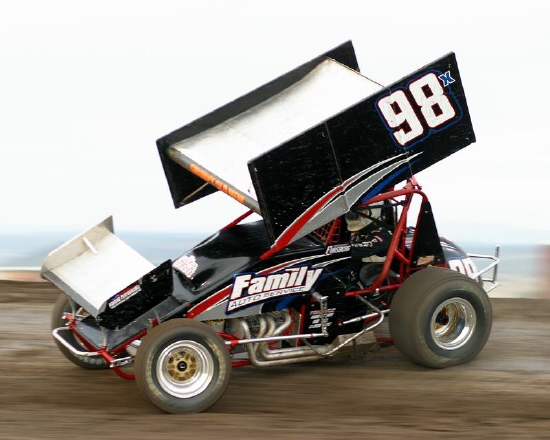 Andy Forsberg displays the style makes him a fan favorite in California. (John's Racing Photos)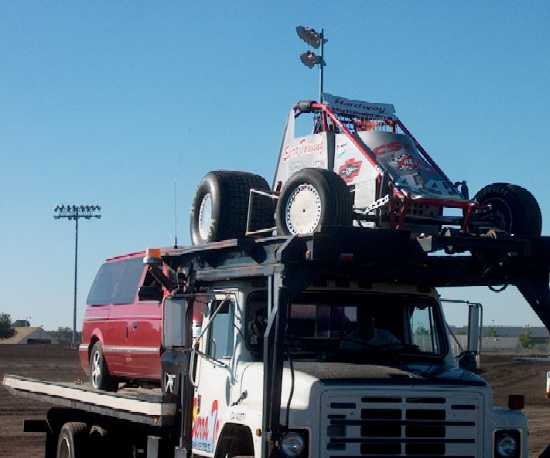 Our buddy Troy Hennig snapped this classic shot of a spec sprint racer who uses the mini-van as a backup car? Debbie Shiperd adds: What a great shot- sure does show a racer's ingenuity! The Spec Sprint driver is Sam Fries of Sacramento. His sponsor, Sierra Tow provides the hauler, and the minivan is used as his "pit car" loaded w/ tools, spare parts, etc. Since he towed to Reno-Fernley last month and will again next weekend, his tools and parts are safely locked up tight when he has to spend a night in a motel. Note the name on his visor: Hardway Racing - it could be interpreted several ways, but explains Sam's racing experiences somewhat. He's a great guy and always makes our racing experiences fun!

Jac Haudenschild up against the fence at Eldora. 'Haud' won the World of Outlaws feature at the Big E last Friday August 5, 2005. (Chris Dolack photo)

Robert Ballou of Rocklin, CA. became the youngest winner in the history of the Golden State Challenge earlier this season. (John's Racing Photos)

Levi Jones won the Ultimate Challenge in Scott Benic's #2 - (Lonnie Wheatley photo)

Stevie Walsh, amazingly walked away from this violent waddage at the Knoxville Nationals Wednesday night. (Chris Dolack photo)
Brooke Tatnell drives the Rush Racing #8 - winner of the best appearing car award at the 2005 Knoxville Nationals. (Chris Dolack photo)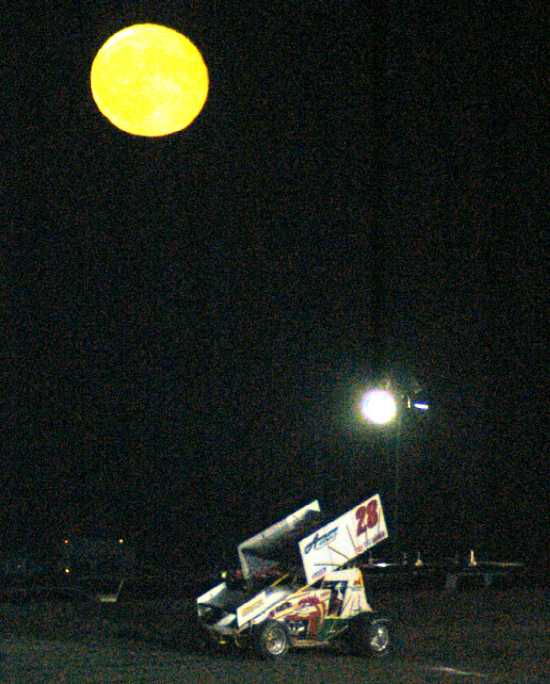 Chris Dolack took this shot of the big moon in Billings, Montana where Brian Paulus and the World of Outlaws raced Friday and Saturday. Steve Kinser won the prelim and Daryn Pittman won the finale.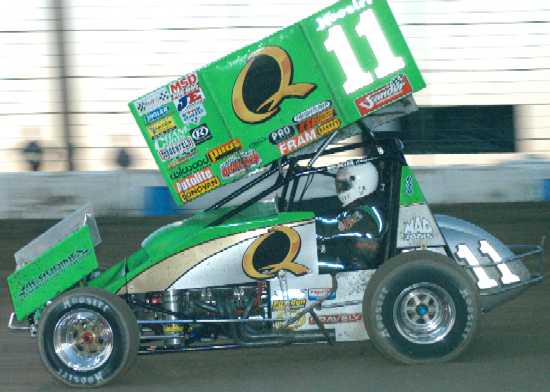 Steve Kinser at Billings, Montana. (Chris Dolack photo)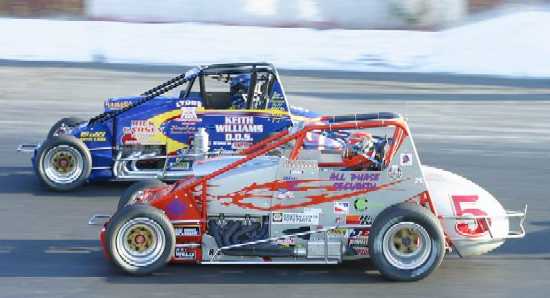 Shauna Hogg and Kody Swanson are two drivers that will compete at Stockton 99 Speedway Saturday night August 27th. (John's Racing Photos)