Rain delay on second night at Chico Fall Nationals. Forsberg wins opener - HD Staff - October 6, 2006 - 2006 Civil War champion Andy Forsberg won the opening night of the Fall Nationals for winged 360 sprint cars at Silver Dollar Speedway. Rain delayed the finish of the second preliminary to Saturday.
Forsberg drives "Sanford and Son Special" to fourth championship series victory. - By Bill Sullivan PLACERVILLE, CA – July 29, 2006 ...After winning nearly every race he entered early in the season, Andy Forsberg of Auburn has been enduring his share of bad luck over the past month. The former track champion's ride of misfortune traveled all the way to Friday night when an accident destroyed his primary car at Silver Dollar Speedway in Chico. After working through the night and into Saturday morning, Forsberg and crew were ready to return to their winning ways at Placerville Speedway for the ninth point race, arriving with 1992 John Boy chassis that his father once drove, Forsberg was both optimistic and weary of what would become of the night. "I hope things can change here tonight. I just can't believe everything that's gone wrong lately," said Forsberg. "If it's not my transponder falling off or an accident it's the hauler breaking down on the freeway. It's time to put an end to this streak tonight, but I have no idea what this car is going to do, it's kind of another Sanford and Son Special with all different parts, it might be fast, it might fall apart." (More)
Forsberg continues Placerville Speedway dominance in Civil War race. By Bill Sullivan PLACERVILLE, CA (6-24-06) – Auburn resident Andy Forsberg continued his streak of success at Placerville Speedway Saturday night, winning the fourth round of the Hoosier Racing Tires Civil War Sprint Car Series. The victory was Forsberg's fourth victory of the year at the foothill speedway and his second win in the traveling Civil War series where the former two-time champion leads the point standings. Under triple digit temperatures, a total of 41 cars competed in Saturday's event, which paid out over $14,000 in winnings and more than an additional $3,000 in contingency awards. For Forsberg the victory was worth additional championship points towards his point lead as he chases a third driving championship in the series this season. "I can't believe how great this season has started off for us," said Forsberg. "Things have just been going our way since we started and tonight were another example of it. There was a lot of lapped traffic to work through tonight and like I've said before when that's the case sometimes your better to be a little more lucky than good out there." (More)
The 100 winningest drivers MY EYES have seen - By Bobby Gerould - Last updated October 23, 2005. Rocklin, CA. …Here is a fun project that anyone can do. Try to re-trace all the races that you have been to in your lifetime, and list the winners of each feature your eyes have seen. It takes time; I've been working on my list literally for about six years. About once a month I take a few hours and dig through old programs, do Google searches, read journals, and use Kevin Eckert's website to try to find the race winners I saw. For the sake of clarity - I am including any race where I was on the grounds - even the ones I may have slept through as a three year old. My Dad was an announcer of super-modified, and sprint car events on the West Coast. From birth I went to West Capital Raceway (W. Sacramento, CA.) on Saturdays. Later, as Dad did more writing, and announcing we included Friday nights at Chico CA. and special events at Dixon CA. into the mix. As a teenager and college student I worked for NARC and hit all the major Northern California dirt tracks. Adult work for USAC, the World of Outlaws, and others has blessed us with the opportunity to see many tracks across the USA, and into Canada. The results of all this logging and work will be a historical log that I can always go back to for reflection. Over the course of the next 100 weeks, HammerDownUSA.com will list a driver in a countdown of the driver who MY EYES have seen win the most feature races. My list will obviously reflect my environment. It will not be a list of who I consider to be the greatest drivers ever. That would be subjective, and impossible. But I can scientifically list the best drivers I have seen. This list is a fun project for me and I hope you will enjoy the journey to naming number one. ...#100 Perry James Jr. - Elverta, CA. - 2 wins. #99 - Peter Murphy - Sydney, New South Wales, Australia / Oakhurst, CA. 2 wins. #97 Johnny Tiner - Rio Linda, California. 2 wins. # 97 Ed Organ, Napa CA. - 2 wins. #96 Lee Brewer Jr. - Memphis, TN. - 2 wins. #95 Johnny Pearson, Stockton, CA. two wins. #94 Dave Bradway SR - Fair Oaks, CA. - Two wins. #93 Mike Kirby. Torrance, CA. - two wins. #92 Joe Hill - Sacramento, CA. - Two wins. #91 Blake Robertson - Visalia, CA. - two wins. #90 Andy Forsberg - Auburn, CA. - two wins. #78 Mitch Sue - Live Oak, CA. - 3 wins.
#90 Andy Forsberg - Sacramento, CA. - two wins.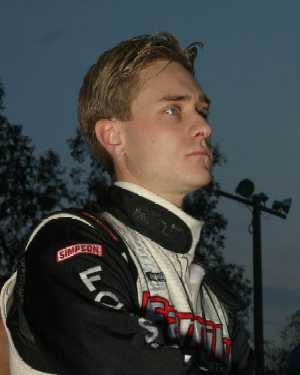 …Andy "B." Forsberg is a joy to watch race. The 29 year-old that started racing in 1994 has already captured two Civil War sprint car championships, and one Placerville Speedway title. A second generation racer, Forsberg is the kind of guy who will never have his desire to compete questioned. He is a contrast in that he can be cool and level-headed in conversation yet behind the wheel he will make some risky moves that make you question his 'sanity'. I say that with all love and respect. I remember seeing Forsberg abuse the Chico cushion in a Gold Cup B-Main. His equipment probably wasn't nearly as new as those he was racing with but Forsberg was bound and determined to make the Gold Cup A-Main. He blasted into turn one on a late race re-start, trying to make a transfer pass. Instead, he hooked the cushion and flipped his ding-ding off. That is the kind of effort I love. I missed a legendary Forsberg performance last year (2004) at Hanford when he started in the rear and won the feature. The `04 season saw Forsberg be the runner-up in the King of California chase. …He races winged or non-winged, 360 or 410. He gasses it always. …The two features I saw Forsberg win were at Chico and Watsonville respectively. The Watsonville win was in a 360 during the 2000 Trophy Cup. The Silver Dollar Speedway (Chico) win came in Golden State action on April 5, 2003. …Most likely Forsberg will get better and better as he enters his thirties. I believe that confidence is a big deal in racing, and I think when Andy Forsberg is feeling good about Andy Forsberg he is a tough customer to deal with. Forsberg says the Family Auto Racing #98 team will not be back in 2006. Hopefully Andy will be able to overcome that obstacle and enter his racing prime on a quality team.