Royal Blue HammerDown! Beanies! $14.99 - BUY NOW!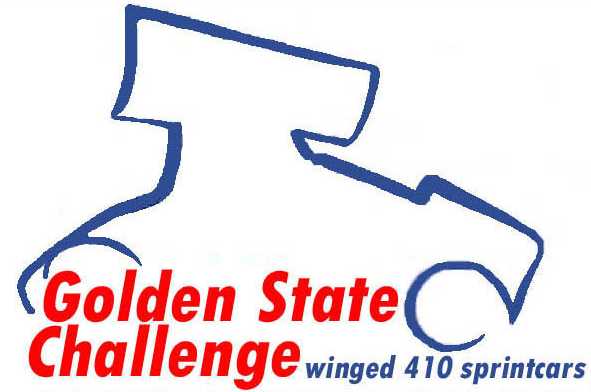 Race Results - Golden State Challenge Sprint Cars.
Andy Forsberg Romps to Golden State Challenge Win - By: Bobby Gerould. 04-05-03 Chico, CA. …Andy Forsberg wondered what it would feel like to win a feature against the best touring 410-sprint car teams in California. Saturday night at Silver Dollar Speedway, the second-generation Auburn driver lived the dream of a "King of California" victory, with a convincing 30 lap triumph in round five of the Golden State Challenge. Starting from the pole in the Family Auto Service #98x, Forsberg led every lap on the quarter-mile high-banked oval. Joined by his father, Richard, and the Filipich Family crew in the winners circle, Forsberg stated flatly, "It wasn't easy. Those last six laps took forever. I don't know how close they (the rest of the field) were to me but I think I heard ten cars behind me. …I need to thank my car owner and crew for putting a 'ding-dong' like me in the car this year."
Forsberg was no 'ding-dong' on this cold night. The 30-lap feature started with Forsberg along side the defending GSC Champion, Tim Kaeding on the front row. BR MotorSports Quick Qualifier, Brad Furr drew the four inversion pill, and started outside row two, with Chico's Jon Allard inside the row. Forsberg got the jump on the bottom of the track, and was leading a top five that included Kaeding, Furr, Allard, and Brent Kaeding when the leaders reached traffic for the initial time on lap five. On lap seven, Tim Kaeding nearly spun in turn two and was knocked straight by Furr, who took over as runner-up. Tim faded to fifth by the time he gathered up the Terry Cowan #7T Eagle.
The caution flag appeared for the first time one lap later when Chris Scott drove his #1c over the top of the track's edge in turn two. On lap nine, Tim Kaeding regained fourth from Brent Kaeding who was driving a repaired #69 BK Racing Maxim. Brent, the 11-time "King of California" had hard contact with the concrete wall coming off turn four in his heat race. The hit badly bent the frame on Kaeding's racer, which had to be welded, and straightened in order for BK to return to the action via the Last Chance Race.
By lap 12 of the feature, the leaders were back in traffic and Forsberg was setting a furious pace. At the halfway mark, it was Forsberg over Furr, Tim Kaeding, Allard, and Brent Kaeding. In traffic, Forsberg opened a half-straightaway lead but was still very much within the striking distance of Furr, and T. Kaeding. A lap 24 yellow flag bunched the field again. Coming out of turn two, Craig Stidham, Tommy Tarlton, and Stephen Allard were involved in a tangle that nearly blocked the entire exit of the turn, and part of the backchute. Stephen Allard, debuting a new #35A, with help from Rick Wright, Rod Tiner, and Tom Rolfe, tipped onto his side in the accident but emerged unhurt. On the same caution, Doug Lippincott retired to the pits.
With six laps remaining the stage was set for a shootout between the top drivers. Forsberg had the benefit of having one lapped car between he and Furr, and when the green replaced the yellow, Forsberg again sped off in search of his first glory with the Golden State Challenge. Brent Kaeding used the restart to pass Jon Allard for fourth, and that's how they finished. Forsberg, the winner, followed by Furr, Tim Kaeding, Brent Kaeding, and Jon Allard. The next five included, Jason Statler, Blake Robertson, Dennis Moore Jr., Sean Becker, and Destiney Hays.
The hard charger of the night was Shain Matthews. The Marysville teenager started his #67 20th on the grid, and raced forward to a 12th place finish. Furr, who won the B&B Oval Track Products heat, Moore Jr., Stephen Allard, and Jim Skinner snared heat races. Furr's quick-time effort was three-tenths better than second quick. Furr turned the clay-oval in 11.767 seconds to mark the start of a great night for the Sanmina-SCI Eagle team. Furr's runner-up finish in the feature was the only thing keeping him from a clean sweep. Sacramento's Sean Becker captured the Last Chance Race. Also transferring to the feature through the Last Chance Race were Brent Kaeding, Jason Finley, Hays, Brian Coelho, and Steve Fehrman. Finley, and Coelho both executed a double flip in the B&B Oval Track Products heat.
Golden State Challenge points leader, Brent Kaeding needed lots of help in the pit area to get his BK Racing Maxim/Shaver onto the track for the Last Chance Race. Brent was in heat four when he hopped over the edge in turn four and hit the wall very hard. The frame rails on the #69 were pushed to the right severely. In most cases, a team would have been done for the night. However, Kaeding's crew, assisted by Duke and Scott McMillen, and host of other mechanics, rebuilt the front of BK's racer, hanging coil springs on the front because the torsion tubes were nonfunctional. Kaeding then transferred through the Last Chance gig to earn what may have been a season title saving spot in the feature.
Jason Statler also did a tremendous job of driving in his heat race, after an early incident knocked the left-front torsion bar and arm off his DF Rios Maxim. Statler, somehow, manhandled the car to a transfer spot. Making their first showings of 2003 were Skinner, Carl Enns, Troy Hovey, Eddie Lewis, Rick Fowzer, and Wayne Williams. Williams, of Monterey, drove a team BK Racing #68 Maxim, painted identical to Brent's car. Williams expects to race several of the upcoming Golden State events.
The Golden State Challenge, "King of California" series is sponsored by Hoosier Tires, CL Bryant Racing Fuels, BR MotorSports, and B&B Oval Track Products. After a weekend off next Saturday, the GSC will resume action, April 19, at Hanford's Kings Speedway.
For more information regarding the "King of California" sprint car series, please visit http://www.goldenstatechallenge.com
Summary: Golden State Challenge Sprint Cars - Chico, CA. - Silver Dollar Speedway
BR MotorSports Time Trials: Driver Hometown Team Time 1. Brad Furr Pleasanton SanMina-SCI #2 11.767 2. Jon Allard Chico Wright #35 12.035 3. Tim Kaeding San Jose Cowan #7T 12.074 4. Brent Kaeding Campbell BK Racing #69 12.107 5. Andy Forsberg Auburn Family Auto Service #98x 12.120 6. Dennis Moore JR. Grinnell, IA. Williams #0 12.148 7. Destiney Hays Oroville Hays #20D 12.157 8. Tommy Tarlton Fresno Tarlton & Son #21 12.205 9. Blake Robertson Visalia McMillen / Mitchell #10 12.209 10. John Gray Chico Gray #71 12.279 11. Jason Statler Los Gatos Statler Racing #00 12.297 12. Sean Becker Sacramento Becker #23 12.362 13. Jason Finley Fort Jones Finey #77f 12.371 14. Doug Lippincott Minden, NV. Lippincott #4L 12.378 15. Craig Stidham Fresno Stidham #3 12.403 16. Jason York Chico York #25 12.415 17. Brian Coelho Tulare Coelho Meat #5c 12.416 18. Steve Ferhrman Grass Valley Ferhman #30F 12.509 19. Stephen Allard Chico Allard / Wright #35A 12.528 20. Jim Skinner Discovery Bay Skinner #73 12.548 21. Chris Scott Chico Scott #1c 12.665 22. Bob Maiwald Gilroy Maiwald #7m 12.668 23. Billy Wallace Grass Valley Jacobson #30 12.692 24. Shain Matthews Marysville Matthews #67 12.699 25. Marc Mackay Shingle Springs Mackay #86 12.807 26. Rick Fowzer Manteca Fowzer #5x 12.974 27. Mike Quigley Gardnerville, NV. Quigley #75 12.980 28. Troy Hovey Chico Hovey #37 13.077 29. Matt Shelton Sacramento Shelton #44 13.090 30. Ryan Flynn Chico Flynn #1 13.181 31. Dennis Binstock Napa Binstock #82 13.211 32. Wayne Williams Monterey BK Racing #68 13.437 33. Eddy Lewis Lewis #7x 13.548 34. Carl Enns Sacramento Enns #80 25.620
B&B Oval Track Products Heat Race #1 - 1. Furr, 2. Scott, 3. Robertson, 4. Forsberg, 5. Lewis, 6. Mackay, 7. Finley, 8. Coelho, 9. Shelton
Heat Two - 1. Moore Jr., 2. Lippincott, 3. Gray, 4. J. Allard, 5. Maiwald, 6. Flynn, 7. Fehrman, 8. Fowzer.
Heat Three - 1. S. Allard, 2. T. Kaeding, 3. Stidham, 4. Statler, 5. Quigley, 6. Hays, 7. Binstock, 8. Wallace.
Heat Four - 1. Skinner, 2. Matthews, 3. York, 4. Tarlton, 5. Hovey, 6. Williams, 7. Becker, 8. B. Kaeding
Last Chance Race - 1. Becker, 2. B. Kaeding, 3. Finley, 4. Hays, 5. B. Coelho, 6. Fehrman, 7. Wallace, 8. Maiwald, 9. Quigley, 10. Mackay, 11. Hovey, 12. Fowzer, 13. Lewis, 14. Williams, 15. Binstock, 16. Flynn, 17. Enns.
Feature (30 Laps) - 1. Forsberg, 2. Furr, 3. T. Kaeding, 4. B. Kaeding, 5. J. Allard, 6. Statler, 7. Robertson, 8. Moore Jr., 9. Becker, 10. Hays, 11. York, 12. Matthews, 13. Stidham, 14. Tarlton, 15. Coelho, 16. Skinner, 17. Finley, 18. Lippincott, 19. S. Allard, 20. Gray, 21. Scott, 22. Fehrman.
NEXT Golden State Challenge Event - April 19, 2003. Round 6 of 22 at Kings Speedway in Hanford, CA.