HammerDown! Race Gear online store.
OPEN NOW. OPEN ALWAYS.
---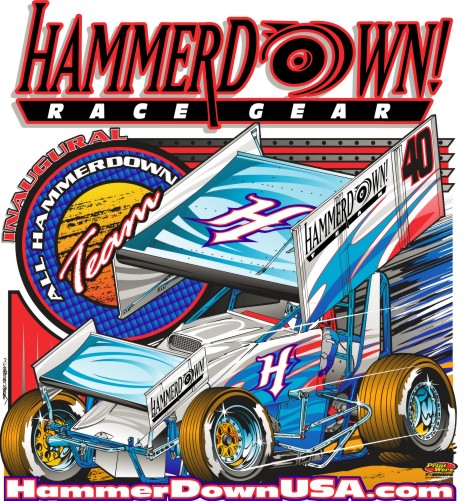 Images
Latest Projects:
Yearbook Headlines - ...Another HammerDown! "work-in-progress" that we enjoy sharing with our readers. Please check back often, as each year will be updated further.
25 Greatest Sprint Car Drivers of All-time
40 Most Exciting Drivers in NARC History
---
HammerDown! Race Gear
Always open.
DRIVERS
Peter Murphy
The 100 winningest drivers MY EYES have seen - By Bobby Gerould - August 8, 2005. Rocklin, CA. …Here is a fun project that anyone can do. Try to re-trace all the races that you have been to in your lifetime, and list the winners of each feature your eyes have seen. It takes time; I've been working on my list literally for about six years. About once a month I take a few hours and dig through old programs, do Google searches, read journals, and use Kevin Eckert's website to try to find the race winners I saw. For the sake of clarity - I am including any race where I was on the grounds - even the ones I may have slept through as a three year old. My Dad was an announcer of super-modified, and sprint car events on the West Coast. From birth I went to West Capital Raceway (W. Sacramento, CA.) on Saturdays. Later, as Dad did more writing, and announcing we included Friday nights at Chico CA. and special events at Dixon CA. into the mix. As a teenager and college student I worked for NARC and hit all the major Northern California dirt tracks. Adult work for USAC, the World of Outlaws, and others has blessed us with the opportunity to see many tracks across the USA, and into Canada. The results of all this logging and work will be a historical log that I can always go back to for reflection. Over the course of the next 100 weeks, HammerDownUSA.com will list a driver in a countdown of the driver who MY EYES have seen win the most feature races. My list will obviously reflect my environment. It will not be a list of who I consider to be the greatest drivers ever. That would be subjective, and impossible. But I can scientifically list the best drivers I have seen. This list is a fun project for me and I hope you will enjoy the journey to naming number one.

#98 - Peter Murphy - Sydney, New South Wales, Australia / Oakhurst, CA. 2 wins.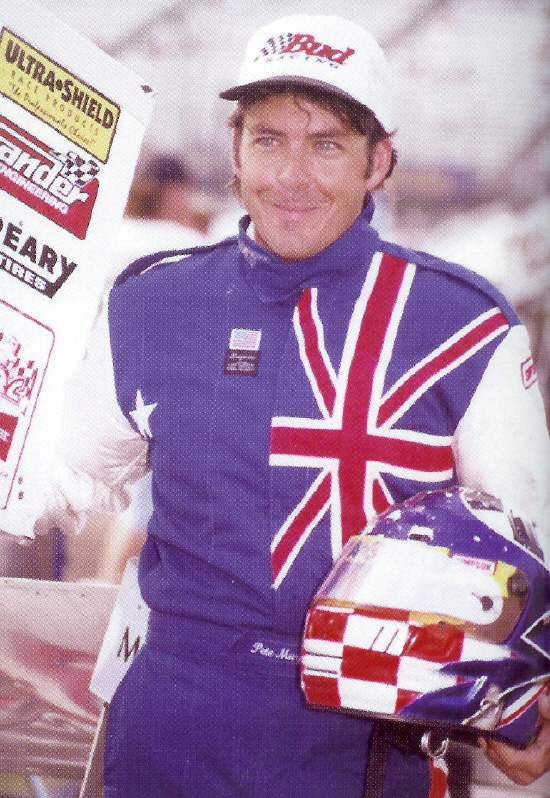 A gentleman, and self described 'racing whore', Peter Murphy is one of the nicest racers you could ever meet. The Aussie driver landed in California after crewing for Steve Kinser on the World of Outlaws tour in 1997. Murphy came to know Kinser during Steve's Australia visits. Peter was part of Steve's pit crew at the Indy 500 in `97. Murphy was an experienced sprint car driver already when he took the wheel of Morrie Williams' #0 in California in 1998. Peter won the 1993 Australian World Derby midget championship, which was highlighted as his best win at the time. The winged sprint car fans of Northern California instantly recognized his passion for racing, and his fun loving spirit. Pete Muphy. Australia. That's what the name read on the hood of the car. Murphy became the NARC - HammerDown! Rookie of the Year in 1998. The two wins I witnessed for Murphy were at Kings Speedway in Hanford (June 2003), and at Silver Dollar Speedway in Chico (July 2002). Murphy also set quick time in a winged sprinter at the Cal-Expo mile in Sacramento in 1998, and later won the 2000 winged sprint invitational on the big track. He has a big win at the Chico Pacific Sprint Nationals on his resume as well. These days Murphy is dominating the non-winged VRA vs. Bandits Grand Slam series driving for Tom and Tommy Tarlton. He makes USAC/CRA starts occasionally, and also runs winged 410's for the Duppman Family.

---

Spring 2004: ...Peter Murphy is always a joy to see. The Aussie, with the laid back approach, scared us at Hanford though when he flipped and then was hit by two cars well after his car came to rest. Peter said he was okay but he too thought his crash was over when his car stopped after the quick spiral flip. "I put me visor up, and then boom. Then I held on and then I got hit again!" The Tarlton & Son #21 returned the following morning after a serious welding job to fix a broken frame. A dent near the top of the cage pointed out by Tom Tarlton showed how close a call the crash was.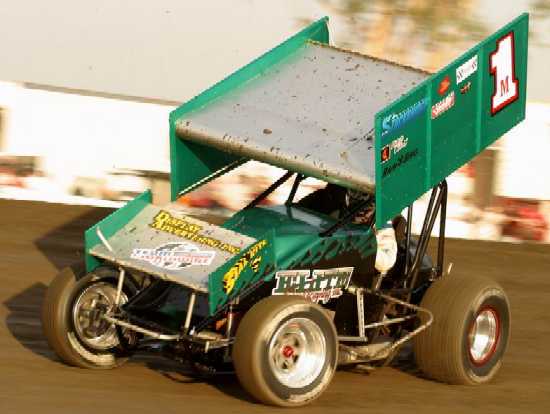 Peter Murphy has the HammerDown! in the Guy Stockbridge #1m (John's Racing Photos)

...It is still a feature win but winning the 40-lap Trophy Cup feature on Saturday usually takes a back seat to the hype surrounding the points championship, (as it should). Pete Murphy did a great job winning in one of two Elite Landscaping cars. Ronnie Day was in the other car. Day and Murphy form the maybe the nicest team in sprint car racing.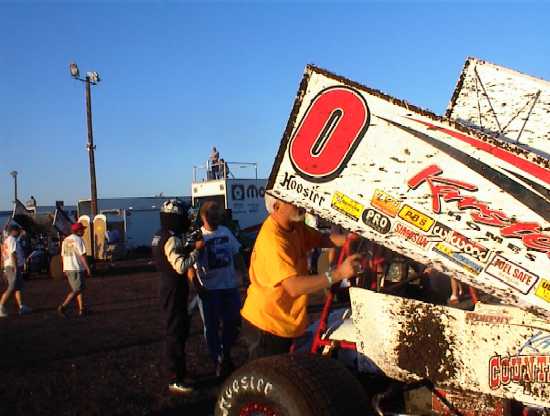 Pete Murphy Turns Out the Lights on Chico Foes - (By Troy Hennig ...Chico, CA. 07-12-02)…Australia's Peter Murphy won his second main event of the year at Silver Dollar Speedway despite a brief delay during the main event when one of the front stretch lights went out during a red flag situation on the speedway. Murphy continues to be on fire during qualifying at the speedway by starting the night with his tenth quick time award of the year. Murphy missed a clean sweep in his heat race when he finished second to Ryan Flynn.

Nearly a Perfect Night for Peter Murphy in Chico By: Troy Hennig (Chico, CA 5-31-02)…Australia's Peter Murphy narrowly missed a complete clean sweep Friday night at Chico when he finished second in his heat race. Murphy, for the eighth time this year turned the fastest lap of the night at a 13.597, and then after finishing second in his heat race he went on to lead all 20 laps of the sprint car main event. It was Murphy's second win of the year at John Padjen's Silver Dollar Speedway. (more)