Read the most recent edition of B.F.'s BS - August 10, 2003
"B.F." lives racing. He works at Kaeding Maxim Center, races a USAC Western States Sprinter, and works the Kaeding parts trailer at all the big races in California. BF's brother, Burt JR. is a racer, and their Dad, Burt Foland SR. is a San Jose Speedway Hall of Famer. B.F., as we all call him, knows his stuff when it comes to sprint cars, and midgets. BF is a voting member of the National Sprint Car Poll, and avid stat keeper.

BF contributes regularly to HammerDown!, you may read his past columns, archived here for your convenience.
Archives:
2003: August 10, July 6, June 2, May 11, March 2, February 2

2002: November 19, October 14, August 25, July 22, July 7, May 12, May , Late April, April, March, January

2001: September, July, June, April, February, January

2000: December, November, October, August, June, April, March, February, January

1999: December,
Special Sauce:
BF's First Drive

BF's Friend, Matt Alvis
BF testing at Altamont (Photo by Steve-O)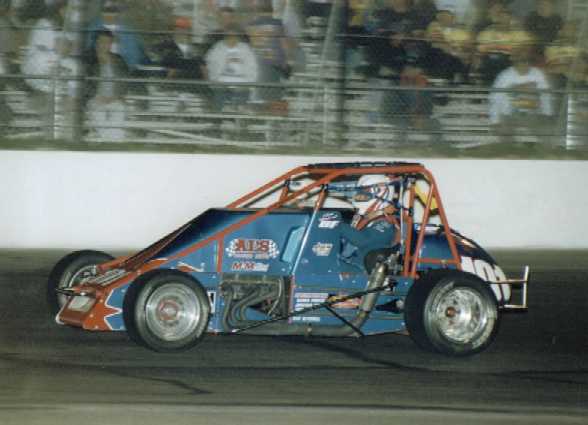 BF on the methanol at Madera. (Photo by Steve-O)