Tim Kaeding Dominates World of Outlaws Opener - By Bobby Gerould - 02/21/03 - Hanford, CA. ...Reigning 'King of California', Tim Kaeding first passed Steve Kinser, and then race leader Mark Kinser en route to a runaway win in the O'Reilly Auto Parts World of Outlaws season opening race at Kings Speedway Friday night. Before a packed house of partisan California fans, the 24 year-old from San Jose, wheeled the ABC Ready Mix Eagle/Ott around the top of the track to pass both Kinsers. The Rod Tiner prepared #7t performed flawlessly after an aborted start allowed Tiner to loosen the car up just a tad.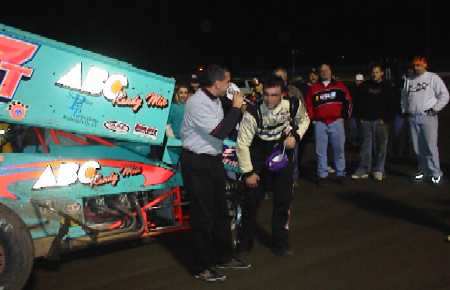 John Gibson (L) interviews A-main winner, Tim Kaeding (Photo by John Lott)
As the field raced out of turn four on the opening lap, Garrett Ishii, Toni Lutar, Brian Coelho, and Mike Faria tangled on the frontstretch, with Ishii and Coelho getting upside down. All drivers were uninjured, but only Faria was able to restart. During the open red flag, Tim Kaeding told Tiner he was a smudge tight. Tiner loosened the car, and the rest was history.
The next green flag saw a similar situation with the field nearly completing a full lap on the fast 3/8's mile track. Jason Meyers, however, brought out the red flag when he hit the wall in turn four and flipped down the front chute. The damage to the Elite Landscaping #1 was too much for Meyers to continue. As a second complete restart was called, Mark Kinser in a plain white unsponsored Maxim #5m, drove to the point being pursued by cousin Steve.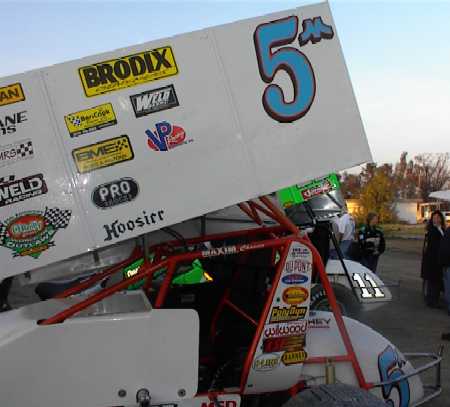 Mark Kinser's #5m deserves sponsorship. (Photo by Steve Seaver)
By lap three Kaeding moved around the 17-time WoO champion with a dazzling high-side maneuver in turn one. Seven laps later, in traffic, Tim passed Mark Kinser in turn two on the top of the track. For the final 20 laps, Kaeding dominated, lapping cars at a furious pace. At one point before a lap 25 caution, Kaeding had six lapped cars between himself and Mark Kinser.
Providing thrills behind Kaeding was Sammy Swindell in the Ore-Cal #1s wrenched by Kenny Woodruff. Swindell who started 17th on the grid, steadily progressed, also using the upper reaches of the racetrack. By the midpoint of the 30-lap feature, Sammy was running sixth after sweeping by Danny Lasoski, and Tommy Tarlton. Swindell passed Daryn Pittman for 5th on the top exiting turn four on lap 26, and two laps later he and Steve Kinser got together while racing for fourth in turn four. Kinser held on to the spot, but Daryn Pittman and Craig Dollansky both moved past Sammy.
Tim Shaffer and Joey Saldana were two drivers that faced bad luck on the opening night of the Outlaws 26th season. Shaffer exited the race on lap 12 with a broken throttle linkage. Saldana, suffered a broken steering arm that sent him into the wall on the frontstretch at lap 25.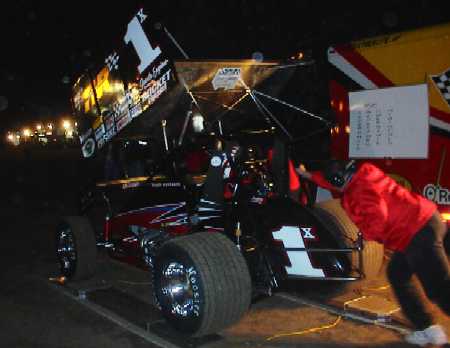 2003 marks the first time in WoO history that a weight rule will be used. Cars must weigh 1375 lb.. with the driver. Cars were weighed after each event. Here, Randy Hannagan's beautiful #1x Rocket Chassis rolls over the scales. (Photo by Pete Fegley)
Tim Kaeding won the race by more than a full straight-away. Said Kaeding over the public address to WoO announcer Johnny Gibson, "Man, this is unbelievable! This car's fast already, and this is just the start—there's more to come. I have to thank my crew chief Rod Tiner, and everyone on the ABC Ready-Mix team. They gave me a great car all night long, and all I had to do was get in and steer it. We're just going to go to Perris tomorrow night and have fun just like we did tonight, and hopefully the fans come down and support us again."
Mark Kinser fought off challenges all race to earn runner-up honors. Jac Haudenschild posted an impressive third place run in the Guy Forbrook #5. Steve Kinser finished fourth, and Daryn Pittman was fifth.
Time Trials: 1) Danny Lasoski, Stewart 20, 12.673 2) Tim Kaeding, Cowan 7T, 12.678 3) Brad Furr, Furr Racing , 12.750 4) Daryn Pittman, Sher-Don Motorsports 21, 12.755 5) Sammy Swindell, Roth 1S, 12.783 6) Joey Saldana, Saldana 17, 12.807 7) Shane Stewart, MIN Motorsports 4M, 12.817 8) Steve Kinser, Kinser 11, 12.835 9) Craig Dollansky, Karavan 7, 12.882 10) Jason Meyers, Meyers 1, 12.901 11) Tommy Tarlton, Tarlton 21T, 12.982 12) Mark Kinser, Kinser 5M, 12.996 13) Jac Haudenschild, Forbrook 5, 13.018 14) Jason Sides, Hunting Catalog 7S, 13.043 15) Tim Shaffer, Roth 83, 13.065 16) Toni Lutar, Lutar 4X, 13.188 17) Donny Schatz, Schatz 15, 12.977 (Scored 17th after taking one lap at the end of qualifying) 18) Brian Paulus , P&P Motorsports 28, 13.208 19) Garrett Ishi, Ishi 71G, 13.267 20) Brian Coelho, Coelho 5C, 13.285 21) Mike Faria, Faria , 13.303 22) Randy Hannagan, TH Racing 1X, 13.310 23) Jeff Shepard, Helm 11H, 13.397 24) Craig Stidham, Stidham 3C, 13.404 25) Jonathan Allard, Wright 35, 13.450 26) Jeremy Campbell, Campbell 10C, 13.469 27) Dennis Moore, Jr., Williams 0, 13.517 28) Calvin Landis, Landis 70, 13.610 29) Doug Lippincott, Lippincott 4L, 13.622 30) Davey Key, Key 15K, 13.880 31) Kyle Schild, Schild 16, 14.173 32) Willie Hernandez, Hernandez 1M, 14.405 33) Jason York, York 25, 14.486 34) Ricci Faria, Faria 89, 15.638 35) Randy Waitman, Waitman 69W, 16.733 36) Dennis Binstock, Binstock 82, No Time 37) Brent Kaeding, Kaeding 69, No Time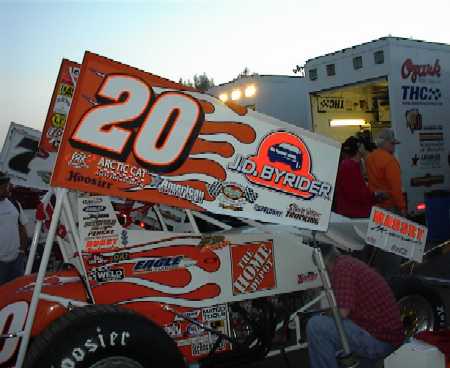 Danny Lasoski's #20 has added sponsorship from Home Depot (Photo by Bill Kenelly)
First Heat Race (8 laps, top 5 finishers transferred to A-feature)--1) Donny Schatz 2) Craig Stidham 3) Danny Lasoski 4) Toni Lutar 5) Steve Kinser 6) Jonathan Allard 7) Doug Lipincott 8) Craig Dollansky 9) Jason York
Second Heat Race (8 laps, top 5 finishers transferred to A-feature)--1) Jeff Shepard 2) Jason Meyers 3) Brian Paulus 4) Tim Kaeding 5) Tim Shaffer 6 ) Jeremy Campbell 7) Shane Stewart 8) Davey Key 9) Ricci Faria
Third Heat Race (8 laps, top 5 finishers transferred to A-feature)--1) Garrett Ishi 2) Randy Hannagan 3) Jason Sides 4) Brad Furr 5) Tommy Tarlton 6) Dennis Moore, Jr. 7) Joey Saldana 8) Kye Schild 9) Randy Waitman
Fourth Heat Race (8 laps, top 5 finishers transferred to A-feature)—1) Brian Coelho 2) Mark Kinser 3) Jac Haudenschild 4) Mike Faria 5) Daryn Pittman 6) Sammy Swindell 7) Calvin Landis 8) Brent Kaeding 9) Dennis Binstock
First Dash (5 laps, finishing order determined inside first 8 rows of A-feature)--1) Steve Kinser 2) Tommy Tarlton 3) Danny Lasoski 4) Jac Haudenschild 5) Tim Shaffer 6) Donny Schatz 7) Garrett Ishi 8) Brad Furr
Second Dash (5 laps, finishing order determined outside first 8 rows of A-feature)—1) Mark Kinser 2) Tim Kaeding 3) Jason Meyers 4) Daryn Pittman 5) Jason Sides 6) Brian Paulus 7) Toni Lutar 8) Brian Coelho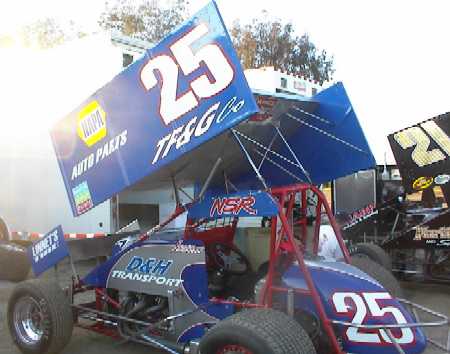 Jason York's new blue paint job is a winner! (Photo by Tommy Tipover)
B-main (12 laps, top 4 finishers transferred to A-feature)—1) Joey Saldana 2) Sammy Swindell 3) Craig Dollansky 4) Jonathan Allard 5) Shane Stewart 6) Dennis Moore, Jr. 7) Doug Lippincott 8) Brent Kaeding 9) Calvin Landis 10) Ricci Faria 11) Jeremy Campbell 12) Willie Hernandez 13) Randy Waitman 14) Jason York 15) Kyle Schild 16) Davey Key 17) Dennis Binstock
A-main (30 laps)--1) Tim Kaeding 2) Mark Kinser 3) Jac Haudenschild 4) Steve Kinser 5) Daryn Pittman 6) Craig Dollansky 7) Sammy Swindell 8) Danny Lasoski 9) Donny Schatz 10) Brad Furr 11) Jason Sides 12) Tommy Tarlton 13) Brian Paulus 14) Jeff Shepard 15) Jonathan Allard 16) Randy Hannagan 17) Craig Stidam 18) Joey Saldana 19) Tim Shaffer 20) Mike Faria 21) Jason Meyers 22) Garrett Ishi 23) Toni Lutar 24) Brian Coelho Lap leaders: Mark Kinser 1-9, Tim Kaeding 11-30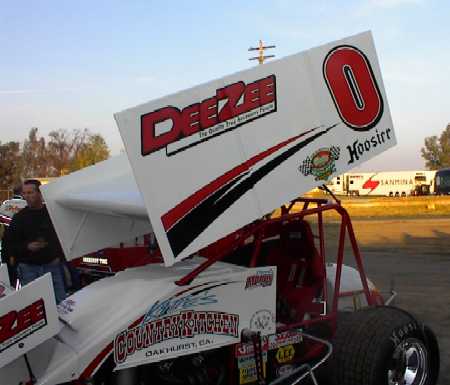 Car owner, Morrie Williams announced that Grinnell Iowa's Dennis Moore Jr. will be his driver for the 2003 season (Photo by Randy Zimmerman)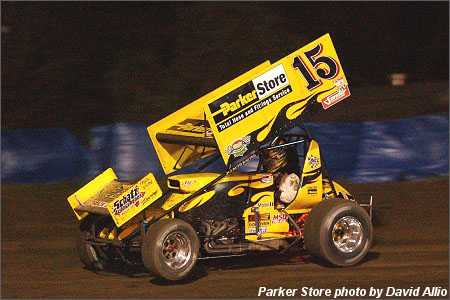 Notes: Donny Schatz had engine problems during qualifying, and had to take one lap at the end.
Brent Kaeding had mechanical trouble during qualifying, and was unable to take a lap
Craig Dollansky was running 2nd in the first heat when fuel line problems sent him to the pits. Dollansky was able to make repairs and restart, but couldn't gain a transfer spot.
NEW!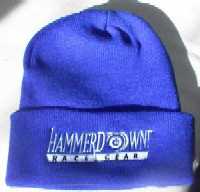 Royal Blue HammerDown! Beanies! $14.99 - BUY NOW!