HammerDown! Race Gear online store.
OPEN NOW. OPEN ALWAYS.
---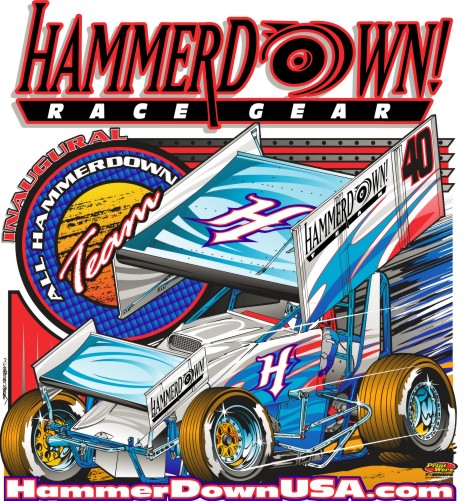 Images
Yearbook Headlines - ...Another HammerDown! "work-in-progress" that we enjoy sharing with our readers. Please check back often, as each year will be updated further.
25 Greatest Sprint Car Drivers of All-time
40 Most Exciting Drivers in NARC History
---
HammerDown! Race Gear
Always open.
DRIVERS
Bob Ream Jr.
Bob Ream Jr. has the HammerDown! (Ben Thrasher photo)

Spring 2004: ...Bob Ream Jr. won his third feature of the year in ASCA non-wing action at Manzanita.

---

...Bob Ream Jr. is one of the hottest non-wing pilots driving right now. Ream won the Arizona Sprint Car Association feature at Manzanita Speedway Saturday night. That is two out of three for the tall, HammerDown! racer. Ream is looking for a ride for the Hanford / Tulare weekend. The last time Ream raced at Kings Speedway he won a Bandits feature driving for Richard Harvey Jr. We'll vouch for Ream if you haven't seen much of racing. The 1998 A.S.C.A. Champion owns over 50 feature wins, primarily in AZ. The guy has set quick time at Manzy five times and never seems out of control. How about it someone? I know there are lots of sprint car teams in the Fresno area.