DRIVERS
Brian Brown
Brown wins at Junction Motor Speedway, McCool Junction, NE. April 8th 2005 ...By Paul Joiner. ...Brian Brown made the fans stand on their seats as an exciting last lap pass on the back stretch got the hot shoe from Missouri his first victory of the season. Not only was it Brown's first victory of the year it was his first visit to McCool Junction Motor Speedway. The HostIA.net/Maxim # 21 winged sprint car was on a rail all night long as Brown also won his heat race. "We had a heckuva day. Getting here the truck broke down." said the ecstatic Brown. "Then we started the motor and the water pump was leaking. That is a 45 minute job but Terry (Doogs) had it changed in 20 minutes and we fired and whammo off we went. I could see just by looking at this track it was going to suit my driving style. During Hot Laps I could feel it, when we came in I told the crew we can win this tonight."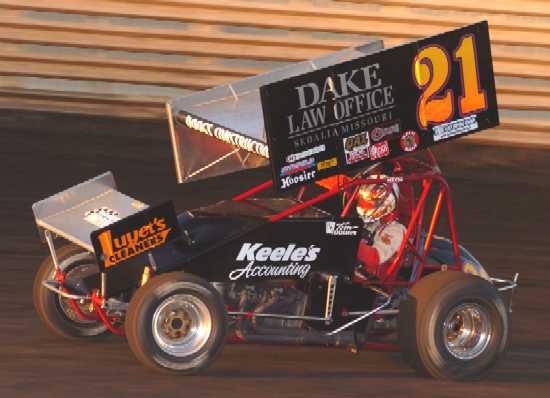 Brian Brown has the HammerDown! (Doug Johnson photo)

...Brian Brown, the Knoxville 360 champion will hit the raod in 2003. The likeable youngster who is Danny Lasoski's nephew will ride in the Lonnie Parsons #6. Helping to turn the wrenches will be Dave Yingst, a mechanic from Pennsylvania that is always fast, and well prepared.
Brian Brown (right), races with Clint Garner at Knoxville. (Doug Johnson Photos)
Brian Brown has the HammerDown! at Knoxville! (Doug Johnson photo)