Royal Blue HammerDown! Beanies! $14.99 - BUY NOW!
World of Outlaws 2003 Season Preview - By Bobby Gerould - HammerDownUSA.com Editor
ROCKLIN, CA. 02/05/03 ...Comprehending what it takes to race a winged dirt sprint car 100 nights in slightly more than eight months is something that most are incapable of. You have to have experienced it first hand to fully appreciate the grind that the World of Outlaws schedule always has been, and seemingly always will be. Driving a sprint car at a championship level on the WoO tour is a task accomplished by only six men in the 25 year history of the "Greatest Show on Dirt". In 2003, the Outlaws will race 72 events over 100 dates at 50 tracks in 27 states.
Without question, the recipe for success must include a tough, talented pilot but the crew and team are just as important. Talk to a weary crew chief the night after they race at Pevely, Missouri's I-55 Speedway in the middle of summer, and you will find that they are existing either on, no sleep, or just a handful of winks in the previous days. Teams will log nearly 50,000 miles in a season, often racing on back-to-back nights, as is the case at Pevely. They will have raced in Joliet, IL. the previous night. After loading up around 11pm in Joliet and washing the car, they drive six hours down I-55, arriving in Pevely with the sun coming up. Some will catch two hours of sleep before getting into the daily maintanence that is mandatory to field a competitive car.
In most, if not all cases, the crew-chief will share a motel room with crew members. The same crew members that share space in a Freightliner truck see each other more than most husbands and wives. Team chemistry is a must.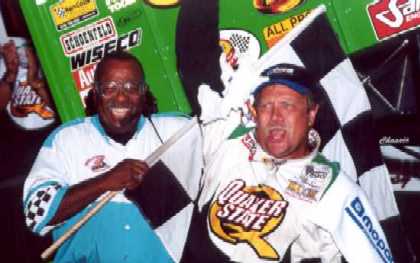 Steve Kinser was once again World of Outlaws champion, winning 20 A-Features in 2002.
While not as demanding as other forms of racing, there are sponsor commitments, TV and radio interviews, and fan interactions that come with the gig as well.
The points are structured in a way that makes it virtually impossible to miss races and still win the title. If you miss two nights of action among those 100 races, you can kiss any thoughts of a championship good-bye. Of course, when you race a sprint car over 100 nights, the bumps and bruises will be there. Short of a serious injury, a driver has to race through pain. Last season Danny Lasoski, the 2001 World of Outlaws champion, suffered a concussion, a bruised lung, a cracked ankle bone, sore shoulder, and blurring in his right eye after a hot laps wallop at Williams Grove. "The Dude" bounced back, racing hurt at the Knoxville Nationals, but the precious points of the four events he missed cost him a chance at consecutive championships.
The point of all stated above is that it takes a special zest for competition, and a unique combination of talent and teamwork to actually win a World of Outlaws Championship. For my money, it is the single most difficult championship to win.

2003 Team Capsules:
Steve Kinser #11 - Steve Kinser should have graced the cover of Sports Illustrated by now. The 17-time World of Outlaws champion was the best of 2002, winning not only the WoO title but also the Knoxville Nationals, and the Gold Cup. Kinser's desire is awe-inspiring. Teamed with Scott Gerkin, Steve has raced every track on the schedule as much or more than any of his competitors. He is fiercely competitive with a feel for the changing track conditions, always with stopwatch in hand, seeing who else is fast, and where they are running. When race time arrives, he's all business. In 2002, Kinser was out of the top-five on A-main nights, only eight times in 67 nights of racing.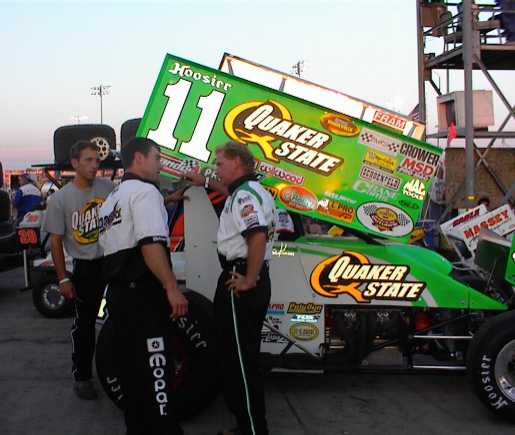 Danny Lasoski #20 - Lasoski is back in the Tony Stewart owned #20, with added sponsorship from Coca-Cola, and Home Depot. "The Dude" is a rock-solid racer that scrapped and clawed his way to make a nice living as a race car driver. Awesome at Knoxville, improving at Eldora, and the Grove, Lasoski is hard to outrun consistently. In 63 starts last season, Lasoski finished in the top five 52 times. Travel-tested, Jimmy Carr, a former WoO driver, spins the wrenches on the #20, fielding a first class ride for Lasoski at each event.
Mark Kinser #5m - Mark, and father, crew-chief, Karl return to Chevy horsepower for 2003. Mark is expected to compete for the title he has owned twice in the last seven seasons. The tough, Indiana driver is a three-time Knoxville Nationals winner, capable of returning to the mountaintop very quickly. Knowing the schedule, the tracks, and what it takes to compete 100 nights is not a problem for this experienced and savvy race team.
Craig Dollansky #7 - In 2002 he posted 57 top-10 finishes in 67 "A" Features. He was the series' strongest driver during the final two months, finishing in the top eight in all 13 main events. Dollansky also raced into the top five 33 times and won "A" Features at Eldora Speedway and Nebraska Raceway Park while finishing third in the point standings behind former champions Steve Kinser and Danny Lasoski.
Daryn Pittman #21 - The team will exclusively run Mopar power built by Gaerte Engines, and Daryn will again drive a J&J sprinter. Pittman won six "A" Features last season. He finished 11th in the point standings despite missing nine events early in the season recovering from a back injury. Pittman returns to the United States after getting married in Australia, and becoming the first Yankee champion of the World Series Sprint Cars, the most prominent series 'down-under'.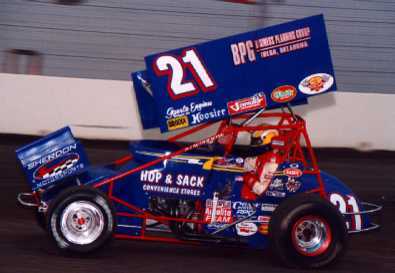 Joey Saldana #17 - Saldana won 5 A-mains, and 3 prelims in 2002 en route to a career-high fourth place ranking in the WoO standings. Joey broke through with a $50,000 triumph at Eldora's Kings Royal. He spent the 'off'-season' racing as much as possible to stay sharp for the 2003 WoO campaign. In Australia, he won the prestigious Grand Annual Classic, and dominated action at Parametta City Raceway. Expect Saldana to win his share on US soil in 2003.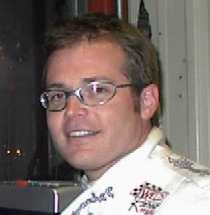 Jeff Shepard #11h - The World of Outlaws will welcome back the colorful Shepard who finished third in the All Stars Circuit of Champions point standings last season. In 2001, Jeff ranked 10th with the World of Outlaws while driving the Guy Forbrook #5. Shepard is a talented driver that should compete very well. Shepard will be steering the Dave Helm # 11h this year. Helm's team is one of a handful that run Goodyear tires. Crew chief Sonny Kratzer knows the WoO circuit as well as any.
Randy Hannagan #1x - The 'Hurricane' toughed out the 2002 season, racing through the pain of several surgeries to reshape his shattered leg, suffered in 2001 at Calistoga. Despite trying times, including the death of his brother, and a bout with kidney stones, Hannagan persevered and started 65 of the 67 WoO A-mains in 2002, finishing 10th in points. The 1998 Golden State Challenge Champion is now 35 years-old, an age many consider to be the start of a racers prime.
Jac Haudenschild #5 - Few drivers have a more loyal following than Jac Haudenschild. The HammerDown! driving style of 'Haud is a treat for all race fans across the USA. The ultra cool Ohio driver is a fan favorite of epic proportions in the Buckeye state. Always charging, Haudenschild and Forbrook are capable of winning anywhere, any night. The pair won two A-Mains in 2002 despite not hitting all the shows.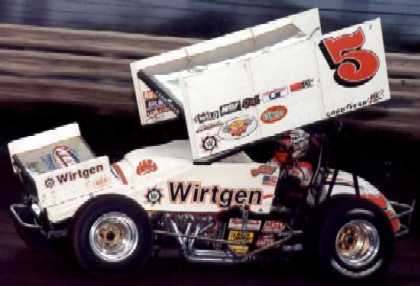 Jason Sides #7s - Sides finished third in the World of Outlaws Gumout Series point standings in 2002. He was the 2001 National Sprint Car Poll 410 Rookie of the Year, the 2001 Gumout Rookie of the Year and Rookie of the Knoxville Nationals in 2001.
Tim Shaffer #83 - Tim Shaffer is a great story. He is one of the very few drivers that has steadily progressed up the ranks to a point where he is now, at age 35, a hired gun for California car-owner, Dennis Roth. The Aliquippa, Pennsylvania driver, who used to drive for his Mother, is now the "Steel-City Outlaw", a pilot capable of putting the Beef Packers #83 in the top ten on 51 of 67 occasions in 2002. Shaffer, a former Lernerville Speedway track champion (1993) is especially pleasing to watch on the medium and short sized tracks.
Stevie Smith #19 - Pennsylvania ace, Stevie Smith is not planning on running the entire schedule this season as he returns to his own #19. Smith has sponsorship from Goodyear, and will ride on Eagles in 2003. Smith is as good a sprint car driver as you'll find. He will race his first WoO event in Oklahoma City, March 14th.
Tyler Walker #35 - Tyler Walker is a special talent. The 2002 Gumout Series Champion was already on the cusp of sprint car greatness in 1999 before leaving the dirt in pursuit of NASCAR opportunities. Now that he is back with the World of Outlaws driving for the C&W motorsports team, and reunited with his 'brother', crew-chief, Ricky Warner, there is no limit to the amount of cash Walker could snare away from the Kinsers, and Lasoskis. Walker wears his emotions on his sleeve, and brings color and excitement to each race he runs.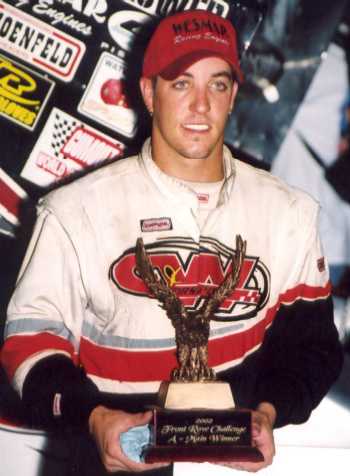 Brian Brown #6 - Brown won Knoxville Raceway's 360 championship and was the division's Rookie of the Year last season. He won nine feature races, including five in succession. Brown, 24, is looking forward to racing with his uncle, 2001 World of Outlaws champion Danny Lasoski. Helping to turn the wrenches will be Dave Yingst, a mechanic that is always fast, and well prepared.
P.J. Chesson #76 - The donut king from the East Coast prep school provides entertainment at each show he competes at. Chesson won in 2002 at New Egypt, New Jersey, and Fargo (on Speed's nationally televised race). The 24 year old driver may not make all the WoO events this season but he will impact the races he does run.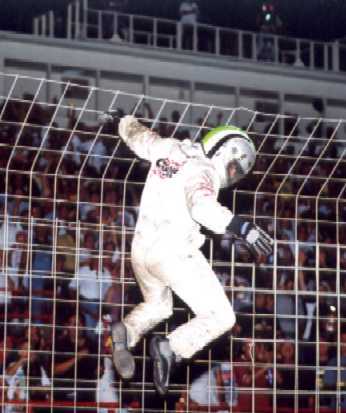 PJ Chesson leaps off the fence at Red River Valley Speedway in Fargo, ND
Johnny Herrera #2w - Better than a third of the nights when Herrera raced, he raced in the top ten. On a limited schedule in 2002, Johnny raced for Billy Wilburn in the #2w. The veteran driver also subbed for Danny Lasoski last season while Lasoski was laid up from his crash at the Grove. Herrera is a smart racer with great credentials at two very important tracks; Eldora and Knoxville. Herrera is a past Kings Royal winner as well as a Knoxville track champion.
Donny Schatz #15 - Schatz scored huge wins in 2002 at his home track, Red River Valley Speedway, in Fargo, ND., and at Eldora's Historical Big One. He ran second to Steve Kinser at the Knoxville Nationals. Schatz is planning on running the full USAC Silver Crown schedule along with most of the WoO schedule.
Brian Paulus #28 - Paulus will once again run roughly 90% of the WoO tour. The mechanically inclined racer also runs the USAC Silver Crown Series. Paulus won the 1996 Vivarin perseverence award - the first time the award was given for his 15th place standing on the WoO tour.
Sammy Swindell #1 - Sammy is not running the entire schedule but is sure to play the spoiler role in 2003. This season, Swindell, winner of 258 career A-mains in WoO action, is teaming with Kenny Woodruff, who maintained the #15 for Donny Schatz for most of the 2002 season. Woodruff was the crew chief on Casey Luna's World of Outlaws championship teams in 1989 and 1995. He has won the Nationals, the Gold Cup, and the Kings Royal. No team will be better prepared to race than this grouping of men. Swindell, who won World of Outlaws titles in 1981, 1982 and 1997, raced into the top 10 in 14 of 20 main events last season.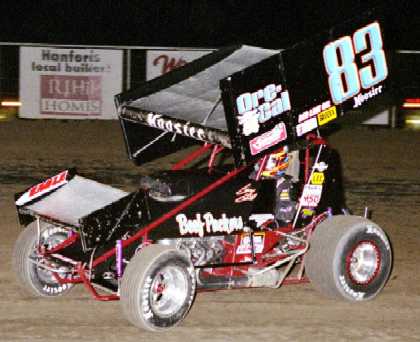 Brad Furr #2 - Furr will start the season with the World of Outlaws but is expected to race closer to his California home in 2003. In 2002, Furr posted victories at Port Royal, Devils Bowl, Texas Motor Speedway and Watsonville. Furr Racing Crew Chief Mike Harper was named 2002 WoO mechanic of the year.
Ricky Logan #3s - Little Rock, Arkansas driver, Ricky Logan must be considered one of the most improved drivers in winged sprint car racing over the past couple seasons. Logan posted a top five finish in 2002, and was among the top 20 in points at season's end. Logan shows signs of success on the hallowed Knoxville clay.
Paul McMahan #2 - Paul is piloting the Miller Rigging sprinter based out of Findlay Ohio for 2003. As consistent as they come, Paul raced only 20 WoO events in 2002 but put the car in the top ten in 50% of those events. McMahan also took home a $15,000 win in 360 action late in the 2002 season, at the Short Track Nationals. Paul recently moved to Nashville, TN., and will compete at selected WoO races this season.
Kraig Kinser #11k - 18 year-old Kraig Kinser will graduate from high school in the Spring, and expects to race more with the World of Outlaws in 2003. Last season, Steve's son won five main events on the GLOSS tour.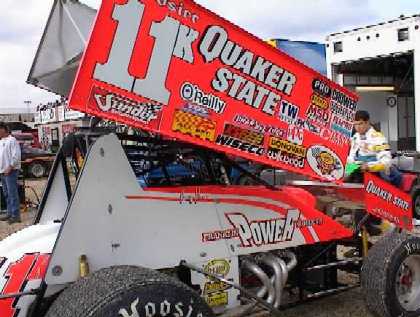 Greg Hodnett #12 - Hodnett is not racing for WoO points but that did not keep him from sweeping a Memorial Weekend of racing at Lowes Motor Speedway Dirt Track in 2002. The professional Hodnett owns a mechanical engineering degree from Memphis State University. Teamed with Lee Stauffer, Hodnett is a threat to win if he signs in.
Danny Wood - As of February 1, Wood was still looking for a 2003 ride. Wood is too good a driver to be a spectator.