UNDEVELOPED IMAGES By Jim Allen Anaheim Hills, CA… Okay… I'll give most of you the opportunity to rag on me for all but completely disappearing from the California sprint car scene for a few years. It's not that I didn't care, or wasn't watching from the sidelines, but after 15 consecutive seasons of NARC and Golden State Challenge races, the time had come to move on. When you throw in Outlaw events, an occasional trip to Knoxville, and off-season events and sponsorship hunts, I barely had time to work Christmas and Thanksgiving into my schedule. The whole scenario can best be categorized as classic burnout, compounded by a once in a lifetime career opportunity. Next thing you know, I'm living in always-sunny Southern California -- 450 miles away from the site of the Gold Cup Race of Champions. That's not exactly regarded as an attractive or convenient weekend drive.

Then again, any serious fan or participant of open wheel racing can relate to the burnout and the time sacrifice. In fact, we are all borderline dysfunctional. If we had the choice of driving 250 miles to a sprint car event, or going to a family reunion, a friends wedding, a relatives birthday party, a kids softball game, there is only one question that comes to mind - "When in the heck do hot laps start?" Let's face it, it was no accident that both of my kids were born in January. It wasn't a stroke of luck, good alcohol, or the moon lining up with Uranus that got my wife pregnant. It was a perfectly timed nine-month feature event, that didn't conflict with the NARC schedule.

It goes without saying that all of you can relate to that type of lifestyle changing event in one form or another. We tend to get married in the fall and winter, rather than the conventional wedding months of May-July. We prefer that our kids don't attend year-round school because that three-month summer break is needed to travel to big events. Class reunion? Blow it off - there are sprint cars in Watsonville on that night. Scheduling that special wedding anniversary dinner? Man, I hear the tri-tip combo plate at Bakersfield Speedway is to die for! Mother-in-law? Come on, I just saw her at our wedding six-years ago. Can't she meet us in Petaluma on Saturday night - the pit gates open at 5:00 p.m.? Vacation? Heck, we just got back from Eldora, the vacation hot spot of the Midwest, what else could you possibly ask for? Jury duty during Speedweek? Hope they can find me. And dating? (In your best Italian voice) Forget about it! If a woman won't make the weekend trip to Hanford, and share a room with you and eight of your closest friends, who needs her? Love life? What do you mean honey? You mean you don't like fooling around in my truck, with a tear-off stuck to your rear, staring at the moon through a World of Outlaw sticker on my back window? Don't worry dear; it will be over quicker than a 10-lap heat race…. I mean main event! And who said that a Steve Kinser t-shirt doesn't make a nice negligee for the little woman?

So where is all of this leading? (Boy… wasn't that a creative segway?) Would you believe to my photo archives? As the PR/Business Manager for NARC and the Golden State Challenge from 1985-1999, I literally accumulated thousands of photographs from some of the best in the business. This talented group includes the likes of Steve Lafond, Ed Bernhardt, Chris Lovett, Dennis Mattish, Bill Wadley, M & M Photos, Jim Phillipson, Bob & Cooke Pool and many more. In fact, the way racetracks and racing associations are folding up these days; this fraternity possesses the only ongoing evidence of our dysfunctional lifestyles. Everything else -- the records and paperwork are going to eventually end up in somebody's recycle bin.

So over the course of the next few months, I am going to bring you a narrated photo essay of selected NARC, GSC, USAC, and Outlaw personalities and events that are waiting to talk to you from the depths of the shoe boxes they are stored in. They will not be in any particular order, but after reviewing them, you will find them to be ironic, entertaining, confusing, weird, or just enlightening enough to justify some of the lifestyle changes you have made. Most are color; some are black and white press photos, and some feature bikinis. So if you are ready - fire up your DSL and view away…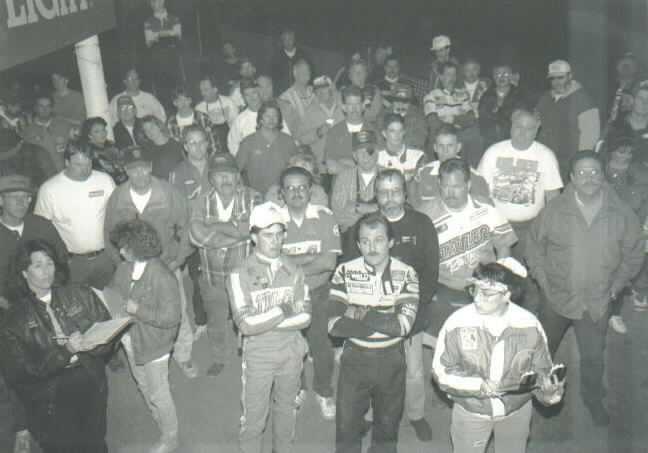 PHOTO 1 - NARC DRIVERS MEETING Photo by Ed Bernhardt If you have ever attended any basic sales presentation, you learn tons about body language. Crossing one's arms is a defensive posture. People with their hands in their pockets are usually bored stiff. People who look down tend to be totally uninterested with the conversation. And people standing in the back of a group think they know everything and do not want to be singled out for any type of conflict, or questions. Now here is the scary part…. This is a photo taken during a NARC drivers meeting in Chico. If you look closely at the faces and the bodies, you might get the impression that this group would rather be anywhere but here. Is anybody besides me picking up on any of the body language? What do you think is going through Steve Kent's mind? "Twenty-sixth. Damn! That can't possibly be right -- twenty-sixth fast? I never qualify good at Chico."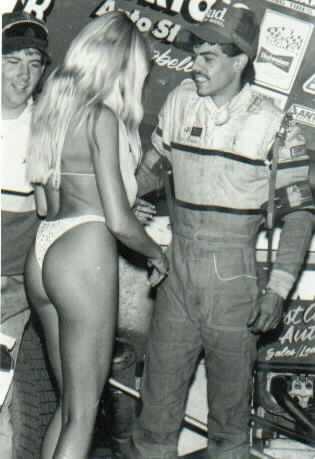 PHOTO 2 - ERIC ROSSI IN VICTORY LANE Photo by Dennis Mattish Speaking of body language, I am not 100% sure what message is being delivered here. But my guess is that for most of you - it never crossed your mind, nor do you care. A photograph like this provides the defining moment in the career of any hardworking aspiring sprint car driver. Why? At this precise moment in time, Eric Rossi discovered what inspired Brent Kaeding to win more than 100+ NARC feature events. Some thought it was the money, but I may look elsewhere. Now here is the irony of this picture: Check out Mr. Rossi. Can you believe it? He's actually looking at her face. What are the odds of that?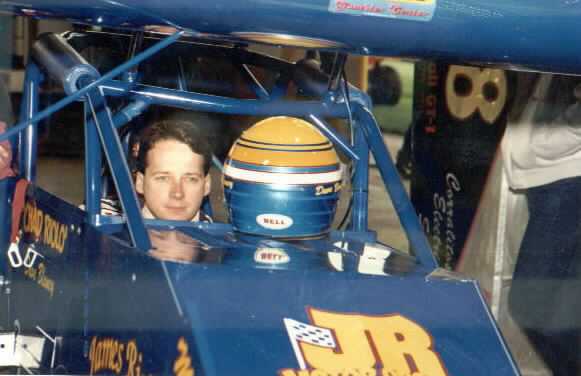 PHOTO #3 - DAVE BLANEY SITTING IN CAR Photo by Chris Lovett On this cold and rainy March weekend in 1994, WoO mainstay Dave Blaney made a run at the NARC season opening Mini-Gold Cup event at Silver Dollar. He was piloting the James Riolo Paving sprinter and finished third. Dave is as focused and determined as any driver on the face of the earth as this photo shows. That F & D is what has allowed his racing career to prosper on the Winston Cup circuit. Way to go Dave!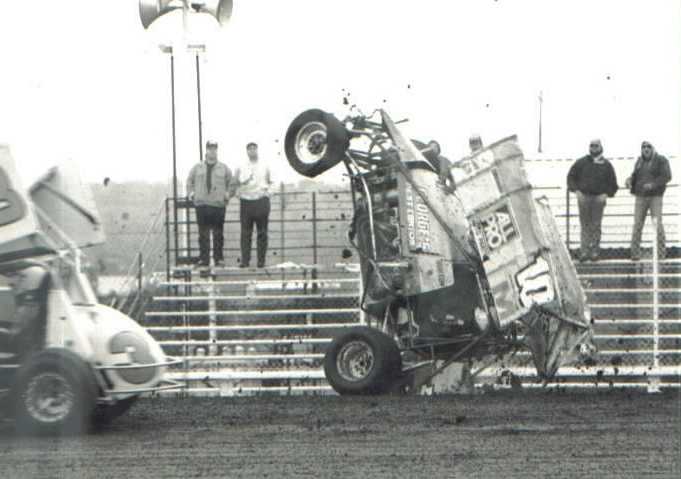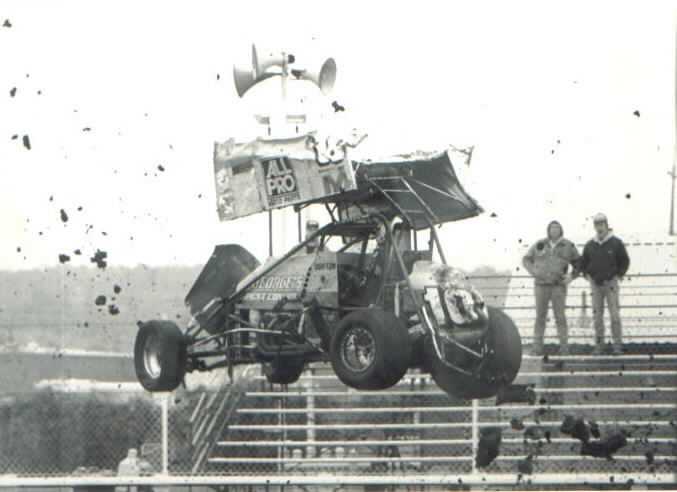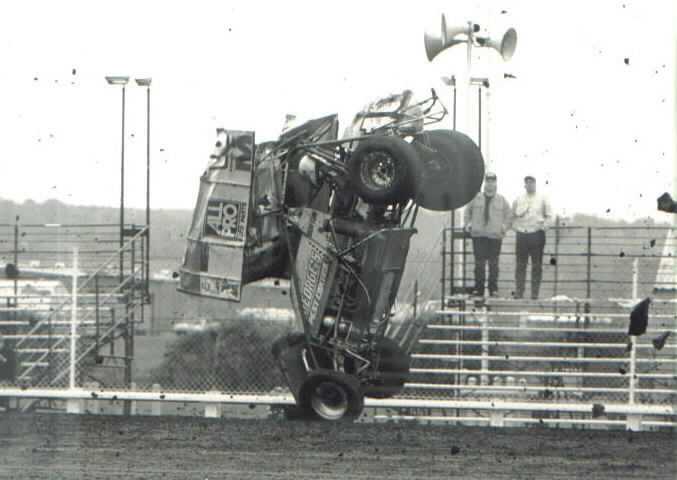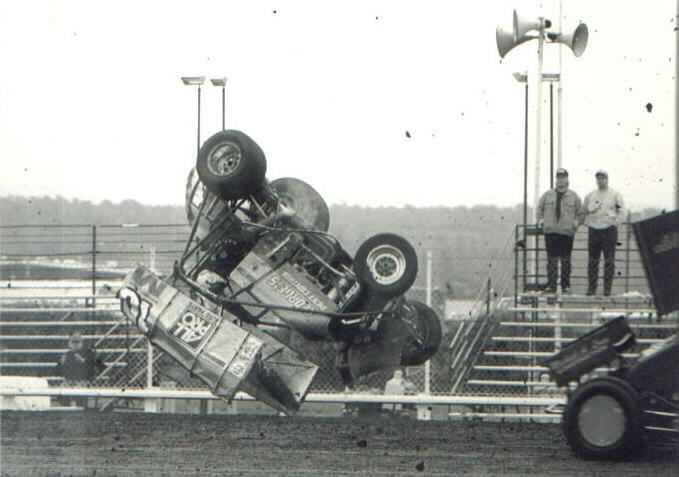 PHOTO #4-5-6-7 - NUMBER 10 FLIP SEQUENCE Photo sequence by Loran Hall At that same Mini-Gold Cup event, photographer Loran Hall captured this sequence of Danny Burton taking an ugly "dig in and flip 'em" adventure down the backchute. There should be a lot of emphasis on the word UGLY. As you can see, the super tacky track surface was not very forgiving on this wet Sunday afternoon and Danny's sore back can attest to that fact. The Silver Dollar Fairgrounds resembled the site of a mud-bog gone bad on this weekend. The pits were a swamp, so everybody set up camp in the barns. Somehow, in typical John Padjen fashion, the event barely dodged more rain with Steve Kent victory lane interview being performed in a downpour. Blaney finished second, followed by Leland McSpadden.

PHOTO #8: - MERCEDES PACE CAR Photo by Ed Bernhardt If I had to sum up this photograph in one word, that word would be "what the @%?" The Northern Auto Racing Club always had a reputation of doing things a little different. This would include using a Mercedes four-door sedan as a pace car on the Chico high-banks. At least we took care of our series sponsor!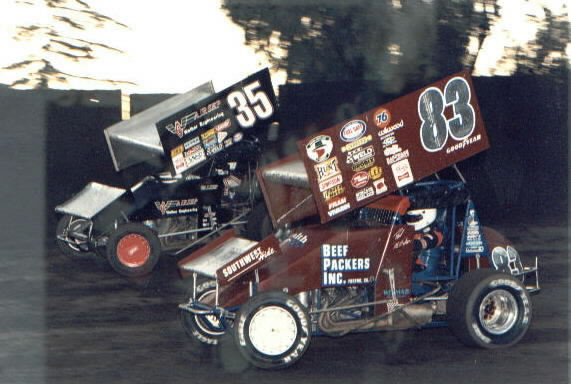 PHOTO #9 - #83 & #35 AT ANTIOCH Photo by Steve Lafond Here is a somewhat recent flashback for you. This 1996 photograph was taken at Antioch Speedway before Dennis Roth claimed national fame on the World of Outlaw circuit. That's Paul McMahan putting the HammerDown! racing side-by-side with none other than another future WoO aspirant Tyler Walker.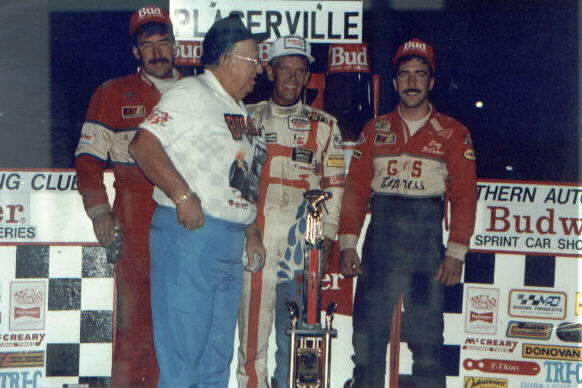 PHOTO 10 - PLACERVILLE WITH J.W. HUNT Photo by Ed Bernhardt Placerville Speedway was the site of the NARC-Speedweek opener in 1993. Sprint car racing's most generous ally at that time was none other than J.W. Hunt. The super Strawberry King was quick to dole out fistfuls of cash -- like the wad he is holding here. He never played favorites, always preferring to help the little guy. Greg DeCaires was earmarked for a 1099-form on this night.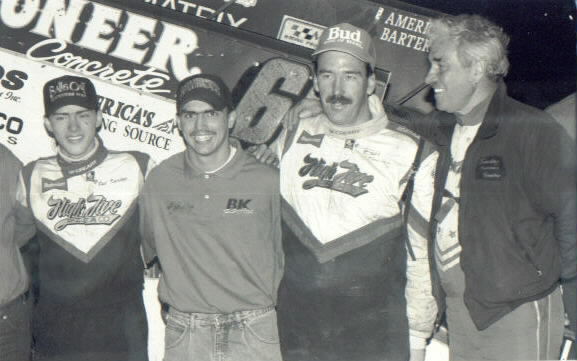 PHOTO 11 & 12 - THE KAEDING CLAN & B.K. & H.K. Photos by Steve Lafond From the "chip off the 'ole block" department comes the Kaeding family. If you need proof that bloodlines run deep, and some things are hereditary, then all you have to do is examine the careers of Bud, Tim, Brent, and Howard Kaeding. While many athletes and famous people tend to be standoffish and unsocialble, this never applied to this family tree. While all are fierce competitors on the track, all are great sportsmen; all have a heart of gold, and most importantly enjoy life and their friends along the way. Some racing families may want to take notes!
Well, I'd like to hang around and ramble some more, but that's all for this edition. I've got a tee time in an hour. In the meantime, I can be reached at jima@westernairsystems.com See ya!
Back to HammerDown! Front Page