Lasoski Sweeps Dodge Great Plains Shootout By Richard Day GREENWOOD, NE (May 3) – Danny Lasoski overcame a mechanical malfunction for the second straight weekend to sweep his second straight O'Reilly World of Outlaws Series event. "The Dude" didn't let a broken throttle spring in the #20 J.D. Byrider Eagle keep him from completing his sweep of the Dodge Great Plains Shootout Saturday at Nebraska Raceway Park. Lasoski's engine was losing power late in the Preliminary Feature during the Spring Classic at Knoxville Raceway the previous weekend.
"I think we broke a throttle return spring about 10 laps into the race," Lasoski said following his fourth straight feature victory. "The throttle would hang wide open, and I had to pull it back up with my toe. I figured somebody would be gaining on me, because I knew I wasn't making very good corners. "I'm just proud of this whole J.D. Byrider Home Depot Mopar team. When you race with these guys, you take wins any time you can get them because it can turn around on you pretty quickly. Kistler Engines, Hoosier Tires, Eagle Chassis, they all make it possible for us to come out here and compete at this level."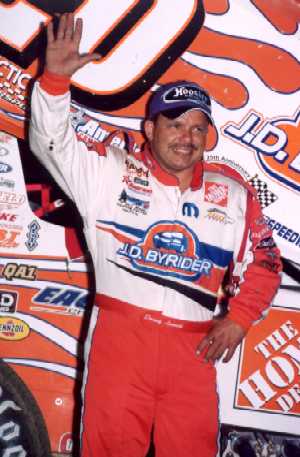 Doug Johnson Photo
Lasoski, who also took the checkered flag in Friday's Preliminary Feature, won his fifth Dash Race of the season for the right to start the 30-lap main event on the pole. "The Dude" drove NASCAR Winston Cup champion Tony Stewart's car into the lead as the green flag fell in the "A" Feature. Donny Schatz spun in the second corner, however, bringing back the original start. Lasoski and fellow front-row starter Steve Kinser raced wheel-to-wheel down the front straightaway as the green flag replaced the yellow. "The Dude" surged ahead in the second corner and was on his way to his fourth "A" Feature victory of the season. Tyler Walker took the low line through the first and second corners to pass Second Heat Race winner Paul McMahan for fourth place early in lap three.
Daryn Pittman, who started outside the sixth row, drove Sher-Don Motorsports' #21 Hop & Sack J&J past Brooke Tatnell and Craig Dollansky in the low groove between the third and fourth corners to take over seventh place several seconds later. Schatz's #15 Parker Stores J&J clipped the outside retaining wall in turn one and flipped early in the fourth lap, bringing out the red flag. Mark Kinser and Pittman raced past McMahan in the low groove entering the fourth corner within seconds after the race resumed. Dollansky stopped on the back stretch when the nose wing on Karavan Racing's #7 VMAC Maxim came loose midway in lap eight.
Walker, who won the Third Heat Race, passed Joey Saldana for third place with an inside move between turns one and two as the green flag replaced the yellow. Jac Haudenschild, who started inside the ninth row, drove Guy Forbrook's #5 MPD Hand Controls/Wirtgen America Maxim through the low groove between third and fourth corners to pass fast qualifier Kraig Kinser for ninth place late in lap 11. Tim Shaffer, who chased "The Wild Child" through the field, passed Haudenschild and Kinser deep in turn four the next time around.
Lasoski was 18 car-lengths ahead of "The King of the Outlaws" when he entered lapped traffic during lap 13. Kinser closed to within 12 car-lengths within two laps. Walker caught Kinser early in the 17th lap, and raced wheel-to-wheel with him through the third and fourth corners. The 2001 World of Outlaws Gumout Series champion also raced with "The King of the Outlaws" through turns one and two the next time around, but was unable to surge ahead. Lasoski, Kinser and Walker raced nose-to-tail through dense lapped traffic throughout the 19th lap.
Walker drove C&W Motorsports' #35 Maxim past Kinser deep in the first corner the next time around, just seconds before Jason Sides spun in turn one. Kinser regained the runner-up spot as the raced resumed, passing Walker deep in the second corner. "The Dude" was 15 car-lengths ahead of Kinser when he caught the back-markers with 2 ½ laps remaining, and claimed his third main event victory at Nebraska Raceway Park with eight car-lengths to spare. Walker and Mark Kinser crossed the finish line third and sixth, but were scored in 23rd and 24th place when their cars weighed less than the 1,375-pound limit.
Pittman finished in third place, ahead of Saldana, McMahan, Tatnell, Shaffer, 14th-starting Randy Hannagan, Haudenschild and Schatz. Hannagan was leading the Third Heat Race when his engine lost power. His crew replaced the engine in TH Racing's #1X K&C Drywall Rocket in time for him to start the "A" Feature. Mark Kinser was also running a new engine in the main event. Kraig Kinser, who set fast time in both racing programs during the Dodge Great Plains Shootout, paced Saturday's qualifying session with a 100.474-M.P.H. lap around Nebraska Raceway Park's semi-banked, 4/10-mile oval.
The O'Reilly World of Outlaws Series will run $51,600 events at Lawrenceburg Speedway Tuesday, Farmer City Raceway Thursday, the Terre Haute Action Track Friday and Tri-City Speedway Saturday.
2003 O'Reilly World of Outlaws Series Dodge Great Plains Shootout Nebraska Raceway Park, Greenwood, NE Saturday, May 3, Feature Program #16
Qualifying: 1. Kraig Kinser, Kinser 11K, 14.332; 2. Paul McMahan, Helm 11H, 14.335; 3. Tyler Walker, C&W Motorsports 35, 14.364; 4. Brooke Tatnell, Grandstaff 66, 14.384; 5. Donny Schatz, Schatz 15, 14.386; 6. Craig Dollansky, Karavan Racing 7, 14.395; 7. Johnny Herrera, Wilburn 2W, 14.435; 8. Daryn Pittman, Sher-Don Motorsports 21, 14.532; 9. Brian Paulus, P and P Motorsports 28, 14.574; 10. Randy Hannagan, TH Racing 1X, 14.575; 11. Jason Sides, Sides Motorsports 7S, 14.579; 12. Jonathan Allard, Wright 35W, 14.596; 13. Jac Haudenschild, Forbrook 5, 14.658; 14. Tim Shaffer, Roth 83, 14.693; 15. Bob Bennett, Acme Trailers 3, 14.966; 16. John Lambertz, Lambertz 12L, 15.022; 17. Rich Bubak, Bubak 9X, 15.272; 18. Regan Kitchen, Kitchen 21K, 16.328; 19. Rick Ideus, Ideus 5B, no time; 20. Brian Carlson, Carlson 18, no time. Finishing 1-4 in Friday's Preliminary Feature qualified Danny Lasoski, Stewart 20; Steve Kinser, Kinser 11; Joey Saldana, Saldana 17; and Mark Kinser, Kinser 5M; for the first four starting positions in the Dash Race.
First Heat Race (eight laps): 1. Jonathan Allard, 2. Johnny Herrera, 3. Jac Haudenschild, 4. Craig Dollansky, 5. Kraig Kinser, 6. John Lambertz. (all six qualified for the "A" Feature)
Second Heat Race (eight laps): 1. Paul McMahan, 2. Jason Sides, 3. Donny Schatz, 4. Daryn Pittman, 5. Tim Shaffer, 6. Rich Bubak. (all six qualified for the "A" Feature)
Third Heat Race (eight laps): 1. Tyler Walker, 2. Brooke Tatnell, 3. Brian Paulus, 4. Bob Bennett, 5. Randy Hannagan. (all five qualified for the "A" Feature)
Dash Race (five laps): 1. Danny Lasoski, 2. Steve Kinser, 3. Paul McMahan, 4. Mark Kinser, 5. Tyler Walker, 6. Joey Saldana, 7. Kraig Kinser, 8. Brooke Tatnell. (finish determined the first eight starting positions in the "A" Feature)
A Feature (30 laps): 1. Danny Lasoski [1] ($12,000); 2. Steve Kinser [2] ($6,000); 3. Daryn Pittman [12] ($4,000); 4. Joey Saldana [6] ($3,500); 5. Paul McMahan [3] ($3,300); 6. Brooke Tatnell [8] ($3,100); 7. Tim Shaffer [18] ($3,000); 8. Randy Hannagan [14] ($2,500); 9. Jac Haudenschild [17] ($2,100); 10. Donny Schatz [9] ($2,050); 11. Johnny Herrera [11] ($2,000); 12. Jonathan Allard [16] ($1,600); 13. Brian Paulus [13] ($1,500); 14. Craig Dollansky [10] ($1,200); 15. Rich Bubak [21] ($1,100); 16. Jason Sides [15] ($1,000); 17. John Lambertz [20] ($900); 18. Kraig Kinser [7] ($800); 19. Bob Bennett [19] ($800); 20. Rick Ideus [23] ($800); 21. Regan Kitchen [22] ($800); 22. Brian Carlson [24] ($800); 23. Tyler Walker [5] ($800); 24. Mark Kinser [4] ($800).
(Tyler Walker and Mark Kinser failed to meet the minimum weight requirements and were scored 23rd and 24th)
Lap leader: Danny Lasoski 1-30