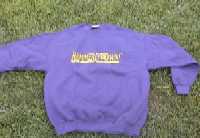 NEW at the HammerDown! Store! Navy Sweatshirts
| | | | |
| --- | --- | --- | --- |
| Date | Track | Winner | Notes |
| 02/21/03 | Hanford, CA. | Tim Kaeding # 7T | |
| 02/22/03 | Perris, CA. | Danny Lasoski # 20 | |
| 02/28/03 | Las Vegas, NV. | Tim Shaffer #83 | |
| 03/01/03 | Las Vegas, NV. | Tim Shaffer (2) #83 | |
| 03/08/03 | San Felipe, NM. | Steve Kinser #11 | |
| 03/09/03 | San Felipe, NM | Steve Kinser (2) #11 | |
| 03/14/03 | Oklahoma City, OK. | Donny Schatz #15 | |
| 03/15/03 | Mesquite, TX. | Tyler Walker #35 | |
| 03/22/03 | Pike County, MS. | Jeff Shepard #11h | |
| 03/23/03 | Baytown, TX. | Steve Kinser (3) #11 | |
| 03/28/03 | Fort Worth, TX | Steve Kinser (4) #11 | |
| 03/29/03 | Fort Worth, TX. | Steve Kinser (5) #11 | |
| 04/05/03 | Talladega, AL. | Danny Lasoski (2) #20 | |
| 04/11/03 | Sedalia, MO. | Steve Kinser (6) #11 | |
| 04/12/03 | Pevely, MO. | Steve Kinser (7) #11 | |
| 04/18/03 | Eldora | Donny Schatz #15 | |
| 04/19/03 | Eldora | Sammy Swindell #1 | Steve Kinser DQ'd for being too lite. |
| 04/22/03 | Beaver Dam, WI. | Joey Saldana #17 | |
| 04/25/03 | Knoxville, IA. | Danny Lasoski (3) #20 | |
| 04/26/03 | Knoxville, IA. | Danny Lasoski (4) #20 | |
| 05/02/03 | Greenwood, NE. | Danny Lasoski (5) #20 | |
| 05/03/03 | Greenwood, NE. | Danny Lasoski (6) #20 | |
| 05/06/03 | Lawrenceburg, IN. | Paul McMahan #11h | |
| 05/09/03 | Terre Haute, IN. | Danny Lasoski (7) #20 | |
| 05/13/03 | Delmar, DE. | Steve Kinser (8) #11 | |
| 05/18/03 | Grandview (PA.) | Steve Kinser (9) #11 | |
| 05/19/03 | Hagerstown, MD. | Mark Kinser #5m | |
| 05/21/03 | Lernerville (PA.) | Donny Schatz (2) #15 | |
| 05/24/03 | Concord, NC | Blake Feese # 3 | |
| 05/27/03 | Lebanon Valley, NY. | Joey Saldana (2) #17 | |
| 05/28/03 | Elbridge, NY. | Steve Kinser (10) #11 | |
| 05/31/03 | Eldora | Steve Kinser (11) #11 | |
| 06/10/03 | Arcadia, WI. | Jason Meyers #7 | |
| 06/12/03 | W. Fargo, ND. | Steve Kinser (12) #11 | |
| 06/13/03 | W. Fargo, ND | Steve Kinser (13) #11 | |
| 06/14/03 | W. Fargo, ND | Danny Lasoski (8) #20 | |
| 06/18/03 | Husets | Steve Kinser (14) #11 | |
| 06/20/03 | Joplin, MO. | Steve Kinser (15) #11 | |
| 06/21/03 | Lakeside | Daryn Pittman #21 | |
| 06/22/03 | Granite City, IL. | Paul McMahan (2) #11h | |
| 06/23/03 | Farmer City, IL | Steve Kinser (16) #11 | |
| 06/27/03 | Eagle, NE. | Steve Kinser (17) #11 | |
| 06/28/03 | Eagle, NE. | Steve Kinser (18) #11 | Eagle Nationals $15,000 to win. |
| 07/02/03 | Sedalia, MO. | Donny Schatz (3) #15 | |
| 07/04/03 | Knoxville | Steve Kinser (19) #11 | |
| 07/05/03 | Knoxville | Danny Lasoski (9) #20 | Napa Classic $20,000 to win. |
| 07/07/03 | Somerset, WI. | Steve Kinser (20) #11 | |
| 07/12/03 | Peveley, MO. | Tyler Walker (2) #35 | |
| 07/13/03 | Terre Haute, IN. | Danny Lasoski (10) #20 | |
| 07/18/03 | Eldora | Steve Kinser (21) #11 | |
| 07/19/03 | Eldora | Steve Kinser (22) #11 | Kings Royal $50,000 to win. |
| 07/24/03 | Williams Grove | Donnie Kreitz #69 | |
| 07/25/03 | Williams Grove | Donny Schatz (4)#15 | |
| 07/26/03 | Williams Grove | Donny Schatz (5) #15 | Summer Nat's $20,000 to win. |
| 07/28/03 | New Egypt, NJ. | Donny Schatz (6) #15 | |
| 07/30/03 | Hartford, OH. | Steve Kinser (23) #11 | Rain make-up |
| 07/30/03 | Hartford, OH. | Steve Kinser (24) #11 | Two features in same day. |
| 07/31/03 | Chillicothe, OH. | Daryn Pittman (2) #21 | |
| 08/06/03 | Hartford, MI. | Brian Paulus #28 | |
| 08/08/03 | Eldora | Jason Meyers (2) #7 | |
| 08/13/03 | Knoxville, IA. | Donny Schatz (7) #15 | Nationals Prelim |
| 08/14/03 | Knoxville, IA. | Steve Kinser (25) #11 | Nationals Prelim |
| 08/16/03 | Knoxville, IA. | Danny Lasoski (11) #20 | Knoxville Nationals |
| 08/18/03 | Jetmore, KS. | Brooke Tatnell #66 | |
| 08/19/03 | Rocky Mountain | Donny Schatz (8) #15 | |
| 08/22/03 | Elma, WA. | Jason Meyers (3) #7 | |
| 08/23/03 | Elma, WA. | Jason Meyers (4) #7 | |
| 08/26/03 | Cottage Grove, OR. | Steve Kinser (26) #11 | |
| 08/29/03 | Calistoga, CA. | Danny Lasoski (12) #20 | |
| 08/30/03 | Calistoga, CA. | Danny Lasoski (13) #20 | Clean Sweep! |
| 08/31/03 | Calistoga, CA. | Danny Lasoski (14) #20 | |
| 09/02/03 | Tulare, CA. | Steve Kinser (27) #11 | |
| 09/04/03 | Chico, CA. | Joey Saldana (3) #17 | |
| 09/05/03 | Chico, CA. | Paul McMahan (3) #11h | |
| 09/06/03 | Chico, CA. | Steve Kinser (28) #11 | |
| | | | |
| | | | |
| | | | |
| | | | |
| | | | |
| | | | |
| | | | |
| | | | |
| | | | |
| | | | |
| | | | |
| | | | |
| | | | |
| | | | |
| | | | |
| | | | |
| | | | |
| | | | |
| | | | |
| | | | |
| | | | |
| | | | |
| | | | |
The HammerDown! Race Gear Store!

---
Participate in the Hero of the Past Poll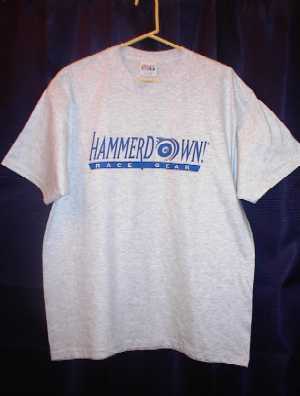 HammerDown! Logo T-Shirts!
On Sale NOW!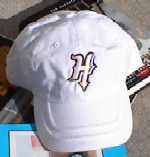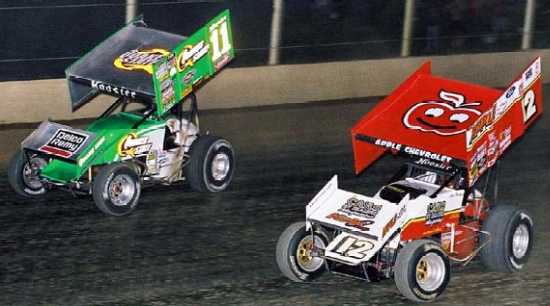 Steve Kinser #11 and Greg Hodnett #12 do their thing at Eldora'a 2003 Kings Royal. Steve won the race for the fifth time in his career. (Jim Fleming Photo)
---
HammerDownUSA.com is always free. If you enjoy our site, you can support us in two ways; either a purchase at the HammerDown! Store, or by placing an advertisement on our site.

---

Drivers Index - Over 130 drivers with their own page!

Images

The HammerDown! Summertime Hat

Art Spaulding Photography Portfolio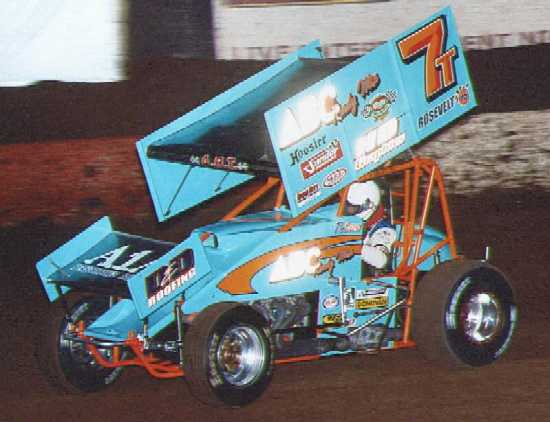 Tim Kaeding is on the methanol at Perris (Jim Fleming Photo)
HammerDown!