The HammerDown! Poll: Future Superstar
HammerDown! Publications. Now on sale in the HammerDown! Store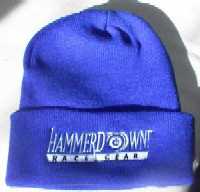 Royal Blue HammerDown! Beanies! $14.99 - BUY NOW!
Art Spaulding Photography Portfolio
Featured Writers
Images
Projects:
David Allio captures images at Las Vegas Motor Speedway. PHOTOS!
Yearbook Headlines - ...Yet another HammerDown! "work-in-progress" that we enjoy sharing with our readers. Please check back often, as each year will be updated further.
HammerDown! Publications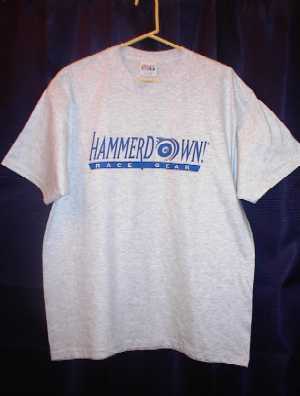 Hawkeye Moore Wins at Watsonville - By Bobby Gerould, 05/17/03, Watsonville, CA. …Dennis Moore JR. of Grinnell Iowa felt right at home at Watsonville Speedway despite the fact that he had never even seen the place before Saturday night's round nine of the Golden State Challenge sprint car series. Moore, who is spending his racing season in the Golden State driving for the Williams MotorSports team, claimed his second feature win of the 2003 "King of California" series by taking advantage of a final lap tangle between Brent Kaeding and Jason Meyers.

When Moore accepted the white flag he was running third on the quarter-mile dirt oval. Kaeding was leading and Meyers was second, both racing in traffic for the win. As the two headed for the final set of turns, Meyers' Elite Landscaping #1 made a low dive, and Kaeding protected his groove in the BK Racing #69. The result was hard contact, with Meyers driving over the front of Kaeding's machine. The front wing on Kaeding's mount was broken off, and he suffered a flat left front tire, and front-end damage. As Kaeding came to a stop, Meyers was able to continue. However, under caution, Golden State Challenge officials penalized Meyers for rough driving and sent him to the tail of the field. Suddenly, Moore JR. found himself in the lead with just a restart and two quick laps to handle.

The 'Hawkeye' pilot held Tim Kaeding off to win his second career GSC feature. Said Moore, "The old saying is 'A race ain't over until the checkered falls', and that is what happened tonight. Meyers and Brent were decent, and we were just off a bit. I don't know what happened there with those guys, and really, I don't care", said the smiling winner. "Morrie Williams gives me a helluva car, and I saw some pressure from Tim but I just tried to run two consistent laps at the end."

The feature started with eight cars inverted, placing Brent Kaeding and Moore on the front row. With a temperature of 48 degrees Fahrenheit at feature time, Moore said he felt like the Iowa cold had followed him to California. Before the original green, Nevada's Doug Lippincott stalled, and did not start the feature 30 lapper. After two non-starts, Brad Furr spun to a stop just after green flag number three. Kevin Pylant followed another false start with a turn two spin. Tommy Tarlton, and Brian Coelho also stopped in turn two. All cars resumed but at the rear.

Finally, on the sixth green flag with no laps scored, Brent Kaeding and Moore raced evenly into turn one and two, and Kaeding emerged with the lead on the backchute. However, after just one lap of racing, the caution flag appeared. A three-car tangle in turn three between Steve Kent, Blake Robertson, and Kirk Sargent was the cause. As the green replaced the caution, Meyers passed Moore on the low side of turn four for the runner-up spot. It was Kaeding, and Meyers one-two from laps 2 through 29.

After five more yellow flags, the race finally developed a rhythm. On lap 20 as the leaders approached traffic, Kaeding slid up the track in turn two, allowing Meyers to make a run going into turn three. However, the 11-time Golden State "King of California", Kaeding, shut the door and continued to lead. Kaeding held on to the point as an enthusiastic, and large crowd cheered wildly for the entertaining racing up front. Meyers pressured Kaeding each lap, with both cars 'upstairs' in the first set of corners, and glued to the bottom in three and four.

The disappointing ending for both Meyers and Kaeding left Moore and the Williams #0 team in the winners circle. The top five was rounded out by T. Kaeding, eleventh starting Forsberg, Pylant, and Jason Statler. Pylant, a three-time stock car champion at Watsonville, roared all the way back up to fourth following his spin at the start. Sixth through tenth were, Jon Allard, Jason York, Davey Key, Tommy Tarlton, and Shain Matthews. The 20-year old Matthews notched his third consecutive top ten in GSC action. Key was the hard charger of the night, starting 19th and finishing eighth. Allard (16th to 6th) and York (17th to 7th) also performed stellar drives.

Tim Kaeding set quick time to earn the BR MotorSports qualifying award. Tim's lap of 12.270 seconds was good enough to outrun 30 other teams. York won the B&B Oval track products heat race. Other heat winners included Kent, Stidham, and Statler. Robertson was the winner of the Last Chance race which also transferred, Lippincott, Wayne Williams, Garrett Ishii, Kirk Sargent, and Nick Rescino JR.

Unofficially, only one point separates the top three drivers in the Golden State Challenge points standings as the series heads for a double dip at Calistoga Speedway, Saturday May 24th, and Sunday May 25th. Brent Kaeding is one point ahead of Moore Jr., and Statler. The Golden State Challenge "King of California" series is sponsored by Hoosier Tires, CL Bryant, BR MotorSports, and B&B Oval Track Products.

May 17, 2003

Watsonville Speedway, Watsonville CA.

Golden State Challenge Round Nine

BR MotorSports Qualifying: Driver Hometown Car Time
Tim Kaeding San Jose Cowan #7T 12.270

Brad Furr Pleasanton Sanmina-SCI #2 12.314

Tommy Tarlton Fresno Tarlton & Son #21 12.417

Shain Matthews Marysville Matthews #67 12.557

Blake Robertson Visalia McMillen / Mitchell #10 12.571

Kevin Pylant Santa Cruz Pylant #14P 12.588

Jason Meyers Clovis Elite #1 12.608

Dennis Moore Jr. Grinnell, IA. Williams #0 12.643

Brent Kaeding Campbell BK Racing #69 12.676

Doug Lippincott Minden, NV. Lippincott #4L 12.701

Andy Forsberg Auburn Forsberg #98x 12.724

Jason Statler Los Gatos Statler #00 12.806

Wayne Williams Monterey BK Racing #68 12.829

Brian Coelho Tulare Coelho #5c 12.831

Craig Stidham Fresno Stidham #3 12.929

Jon Allard Chico Wright #35 12.959

Jason York Chico York #25 13.040

Steve Kent Fresno Henderson #7n 13.145

Kirk Sargent Fresno Sargent #7x 13.331

Jon Maiwald Gilroy Maiwald #6m 13.383

Davey Key Fresno Key Trucking #15 13.386

Bob Maiwald Gilroy Maiwald #7m 13.427

Mike Shriver Campbell Taco Bravo #72s 13.545

Dennis Binstock Napa Binstock #82 13.587

Rick Fowzer Manteca Fowzer #5 13.615

Garrett Ishii Caruthers Ishii Farms #71g 13.683

Mike Quigley Gardnerville, NV. Quigley #75 13.688

Nick Rescino JR. San Francisco Rescino #65 13.829

Chris D'Arcy San Jose D'Arcy #77 14.160

John Giffin Mountain View Giffin #20 14.393

Nick Ringo JR. San Jose Ringo #1x 14.466
B&B Oval Track Products Heat One: 1. 1. York, 2. B. Kaeding, 3. T. Kaeding, 4. Key, 5. Robertson, 6. Williams, 7. Fowzer

Heat two: 1. Kent, 2. Furr, 3. Coelho, 4. Pylant, 5. Ishii, 6. Lippincott, 7. B. Maiwald, 8. Giffin

Heat three: 1. Stidham, 2. Forsberg, 3. Tarlton, 4. Meyers, 5. Shriver, 6. Sargent, 7. Ringo

Heat four: 1. Statler, 2. Allard, 3. Moore, 4. Matthews, 5. Binstock, 6. Rescino JR., 7. J. Maiwald.

Last Chance Race (12 laps. Top 6 transfer.): 1. Robertson, 2. Lippincott, 3. Williams, 4. Ishii, 5. Sargent, 6. Rescino JR., 7. Shriver, 8. Quigley, 9. B. Maiwald, 10. Fowzer, 11. Giffin

Feature (30 laps) 1. Moore JR., 2. T. Kaeding, 3. Forsberg, 4. Pylant, 5. Statler, 6. Allard, 7. York, 8. Key, 9. Tarlton, 10. Matthews, 11. Ishii, 12. Stidham, 13. Rescino JR., 14. Robertson, 15. Coelho, 16. Williams, 17. B. Kaeding, 18. Meyers, 19. Sargent, 20. Furr, 21. Kent, 22. Lippincott.