Royal Blue HammerDown! Beanies! $14.99 - BUY NOW!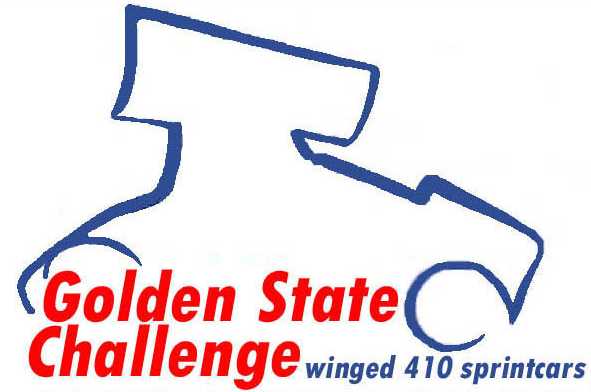 Tim Kaeding Wows Fans in Golden State Challenge Win at Hanford - By: Bobby Gerould. 03-23-03. Hanford, CA. …Tim Kaeding became the third different winner in as many races in the Golden State Challenge, "King of California" series Saturday night at Kings Speedway. On a cool night, with track record conditions, the 24-year-old driver from San Jose brought the fans to their collective feet on lap 18, going three-wide with leader Craig Stidham, and runner up Ricci Faria. The hair raising, turn four move for the lead was perfectly precise. Said Kaeding to announcer, Rob Klepper, " My hat is off to Ricci and Craig. I don't know how we didn't crash."
The 'instant classic' race reached a climax on lap 18 when Kaeding, Faria, and Stidham raced side by side in traffic coming into turn four. Stidham, the Golden State Challenge 2002 Rookie of the Year, was leading the race, with Faria in the runner up spot. In deep traffic, Stidham was momentarily held up, as Faria mounted a charge for the lead. Kaeding forced the issue by slipping between the two, making it a virtual dead heat coming off of turn four. With the fans standing, Kaeding emerged from the corner as the new leader. Once in front, the defending "King of California", Kaeding, was not challenged in winning his 13th career GSC feature event. "The ABC Ready Mix car is haulin' butt right now", said Kaeding. "I've run second five hundred times at Hanford. Last year, I just decided to win."
Kaeding dominated the racing action at Kings in the closing months of the 2002 season, winning on four separate occasions.
Stidham and Faria shared the front row for the 30-lap feature event on the 3/8's mile clay oval. Immediately, Stidham grabbed the lead but a hard charging Brad Furr swept into the top spot with a turn four pass of Stidham on lap two. Two laps later, five time Kings Speedway track champion, Steve Kent allowed the Henderson #7n to hop the cushion in turn one dropping him from top ten contention to 16th by the time he gathered it up.
The first of two caution flags appeared on lap six when race leader, Furr, in traffic, had to pinch his car sideways to avoid a backmarker. The half-spin and stall that resulted wiped out Furr's chance for a great night. He restarted at the tail of the 23-car field. By lap ten the top five included Stidham, Faria, Kaeding, Dennis Moore Jr., and Brian Coelho. One lap later, Moore stole third from Kaeding with nice move in turn one. Four laps after that, Kaeding re-passed Moore and started to put the leaders in his viewfinder.
Beyond the heroics of the pass for the lead, the caution flag came out one more time on lap 25 when Furr spun to a stop in turn one, and Tommy Tarlton stopped on the track in turn two. At the checkered it was Tim Kaeding, Stidham, Ricci Faria, Moore Jr., and Jason Meyers in the top five. The second five included Coelho, Kevin Pylant, Kent, Brent Kaeding, and Jason Statler. Stidham felt good about his runner-up drive, noting, "We spent a lot of money to beef up our program in 2003". Faria admitted fatigue was factor on the lightning fast racetrack. "We had a rough first 30 laps of the year. I kinda fell out of the seat."
Drivers making the most progress in the feature included Mike Faria (23rd to 14th), Meyers (12th to 5th), Danny Faria Jr. (17th to 11th), and Dennis Binstock (21st to 15th).
Brent Kaeding started off the evening by establishing a new track record for the Golden State Challenge sprint cars at Kings Speedway. Kaeding whipped around the 3/8's mile in 12.962 seconds to earn the BR MotorSports Quick Time Award. Meyers took the 10-lap B&B Oval Track Products Heat #1, while heats two and three were captured by Kent, and Danny Faria Jr. Garrett Ishii won the 12-lap Last Chance Race.
Tim Kaeding's feature win may have never materialized had it not been for his spectacular driving in Heat Two. Kaeding was trying to catch leader Steve Kent when he hit the front chute guardrail and damaged the front end of his racer with one lap left. The caution flag came out, and The ABC Ready Mix #7T was towed to the pit work area. Quickly repaired by crew chief Rod Tiner, Kaeding returned with one lap to make it from the rear of the field into the top five for a feature transfer position. Not only did Kaeding make it work, he actually finished fourth, sweeping by three cars in one lap to earn the transfer spot the tough way.
The Golden State Challenge, "King of California" series is sponsored by Hoosier Tires, CL Bryant Racing Fuels, BR MotorSports, and B&B Oval Track Products.
Summary:
BR MotorSports Time Trials: Driver Hometown Team Time 1. Brent Kaeding Campbell BK Racing #69 12.962* New Track Record 2. Tim Kaeding San Jose ABC Ready Mix #7T 12.985 3. Brad Furr Pleasanton SanMina-SCI #2 12.993 4. Dennis Moore Jr. Grinnell, IA. DeeZee #0 13.080 5. Ricci Faria Visalia Faria #89 13.081 6. Craig Stidham Fresno Stidham #3 13.115 7. Garrett Ishii Carutthers Ishii Farms #71g 13.228 8. Tommy Tarlton Fresno Tarlton & Son #21 13.232 9. Brian Coelho Tulare Coelho Meat #5c 13.245 10. Jason Statler Los Gatos Statler #00 13.369 11. Nick Rescino Jr. San Francisco Bayshore #65 13.412 12. Kevin Pylant Santa Cruz Pylant #14p 13.427 13. Jason Meyers Clovis Elite Landscaping #1 13.437 14. Steve Kent Fresno Henderson #7n 13.630 15. Doug Lippincott Minden, NV. Lippincott #4L 13.657 16. Jason York Chico York #25 13.734 17. Davey Key Fresno David Key Trucking #15 14.008 18. Danny Faria Jr. Tipton Steve's Automotive #2x 14.009 19. Mike Quigley Diamond Springs Quigley #75 14.010 20. Andy Forsberg Auburn Family Auto Service #98x 14.142 21. Dennis Binstock Napa Binstock #82 14.142 22. Mike Schriver San Jose Taco Bravo #72 14.371 23. Mike Faria Tipton Faria #4 14.737
B&B Oval Track Products Heat Race #1 - 1. Meyers, 2. York, 3. Brent Kaeding, 4. Moore Jr., 5. Statler, 6. Quigley, 7. Ishii, 8. Schriver.
Heat Two - 1. Kent, 2. Tarlton, 3. Ricci Faria, 4. Tim Kaeding, 5. Key, 6. Rescino, 7. Forsberg, 8. Mike Faria
Heat Three - 1. Danny Faria Jr., 2. Furr, 3. Lippincott, 4. Coelho, 5. Stidham, 6. Pylant, 7. Binstock. Last Chance Race - 1. Ishii, 2. Pylant, 3. Forsberg, 4. Quigley, 5. Rescino, 6. Schriver, 7. Binstock
Feature (30 Laps) - 1. Tim Kaeding, 2. Stidham, 3. Ricci Faria, 4. Moore Jr., 5. Meyers, 6. Coelho, 7. Pylant, 8. Kent, 9. Brent Kaeding, 10. Statler, 11. Faria Jr., 12. Lippincott, 13. Tarlton, 14. Mike Faria, 15. Binstock, 16. Ishii, 17. Forsberg, 18. Rescino, 19. York, 20. Key, 21. Quigley, 22. Schriver, 23. Furr.
NEXT Golden State Challenge Event - Saturday, Round 4 of 21 at Placerville Speedway - March 29,