Go Kinda Fast, Turn Left - by Bruce St. James

We are pleased to add thoughts from new columnist at-large Bruce St. James. We met Bruce at Santa Maria Speedway several years ago. He was a always a huge non-wing fan that I would bump into from time to time at big races. By trade, Bruce is a highly respected radio deejay / programmer, who is living out his lifelong dream of being a sprint car racer.
Art Spaulding Photography Portfolio
David Allio captures images at Las Vegas Motor Speedway. PHOTOS!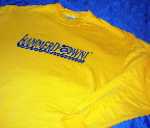 John's Racing Photos - Portfolio
Yearbook Headlines
---
Images