DRIVERS
Tony Stewart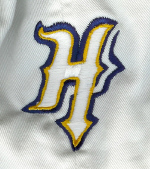 2003 - All HammerDown! Team Member
Joe Gibbs Back to NFL - HD Staff - 01/07/03 - ...Tony Stewart's NASCAR car-owner Joe Gibbs is returning as coach of the Washington Redskins in 2004. Stewart said, "I'm very happy for him. He's always been a coach, and football has always been very close to him. After working with Joe for a number of years, I know his commitment to winning is unmatched. Fans of the Redskins should be very happy."

NASCAR Images is putting together a Tony Stewart documentary. It will include highlights of Stewart racing a midget at Calistoga Speedway in 1994.

Tony Stewart Extends Contract with Joe Gibbs Racing Through 2009 HUNTERSVILLE, N.C., (Aug. 28, 2003) - Reigning NASCAR Winston Cup Series champion Tony Stewart agreed to terms of a contract extension with Joe Gibbs Racing that will keep him behind the wheel of the #20 Home Depot Chevrolet through 2009. "I'm happy to have all of this worked out," said Stewart in regard to his new contract. "Joe Gibbs and everyone associated with Joe Gibbs Racing have been very good to me in the seven years I've been here. They've always given me everything I need out on the race track, and they've always been there to support me off the track as well. It's a very tight-knit group of hard-working people, and I look forward to spending another six years with them. "The same is true with Home Depot, who I can honestly say has been the best sponsor I've had in all my years of racing. They're not just a sponsor to our race team, they're a partner and a friend." (read it all)

...Tony Stewart, the defending NASCAR champion will be present at the Knoxville Nationals Saturday night. Tony answered several questions about the Nationals (read it here)

Dick Jordan points out that in 47 years of racing, only three drivers have earned the honor of, winning the USAC Silver Crown, National Sprint and Midget Car championships during a career - Pancho Carter, Tony Stewart and Dave Darland.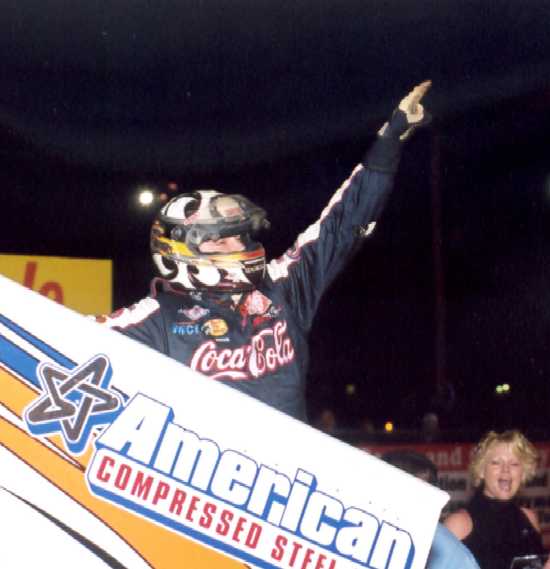 Tony Stewart is amped after winning his first winged sprint car race at Sedalia, MO., Friday night. Stewart raced with the 360 class which shared billing with the World of Outlaws. (Doug Johnson photo)

...Tony Stewart is expanding his racing ownership stable. Stewart formed a partnership with Mopar to trot out an impressive team in USAC with Jay Drake in the Silver Crown, Sprint and Midget series, and J.J. Yeley in the Sprint series. Danny Lasoski will once again drive for Stewart in the World of Outlaws with Mopar power.

Best of 2002: Tony Stewart at the Chili Bowl - Racing his ass off on the quick little dirt bullring inside the Tulsa Expo Center, Tony Stewart was the best at the Chili Bowl. He worked hard to win the feature, riding the inside berm with skill and precision. After the race, he told Jack Miller on the PA system that the Chili Bowl was 'real racing', and he and took some pokes at the establishment. Right On!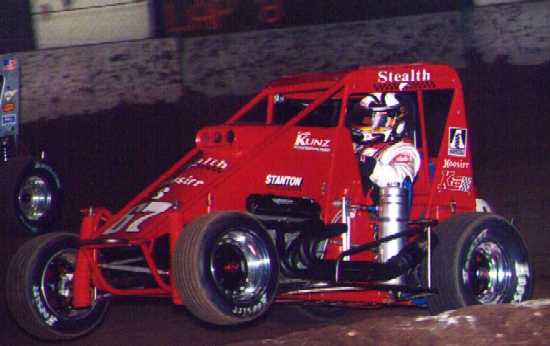 Tony Stewart was the winner of the 2002 Chili Bowl (Jim Fleming)
Tony Stewart Makes Last Lap Pass for USAC Altamont Sprints Win - HD Staff - 06/22/02 - Tracy, CA. ...Tony Stewart passed Jason McCord on lap 39 of 40 to claim the USAC Western Sprint Car feature at Altamont Raceway Park, Saturday night. McCord finished runner-up, Rick Hendrix, Bobby McMahan, and Tony Hunt rounded out the top five. With the Winston Cup circuit in Sonoma CA., Stewart was able to sneak over to Altamont. He ran Ted Finkenbinder's #3F sprinter on the big 1/2 mile paved track. Stewart outqualified a 32 car field. (summary)

Hero Stuff: Tony Stewart Gives Back By Tom Schmeh Knoxville, IA. May 28, 2002 - Ever heard Tony Stewart called an 'angel'? This past Saturday afternoon, Tony Stewart and the FOX Sports team proved that they are indeed angels, as they will be providing the wings for pit reporter Dick Berggren to attend his induction this Saturday afternoon into the National Sprint Car Hall of Fame in Knoxville, Iowa, from the NASCAR Busch Series race in Dover, Del. Another angel in the wings is Jim Mills of Turbines, Inc., who is flying fellow inductee Jack Hewitt in-and-out of Knoxville so that Jack doesn't miss Saturday night's United States Auto Club (USAC) Silver Crown race in Terre Haute, Ind. (read the whole deal)