2003, 2004 & 2005 - All HammerDown! Team Member
McCarl a WoO North Dakota winner - Minot, N.D.—August 19, 2006—By: Tony Veneziano, WoO Sprint Series PR Director ...Terry McCarl knows a thing or two about promoting races. For the past couple of seasons, he has donned the promoter's hat in his native state of Iowa. The always jovial driver knows that the best way to get people in the stands is to put on a great race on the track. That is exactly what he did in the driver's seat on Saturday night at Nodak Speedway, as he battled Craig Dollansky and Donny Schatz, before a standing room only crowd, the largest ever in the 51 year history of the oval. McCarl saved the rubber on his Hoosier tires for a final charge to the checkered flag as he drove to the RacinSoles Victory Lane for the second time this season in a World of Outlaws Sprint Series A-feature event. (Read it all)
McCarl wins Grove Summer Nationals opener - Mechanicsburg, PA—July 20, 2006—By: Tony Veneziano, WoO Sprint Series PR Director ...Terry McCarl knows the history of Williams Grove Speedway very well. He marvels at the names that have won races at the legendary track, and for a long time, he dreamed of adding his own name to that illustrious list. On Thursday, the first night of the Summer Nationals, he was able to do just that, as he edged Daryn Pittman to take the World of Outlaws preliminary feature win. Pittman battled McCarl through the entire 25-lap race, and made a very strong charge on the last lap, and came up just 0.66 second short of the victory. McCarl driving the Big Game Treestands Eagle, started on the pole after picking up a convincing win in the dash, his fifth dash win of the season. This earned him his third pole position of the year. For the preliminary feature win, he pocketed $5,000 in RacinSoles Victory Lane. "I've been around sprint car racing my whole life, and I'm a bit of a historian," said a smiling McCarl. "I really love sprint car racing and will be around it the rest of my life, and it means a lot to be able to say that I won at Williams Grove Speedway. It's a real honor to say that I have won something here." (Read it all)
McCarl suffers broken leg. RRS points leader could miss six weeks - Concord, N.C. — May 22, 2006 — By Chris Dolack, VP Public Relations ...At the conclusion of the World of Outlaws Sprint Series feature on Saturday night at Sharon Speedway, Terry McCarl's car suffered a driveline component failure. McCarl, who took the checkered flag in seventh, brought his machine to a halt at the top of Turns 1 and 2 at the 3/8-mile oval in Hartford, Ohio, where safety crews quickly tended to him. After he was transported to a local hospital, it was determined through X-rays that McCarl sustained a broken left tibia. He flew home to Altoona, Iowa, on Sunday and is meeting Monday afternoon with Dr. Scott Neff, who repaired a hand injury McCarl sustained in 1996. McCarl, who is third in the World of Outlaws Sprint Series championship standings, could miss six weeks of action but the No. 24 Big Game Treestands Eagle will be racing in the Eckerd Outlaw Showdown on Wednesday at The Dirt Track @ Lowe's Motor Speedway in Concord, N.C., and beyond. A driver has not been named. "Terry is determined to get back as soon as possible, as they all would be," said Terry's wife Lori McCarl. "Last night the pain medication must have been working really well, because he was going to try to qualify at Williams Grove and race the next week."
McCarl off to hot start in `06 – wins East Bay Winter Nationals, takes RRS points lead – By Jean Lynch. …TAMPA, FL…..2/4/06….."I'm used to racing with "Outlaws", and you never show your nose until you can get a run on the guy," said a pumped up Terry McCarl explaining his winning inside move in turn three on race-long leader Chad Kemenah with seven laps to go. The win was worth $10,000 in the 40-lap finale of the 30th Annual Sprint Car Winternationals at East Bay Raceway Park, Saturday night. In addition, McCarl received the Fast Lane Apparrel bonus of $5,000 for winning two (360's and 410) of the three sprint car series features. "My car tightened up and I used that yellow to make cockpit adjustments. After that I searched and searched the track for the fast lane," said a dripping wet McCarl. The victory lane celebration included track owners Al Varnadore and Todd Hutto throwing him into the newly created lake in the infield that developed as a result of Friday's record rainfall. McCarl evened the score by taking both owners with him for the dunk. "I can't believe we raced tonight after all that rain yesterday, the track crew did a great job and there were three grooves tonight," said the Altoona, Iowa driver of the No. 24 Big Game Tree Stands, Clean-O.com, Bosma Poultry and AmeriCash Advance.com sponsored car. He had started his Wesmar powered Eagle outside pole-sitter Kemenah and ran second most of the race. Not losing his focus when third place Danny Lasoski passed him briefly during lap 12, McCarl got his "elbows up" and regained second spot. (Read it all)
McCarl best of 47 cars at Volusia All-Star opener - BARBERVILLE, FL - February 8, 2005 - By Scott Hall - Terry McCarl passed Jeff Shepard on a late race restart Tuesday night at Volusia Speedway Park to win the Haulmark All Star sprint car 25 lap A main feature. The season opener for the All Stars saw 47 cars on hand and Shepard was followed across the finish line by Chad Kemenah, Danny Smith and Craig Dollansky. With rookie Cody Geldart and McCarl starting from the front row, Geldart led the first two laps before McCarl jumped out into the lead in his Wesmar powered Eagle chassis. The 16-year-old Geldart and sixth starting Jeff Shepard were next. (Read the whole deal)
McCarl wins Thunderbowl finale - October 30, 2004 By WoO Sprint PR Tulare, CA ...Terry McCarl took advantage of Daryn Pittman's disintegrating right rear tire in the final corner of Saturday's World of Outlaws 35 lap A-feature at Thunder Bowl Speedway to collect his second victory of the 2004 season. (More)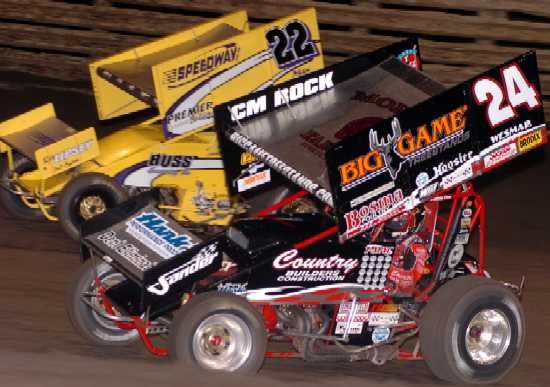 Billy Alley #22, and Terry McCarl #24 dice at Knoxville Raceway. (Doug Johnson photo)
Friday the 13th Thriller to McCarl - 02/13/04 - Tampa, FL. - Pleasant Hill, Iowa's, Terry McCarl held off strong challenges from Sammy Swindell, and a high-groove racing Craig Dollansky to capture $4,000 and the third night of preliminary winged sprint car racing at East Bay Raceway Park, Friday night. McCarl, who also won Thursday's prelim, emerged as the high point man for the three nights of qualifying action leading to Saturday night's Winter Nationals Finale. Dollansky ended up second in the Friday the 13th feature, with Swindell close behind. Jeff Shepard, and Daryn Pittman rounded out the top five. Sixth through tenth fell to Greg Wilson, Danny Smith, Jim Nier, Shane Stewart, and Jeremy Campbell.
Terry McCarl Scores Prelim #2 at East Bay - HD Staff - Tampa, FL. - 02/12/04 ...Jim Nier slowed suddenly on the last lap, and Terry McCarl took advantage to win Thursday night's 410 sprint car feature at foggy East Bay Raceway Park. McCarl's win came aboard his wife Lori's #24 powered by Wes-Mar engines. Following McCarl across the finish line were Shane Stewart, Craig Dollansky, Nier, and Greg Hodnett. Sixth through tenth was Greg Leonard, Jeff Shepard, Sammy Swindell, Danny Smith, and Joey Saldana.
...Terry McCarl's 2003 championship at Knoxville in his Wes-Mar powered entry owned by his wife, Lori McCarl, was worth $20,000 at season's end. It was his fifth consecutive point championship in the 410 division at the Sprint Car Capital ofthe World.
---
October 2003. ...McCarl said he is doing okay after the Keith Hutton death at his Oskaloosa promotion of a couple months back. McCarl again won the Knoxville Raceway and Husets Speedway championships. Terry says much of the success of his Front Row & Ultimate Challenge races comes from spending some extra coin on good officials, and announcers. We always like to hear that.