Knoxville Nationals Post Race Notes & Photos - By Bobby Gerould, HammerDownUSA.com Editor - 08/13/02 - Rocklin, CA.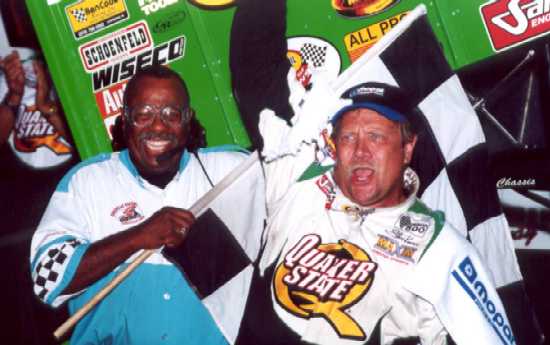 Steve Kinser picked up his 12th Knoxville Nationals Title. (Doug Johnson Photos)
Steve Kinser won his 12th Knoxville Nationals Saturday night with a concerted team effort. Crew chief Scott Gerkin worked his tail off, watching closely the different combinations that ran on his "off-night". When a race ended and a car was fast, Gerkin was there, looking at the chassis, tires, and shocks. He said after winning the race - "it's ALL part of it."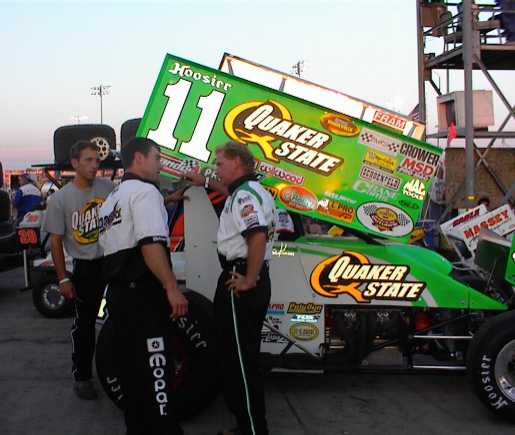 Scott Gerkin (right), talks racing with Justin Adams, Saturday night at the Mopar Parts Knoxville Nationals (Photo by Kim Gerould)
...Kinser went WWF in the Knoxville winner's circle. He flexed, posed and roared like Randy 'Macho Man' Savage before jumping on the wing for a Jeff Swindell style wing dance. The King's enthusiasm was great to see after a 7-year hiatus from the Nationals stage. On Wednesday night, Kinser tracked down an ultra fast Joey Saldana, who was five points from perfect on his prelim night. Steve's determined drive stole a victory from the Brownsburg Bullet, after Joey had set quick time, and bolted into the lead from eighth starting. When Saldana passed Kinser for first, you could almost see Steve stand up in the seat. He started driving harder and harder, eventually making the winning move in turns one and two on the white flag lap. …And that wasn't even the best race of the weekend.
The Thursday prelim was the best race we've seen this year. Tyler Walker, Danny Lasoski, and Donny Schatz went hard, sometimes three-wide, in a thrilling 25 lapper on the wide Knoxville clay.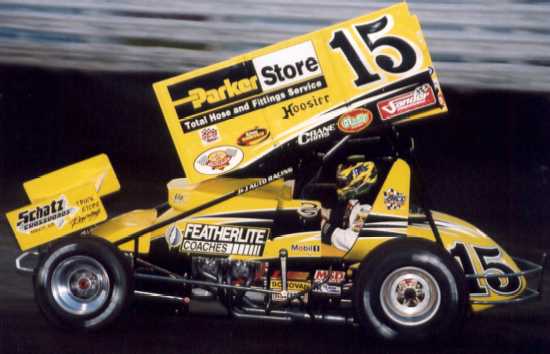 With all due respect to the winning Denny Asworth #92, HammerDown! thought Donny Schatz's Yak designed #15 was the best looking car at the Nationals (Doug Johnson)
That Lasoski was even able to compete was a testament to his courage, and determination. Watching him exit the car after the race was painful. "The Dude", who spent time in a Pennsylvania crash house last weekend, suffered through the final 8 laps of the race with difficulty breathing. His cracked ankle forced a limp, and his badly bruised ribs from the Williams Grove crash were sore from the abuse of jarring against the tight sprint car seat. Imagine running a wide open World of Outlaws feature event with internal injuries. Anyone who has ever seen a sprint car cockpit knows how cramped it is. The seat wraps around the rib cage, and even with padding, the lower torso take a beating during a race. WoO competition director, Bobby Jackson who was on the scene when Lasoski crashed at the Grove, said a lesser man might not have survived the crash. The Jaws of Life had to be used, and Lasoski was knocked out long enough to suffer a stage three concussion.
Is Lasoski the only guy to ever tough one out? No. Sprint car warriors make heroic returns all the time, but that doesn't mean that just because it happens we should take it for granted. Sammy Swindell showed similar grit last year, racing at the Nationals after Lernerville mayhem. It further underscores a FACT. Good drivers get hurt too. Some die. If you race a sprint car, you must understand the risks and rewards clearly.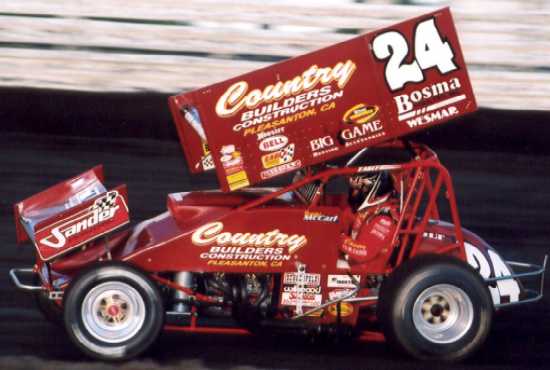 Terry McCarl in the Country Builders Construction #24. The Nationals are so tough, that the Knoxville track champion finished 8th in the B-main. Doug Johnson Photos
Rookie of the Nationals went to Iowa's Josh Higday, who is quickly earning the right to headlines. The Brodix Tournament of Champions winner, finished higher in the C-Main than Michael Dupuy, to earn the coveted trophy.
The 2001 Rookie of the Nationals, Jason Sides was an impressive performer all weekend, qualifying his THC #7 for the A-main where he finished 17th. Sides and Johnny Herrera were the two drivers overlooked by us in our Knoxville Preview. We should have known better. Herrera, a former Knoxville track champ had fresh horses and plenty of good moves to easily secure a top-ten finish. Sides, tuned by Robert Hubbard, started inside the ninth row in the feature, outscoring many of those we touted.
…Gary Stanton, the famous, hustling car owner, and engine builder from Arizona who now calls Kentucky home, said that the latest generation of Mopar engine is on the fast track, hoping for a debut in early 2003. Stanton will not be the only builder. He says he hopes that Gaerte, Wes-Mar, Shaver and others will also assemble the highly technological new pieces. …30-lap feature at Knoxville, Tim Shaffer put on 21 tear-offs. …Thanks to Shaffer's car-owners, Dennis and Theresa Roth who provided much of the food cooked nightly at the McMahan / Gomez / Herrera camp. The hospitality extended by Donna Gomez and her son Steve, was beyond gracious. Donna kept everybody nutritionally balanced after the races. A-main drivers who dined with Donna included Paul McMahan, Joey Saldana, Greg Hodnett, Johnny Herrera, and Sammy Swindell.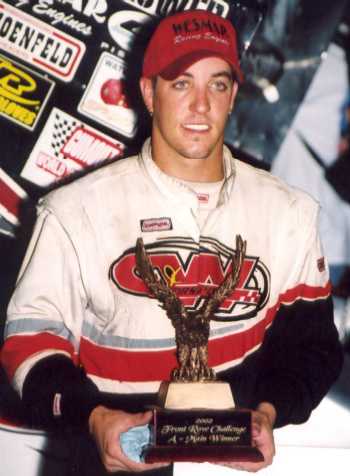 Tyler Walker picked up World of Outlaws Gumout Series race at the Front Row Challenge last monday night in Oskaloosa, IA. Doug Johnson Photos
Tyler Walker is riding down the road in a new motorhome. Accompanied by his girlfriend, and two pit bulls, Walker says life on the road is good. He is presently enthralled with PlayStation2 game Grand Tourismo. Walker had a good week, earning nearly $40,000 in after a Gumout win at Oskaloosa, the A-Scramble victory at Knoxville, and a 5th place run in the Nationals.
The guy with the worst luck was Blake Feese, who was plenty fast enough to be in the show. However, a hard flip wiped out his race car. With no spares, and just enough money to have "one good piece, (not two) of everything", Feese had to sit and watch on Saturday night.
SIGHTINGS: Our main man, Kevin Eckert, author and Elbows Up editor, Dave Argabright, 1978 Knoxville Track Champ, Shane Carson, Hall of Famer Rick Ferkel, Richard from Australia, a braided Heather Moore, Eagle Raceway's Craig Cormack, Silver Dollar Speedway promoter John Padjen, Chico flasher, Art Spaulding, former NARC President Bill DesChamps, and his wife Gaye, legendary photographer and publisher Mike Arthur, 1970 Nationals winner Joe Saldana, HammerDown! photographers Jim Fleming, and Doug Johnson, Pennsylvania writers Bruce Ellis, and Bev Thompson.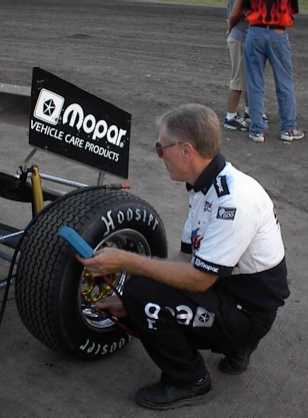 Karl Kinser stayed clean on the newly paved Knoxville infield pit area. (photo by KG)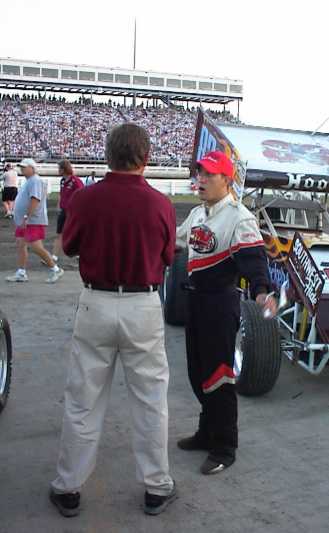 Tyler Walker chats with Carlton Reimers of the World of Outlaws (KG)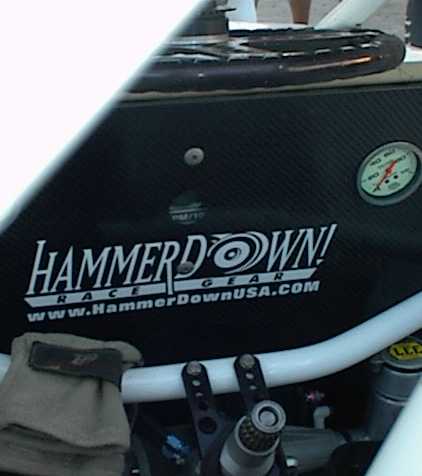 Joey Saldana's carbon fiber dash board says it all (KG)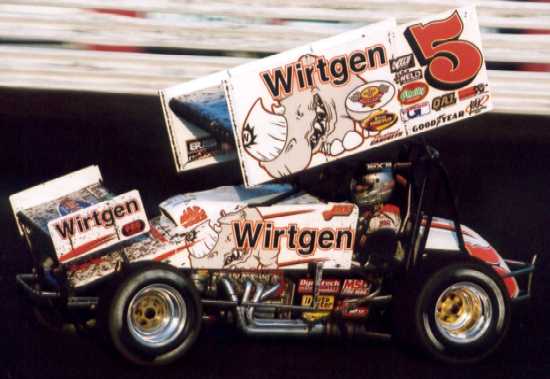 Jac Haudenschild relaxes in the pits prior to the Saturday night action (KG)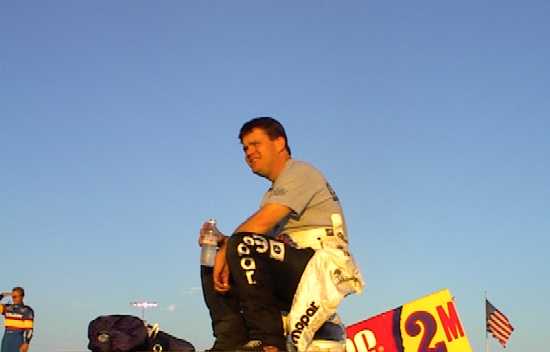 Mark Kinser watches hot laps from atop his mule (KG)