The HammerDown! Knoxville Nationals Preview - By Bobby Gerould, HammerDownUSA.com Editor - 08/05/02 - Rocklin, CA.
20 Questions Answered.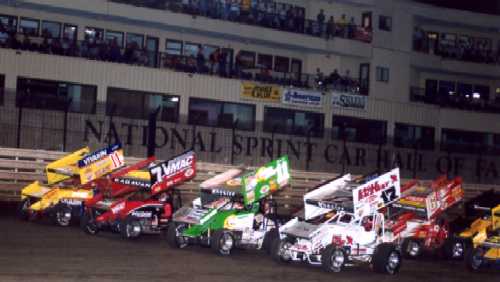 4 Wide in front of the National Sprint Car Hall of Fame at the Knoxville Raceway. Doug Johnson Photos
1. Why the Hype?: It's the biggest sprint car race of the year. ...$125,000 to win, and the money through the D-Main is incredible. When you consider that in the past 22 years, only seven men have driven to the Knoxville Nationals winners circle, it could be argued that the Nationals Feature is THE hardest event to win in all sports. Consider...
Steve Kinser won his first National Championship in 1980. And now, 22 years later, only three other active drivers, Sammy Swindell, Mark Kinser and Danny Lasoski can claim a they won the Nationals.
Bobby Allen, Dave Blaney and Doug Wolfgang are the other winners in the past two decades.
22 years. Seven winners. ...That's the same number of champions (7) the NBA has produced over the last 22 years. NBA has 29 teams. Knoxville will have 120 teams competing.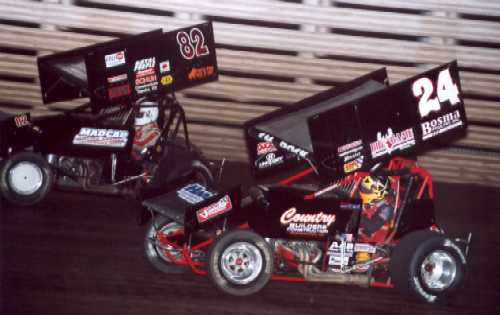 Terry McCarl ran down early race leader, Kerry Madsen #82 enroute to the 410 feature win in June at Knoxville Raceway. Doug Johnson Photos
2. Who Will be There? - Everyone. The winged sprint car community is gathered from all the regions of the United States. Canada, Australia, New Zealand will also have a strong showing. Many Hall of Famers will be wandering the pits, and the list of drivers competing is a who's who of current sprint car racing. The equipment, and paint is fresh. Teams prepare all season for the Nationals, gathering info that leads to the designs of their new pieces. T-shirt sales hit a seasonal high.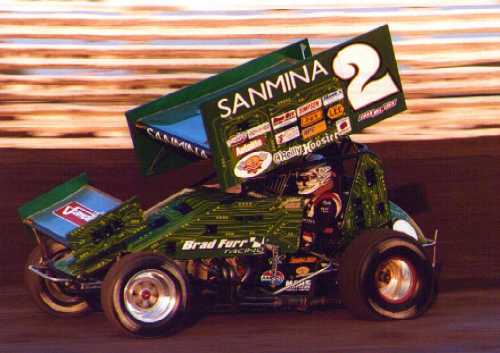 Brad Furr's computer circuitry styled #2 was a huge hit with fans at last years Nationals. The SanMina Team earned best appearing crew honors (Jim Fleming)
3. Have any tips? Nobody is in a hurry except the competitors. You can roll into the track at 7PM and not miss a thing on prelim nights. ...If you are staying in Des Moines, you can expect long lines at coffee shops after the races. If you have a chance to eat somewhere after the races before you get back to Des Moines, you should grab it.
4. What is the Biggest Story? Danny Lasoski. He's the defending champion of the event but was injured seriously at Williams Grove Speedway July 26th. He has not raced since the crash, and is hoping to return at the last possible chance, on Thursday night. Lasoski is the track's all-time career wins leader, but said as recently as August 2nd that he felt like he had been "hit by a bus".
5. Who is the Favorite? Lasoski, if he's healthy enough. He won his 75th career Feature at Knoxville in June when the World of Outlaws raced there last. Outside of Lasoski, Joey Saldana, and Steve Kinser would have to be the next two choices. We wouldn't be surprised at all though, if Tim Shaffer, Daryn Pittman, Craig Dollansky, Mark Kinser or Donny Schatz won.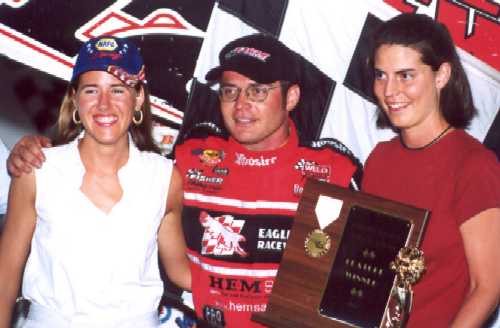 Joey Saldana picked up the preliminary feature win in June at the Knoxville Raceway. Doug Johnson Photos
5. Is it on TV? - Yes. Tape-delayed coverage on Speed Channel.
6. Is it on Radio? - Yes. Live each night on SCN.
7. If HammerDown! was nailed to the wall before the Nationals, what 24 drivers do you think would be in the 2002 A-main?
Danny Lasoski #20, Joey Saldana #17, Steve Kinser #11, Tim Shaffer #83, Daryn Pittman #21, Donny Schatz #15, Stevie Smith #11h, Craig Dollansky #7, Mark Kinser #5m, Greg Hodnett #12, Chad Kemenah #15K, Terry McCarl #24, Brad Furr #2, Sammy Swindell #83 Jr., Fred Rahmer #88, Paul McMahan # U2, Jason Meyers #14, Blake Feese #1F, Sean Michael #1P, Ed Lynch Jr. #2L, P.J. Chesson #76, Jac Haudenschild #5, Kerry Madsen # 82, Ricky Logan #3, Kasey Kahne #51, Tim Kaeding #10, Tyler Walker #35, Lance DeWease #77, Randy Hannagan #1x, Jeff Shepard #92, Shane Stewart #8h.
8. Isn't that 31 guys? OOPS. That's how tough this deal is. ...And we didn't mention Don Droud, Dennis Moore Jr., Jason Johnson Jeff Swindell, Kenny Jacobs, Travis Cram, or a bunch of others who could just as easily make it.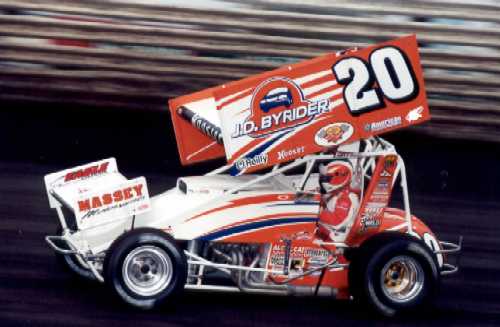 Danny Lasoski is the winningest driver in the history of Knoxville Raceway. Doug Johnson
9. Who are the past Nationals winners?
2001 Danny Lasoski (2), 2000 Mark Kinser (3), 1999 Mark Kinser (2), 1998 Danny Lasoski, 1997 Dave Blaney, 1996 Mark Kinser, 1995 Steve Kinser (11), 1994 Steve Kinser (10), 1993 Steve Kinser (9), 1992 Steve Kinser (8), 1991 Steve Kinser (7), 1990 Bobby Allen, 1989 Doug Wolfgang (5), 1988 Steve Kinser (6), 1987 Steve Kinser (5), 1986 Steve Kinser (4), 1985 Doug Wolfgang (4), 1984 Doug Wolfgang (3), 1983 Sammy Swindell, 1982 Steve Kinser (3), 1981 Steve Kinser (2), 1980 Steve Kinser, 1979 Ron Shuman, 1978 Doug Wolfgang (2), 1977 Doug Wolfgang, 1976 Eddie Leavitt (2), 1975 Eddie Leavitt, 1974 Dick Gaines, 1973 Kenny Weld (4), 1972 Kenny Weld (3), 1971 Jan Opperman, 1970 Joe Saldana, 1969 Kenny Gritz, 1968 Ray Lee Goodwin, 1967 Thad Dosher, 1966 Jay Woodside, 1965 Kenny Weld (2), 1964 Kenny Weld, 1963 Greg Weld, 1962 Jerry Richert, Sr., 1961 Roy Robbins

1968 National Champion, Ray Lee Goodwin.
10. How Come the Media Attention for the Nationals is so great? Because the folks at Knoxville understand what catering to the media can do for you. Knoxville is one of the very few dirt tracks that offers a PR staff, and media center. Media members are fed snacks pre and post race. The media center is always air-conditioned and stocked with free soda. Kathy Bell makes sure that every member of the media has the right credentials, a Knoxville Program, and the entries for each night of racing. The information handed out to the media is relevant, and loaded with stats. It takes a HUGE effort from a team of over 100 people to put on an event the size of the Nationals. Key players in keeping our experiences positive over the years include, Tom Schmeh, Ralph Capitani, Kathy & Perry Bell, Tony Bokhoven, Craig Agan, The Visser Family, Bob Wilson, Doug Clark, Kris Krohn, and many whose faces I know but names I don't.
11. Where should we eat?: (HammerDown! Approved) - Des Moines - Mustards Ribs. At the track: The Knoxville Rotary Club Turkey Legs are grilled, and smoked in front of the Sprint Car Hall of Fame and Museum. Grab a leg, and piece of homemade pie for desert. The track concession also offers great Tenderloin Sandwiches, and caramel corn. In Knoxville: ...Mr. C's - The home of Karl Kinser's winning ice cream also boasts a varied menu with many "home style" favorites. The Chicken Noodle soup is fantastic but is not served everyday.
12. Who was Rookie of the Nationals in 2001? - Jason Sides.
13. Why is the Main Event only 30-laps? - They call it 'sprint car racing' for a reason. The idea is that the National Championship race should be a test not unlike what a driver sees every Saturday night at his local track.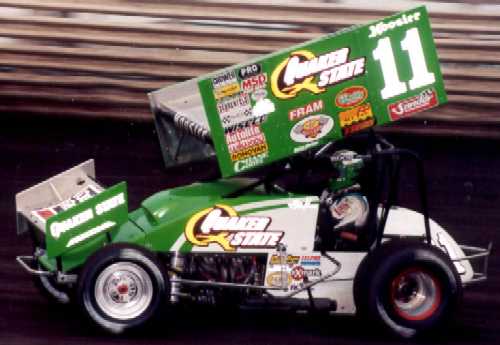 Steve Kinser has won the Knoxville Nationals 11 times in his career. Doug Johnson Photo.
14. Who seems underrated entering the 2002 Nationals?
Ed Lynch Jr. - Winner of $35,000 at the Don Martin Memorial Silver Cup, Lynch also ran 5th at the World of Outlaws race at Sharon Speedway. From Apollo, PA. - Lynch is the #2 All-time feature winner at Lernerville, behind only the great Johnny Beaber.

Chad Kemenah - Kemenah has been beyond solid in WoO racing. The All-Star hero, made the Nationals A-main last year, and is coming off a pair of top fives at Eldora.

Greg Hodnett - Don't sleep on Hodnett. He already has World of Outlaws feature wins at Lowes, and Williams Grove. Hodnett has had success at Knoxville in the past, running 2nd to Dave Blaney in 1997, and finishing 5th in 1994, after an 'alphabet soup' charge through the C and B-mains.

Jason Meyers - The 23 year-old from Clovis, CA. won a WoO race at Knoxville in 2001, and was 8th in the Big Show last year.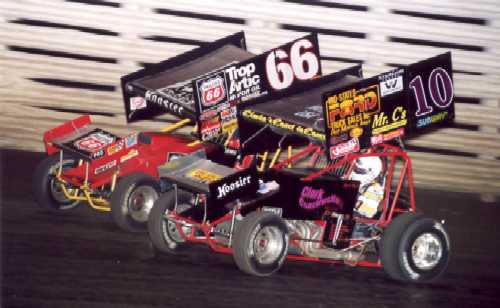 Jaymie Moyle races with fellow Aussie Brooke Tatnell at Knoxville Raceway on Sat. May 18th.2002. Doug Johnson Photos
15. Why is it so hard to actually win the Nationals? Knoxville is a hard track to drive, it takes a harmony of finesse, and what the kids call "sack". Time and again, Knoxville rookies claim that holding your right foot to the floor and maintaining a "straight" entry into turn one at Knoxville is a concept in total opposition with what your mind is telling you. Your mind is telling you, "If you don't turn the wheel, you are going to crash into the wall". So first, a driver must overcome any "uncomfortable" feelings in the chair. Fears tend to dissipate with laps driven at the "Sprint Car Capitol of the World".
The car has to be close to perfect as well. Your motor has to hit, and hit! Teams save their best engines for Knoxville, and sometimes wind them so tight, that they blow up. Just as it is important to drive straight on entry to the wide Knoxville turns, the exit may be even more crucial. The fast guys will rocket off of two and down the backchute, while the tailenders will be fishtailing in the black, slick, part of the track. The tricky, sometimes slippery, exit in turn two has cost many drivers many positions when the chassis isn't right.
Heat races are totally inverted and the point structure is such that sandbagging is totally out of the question. Qualifying has the same weight as a preliminary feature win. The heats weigh less but you have to finish in the top four to transfer to that prelim. ...So, the first lap of the heat races are the most pivotal "big sack" moments of the entire weekend. ...Count on itů someone will "sack up" and hit the cushion just right and sail around five or six guys in turn one on lap one. Also, count on someone "sacking up" on lap one, turn one, and ending up in the fence hard. It happens.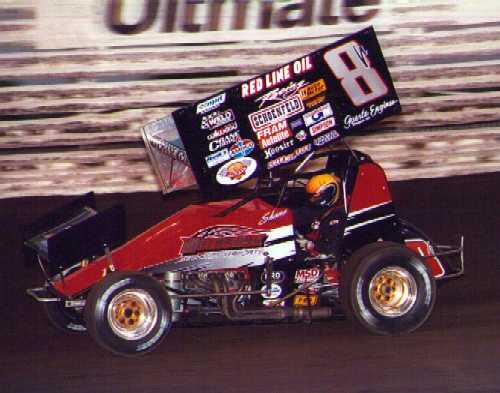 World of Outlaws Gumout Series hero, Shane Stewart in action at last years Nationals - Jim Fleming Photo
16. What does last place in the A-main pay? - $5,000.
17. What is the Kele World Challenge? - It runs on Friday, and has 19 cars entered. The international field of teams race for $10,000 to win, and it pays over a grand through 16th. The pyro show prior to the race is awesome!
18. What souvenir should I buy? - Whatever you do, buy a program. The book is always topnotch. It's pricey, but quality costs. Lots of color photographs, great columns, and tons of historical data make it a must buy.
19. What can we do during the day? - The races are at night, so days can be filled with a trip to the Sprint Car Hall of Fame and Museum. Many restored sprinters, and nostalgic treasures await you in the building located outside of turn two.
20. When was the last upset at the Nationals? - 12 years ago when Bobby Allen won.