2003, 2004 & 2005 - All HammerDown! Team Member
Belleville Midget Nationals won by Wise - HD Staff - Belleville, KS. - Jul 29, 2006 - Josh Wise won the 29th annual Belleville Midget Nationals Saturday night at the Belleville High Banks. The Riverside, CA driver drives the Tony Stewart owned MOPAR #20. It was Wise's second career Midget Nationals triumph. (Summary)
Crunch time in Racers Racing Series. National Open leads to final ten BIG RACES of the year. By Bobby Gerould - September 29, 2005 - The Racers Racing Series is based on how drivers do in 60 of the biggest, most prestigious, events in the HammerDown! world of sprint car, midget, and Silver Crown racing. With eleven events left in the 2005 season, Josh Wise of Riverside, CA. holds an 80 point advantage over Steve Kinser in the battle for the title. Kinser, of Bloomington, IN was the 2004 RRS champion. This weekend the World of Outlaws are in Mechanicsburg, PA for the annual Williams Grove National Open. The traditional event has been running since 1963 when Gordon Johncock was the winner. The Saturday night final will offer 70 points to the feature winner. Drivers finishing in the top-15 will gain points. ...At the conclusion of the 2005 RRS schedule, the top-40 drivers in points will make the fictional 'All HammerDown! Team'. ...Wise became the first pilot to clinch an All-HammerDown! birth for 2005. ...In an effort to balance the schedule between winged, and non-winged events after rainouts, the preliminary night of WoO action at Las Vegas Motor Speedway, October 21st has been added to the schedule.
Wise regains RRS points lead with USAC Midget win - HD Staff - July 23, 2005 - Milwaukee, WI. - ...USAC National Midget points leader Josh Wise of Riverside, California won the 25-mile feature event at the famous Milwaukee Mile Saturday afternoon. The event was a points earning race in the HammerDownUSA.com Racer's Racing Series. Wise is considered by many to be the next young open-wheel star to 'make it big'. Tony Stewart owns Wise's midget, and MOPAR is the sponsor. (Summary)
Wise sets tracks record, wins Terre Haute Silver Crown (RRS) - HD Staff - June 4, 2005, Terre Haute, IN. ...Josh Wise of Riverside, CA. dominated the USAC Silver Crown Sumar 100 Saturday night at the Terre Haute Action Track. With his win, Wise moved into the lead in the Racer's Racing Series point standings. Brian Tyler made a spectacular charge from the back to finish second. Dave Darland was third. Jon Stanbrough, and Jesse Hockett finished fourth and fifth. (Summary)
HammerDown! Race Gear online store.
OPEN NOW. OPEN ALWAYS.
---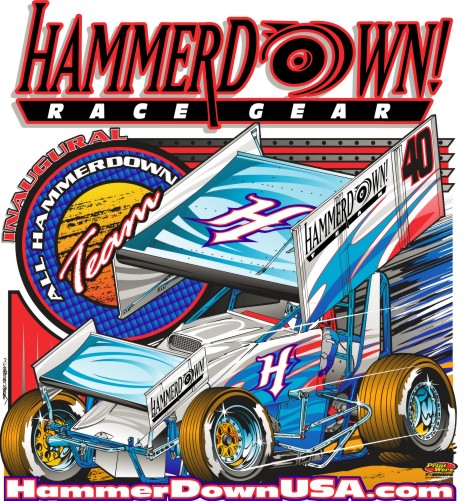 Images
Latest Projects:
Yearbook Headlines - ...Another HammerDown! "work-in-progress" that we enjoy sharing with our readers. Please check back often, as each year will be updated further.
25 Greatest Sprint Car Drivers of All-time
40 Most Exciting Drivers in NARC History
---
HammerDown! Race Gear
Always open.