HammerDown! Race Gear online store.
OPEN NOW. OPEN ALWAYS.
---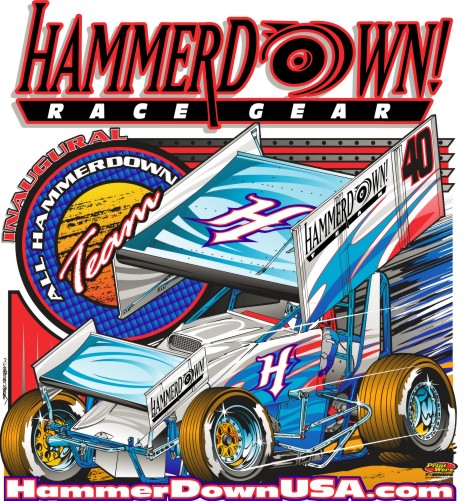 Images
Latest Projects:
Yearbook Headlines - ...Another HammerDown! "work-in-progress" that we enjoy sharing with our readers. Please check back often, as each year will be updated further.
25 Greatest Sprint Car Drivers of All-time
40 Most Exciting Drivers in NARC History
---
HammerDown! Race Gear
Always open.
DRIVERS
Kevin Pylant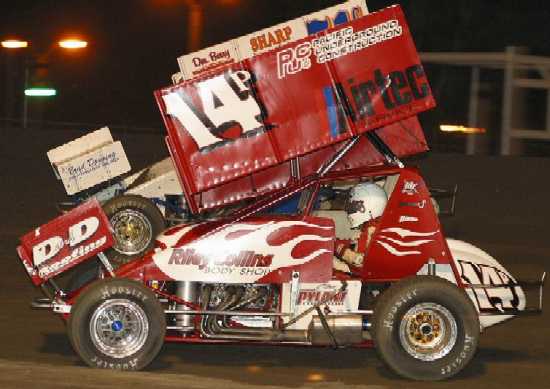 Kevin Pylant is on the methanol in the Riley-Collins #14p.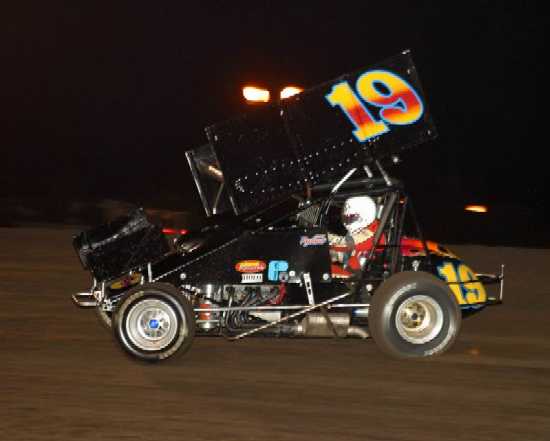 Kevin Pylant makes a rare appearance outside of his own #14p cockpit. In Fall 2003, "Pyle" raced the Mike Sala #19. (John's Racing Photos)

Kevin Pylant Back in Golden State Winners Circle - By Bobby Gerould, 07/18/03, Hanford, CA. … Santa Cruz driver Kevin Pylant captured the opening leg of the 20th annual Pombo/Sargent Classic at Kings Speedway Friday night. The man who is ranked fifth on the Golden State Challenge career wins list used an outside front row starting spot to lead all 30 laps of the winged sprint car event. Pylant's winning Maxim/Wes-Mar #14p is owned by his father, Don Pylant, and wrenched by Ken Costa. (read it all)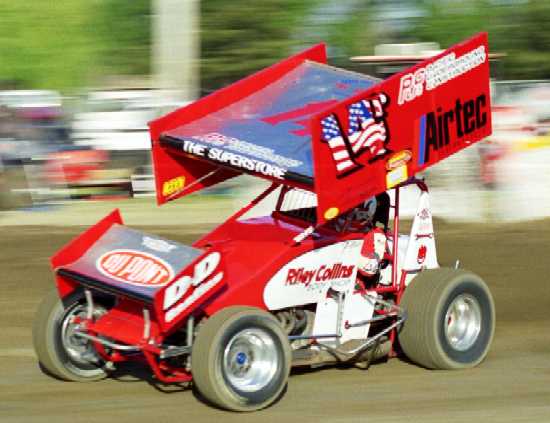 Kevin Pylant hammers the Riley Collins Body Shop #14p at Watsonville - John's Racing Photos
...Kevin Pylant was having a great Thursday night at Gold Cup 2002 until the feature. He timed in second quick, ran second in his heat, won the second O'Reilly Dash, and was starting outside front row for the feature. The A-main start was horrible, and should have been called back, as Pylant was in 5th at the flag-stand. The green stayed on, and then Pylant hurried to catch up in turn three, and spun out. Relegated to the tail, with no-laps in, Kevin ended-up 21st in the feature at the checkered, and also took a heavy points blow.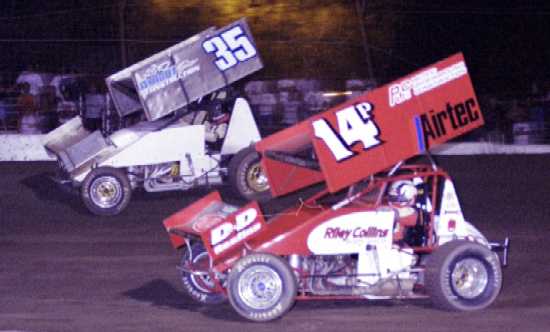 2002 Golden State Challenge champion Tim Kaeding is on the top while Kevin Pylant uses the low line at Kings Speedway in Hanford. (John's Racing Photos)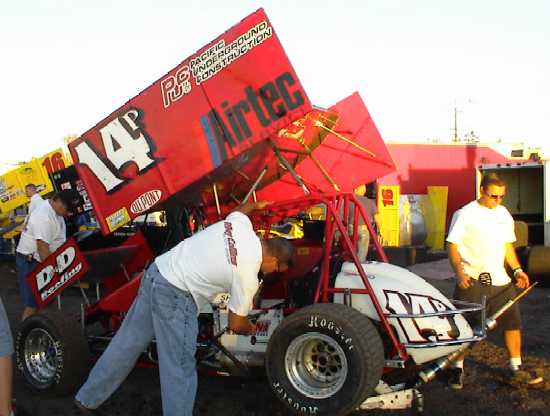 Kevin Pylant's #14P, prepared by Kenny & Trevor (Photo by Max Skierka)
Pylant Breaks Win Drought with Dirt Cup Prelim - HD Staff - Alger, WA. 06/14/02 - ...Santa Cruz, CA. driver, Kevin Pylant scored his second impressive run of the Jim Raper Memorial Super Dirt Cup at Skagit Speedway Friday night. Pylant, who ran runner-up to Kasey Kahne, last night, inherited the lead when Sammy Swindell crashed in traffic with Jon Allard, taking Jason Solwold with them. Jason Meyers ended up second, with Kahne, Jason Statler, and Tommy Tarlton rounding out the top five.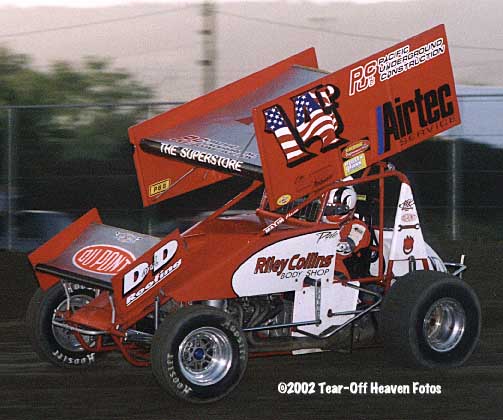 Kevin Pylant on the methanol at Watsonville (Steve LaFond)