2003 - All HammerDown! Team Member
Michael Lewis puts broom to Irwindale - By Bobby Gerould - Baldwin Park, CA. - October 8, 2005. …For all intents and purposes it was over in turn four on lap one. Already the fastest qualifier, and a heat race winner, Michael Lewis started sixth on the grid for the USAC Western Sprint Car 40-lap feature Saturday night at Irwindale Speedway. From the green flag, Lewis powered to the high side of the ½-mile paved oval and passed three cars in turn one. Coming off of turn two he was second, and he had the lead by the time he entered the front chute to complete the first lap! As fans shook their heads in amazement, Lewis drove off, lapping up to tenth in a non-stop race that took all of eleven minutes and 27 seconds to complete. (Read the whole deal)
Lewis leaves `em in USAC Western Midget Fred Gerhardt Classic - By Bobby Gerould - Stockton, CA. September 11, 2005 - Michael Lewis from Noblesville, Indiana started in the middle of the three-wide front row Sunday night at Stockton 99 Speedway. The United States Auto Club (USAC) Western Midget series was contesting the Fred Gerhardt Open Wheel Classic on the quarter-mile paved oval. Lewis led all 99 laps of the feature event aboard the Western Speed #40. It was his second feature event win of the 2005 season in USAC Western Midget racing. The caution flag plagued feature event in cool conditions was scheduled to run 100 laps but was called at lap 99 after 16 different caution periods. Good racing did occur when the green light was on. Tony Hunt, who set quick-time in the Bob Rosen #4, challenged Lewis in traffic from laps 9 through 14. Their battle was interrupted by a spin of Thomas Meseraull in turn one. The San Jose driver was racing for third place with Ben Petter at the time. (More)
Lewis midget master at Pikes Peak - HD Staff - Fountain, CO. - July, 3, 2005 - Michael Lewis from Noblesville, IN. beat a strong field of the finest midget teams in the country to win the 25-mile USAC National event Sunday. Bobby Santos III was runner-up, followed by Aaron Fike, Ron Gregory, and Tracy Hines. (More)
Roush 'Gong Show' includes USAC talent - By Blake Johnson - 06/30/05 ...Roush Racing is looking for a few good shoes to drive their truck. The two time reigning NASCAR Nextel Cup Championship organization is conducting their driver search, formally known as the "Gong Show." This year, they have added a twist, bringing along the Discovery Channel to document the process. Roush Racing and the Discovery Channel TV Crew were at Richmond International Raceway over the weekend to shoot some tape of 14 USAC drivers that made the first round of cuts. Roush received roughly 1,700 applications online. USAC racers Teddy Beach, Sam Bean, Cole Carter, Ryan Durst, Sondi Eden, Aaron Fike, Ron Gregory, Tom Hessert, Levi Jones, Bud Kaeding, Brad Kuhn, Michael Lewis, Jason McCord and Bobby Santos made the cut of the 100 drivers. Lewis is hoping to be one of the finalists. Lewis filled out his application online several months ago. He spoke with Roush Racing officials and the Discovery Channel crew this past weekend.
"They started out with a bunch of people and narrowed it down and fortunately I am in that narrow group," said Lewis. "I am not in the final group yet but there is an opportunity there and that is all that I am looking for. Just a chance, that's all I want. Just a chance at the big time."
Pavement ace Lewis to try Chili Bowl - HD Staff - 12/24/04 - Fresno, CA. ...Western Speed Racing announced it will have an entry in the Chili Bowl Nationals. Pavement specialist Michael Lewis will pilot the Wirtgen America-Red Line Oil-Hoosier Eagle with Esslinger power. The car will carry a special Wirtgen-rhino paint scheme with the familiar #40 on it. Lewis the 2003 USAC Western States Sprint Car Champion made only one dirt start in 2004 at Ventura Speedway where he made a spectacular drive from the tail to the front only to be stopped by a mechanical problem.
Lewis gobbles Irwindale sprints, Hunt crowned champion - By Bobby Gerould - Irwindale, CA. November 25, 2004. …Michael Lewis, of Noblesville, Indiana ran away with the Thanksgiving night Casey Diemert Classic at Irwindale Speedway Thursday. The season ending event on the half-mile paved track also settled the season championship for the Valvoline United States Auto Club Western States Sprint Cars. Tony Hunt of Fair Oaks, CA. was crowned as the 2004 champion. The title was the second Western Sprint Car championship for the winningest driver in the history of the series. The fastest 14 from time-trials were automatically locked into the 40-lap feature event. Six cars were inverted by their qualifying times. The rest of the field was comprised of the top eight finishers in the Qualifying Race. Kody Swanson and Josh Wise shared the front row, flanked by Tony Stewart and Bobby East. Western Speed teammates and top-two qualifiers Tony Hunt and Michael Lewis lined up in row three. (More)
Madera USAC / BCRA go to Lewis – By Bobby Gerould, 09/18/04 – Madera, CA. …The United States Auto Club Western States Midgets and Bay Cities Racing Association Midgets came together to co-sanction the 33rd annualar Harvest Classic at chilly Madera Speedway Saturday evening. At the end of 40 laps, Michael Lewis stood in the winner's circle, having driven brilliantly in the Western Speed Racing #40. "Our start was good and then it went away", said the winner. "The car really changed at the end of the race and I was super tight in turns three and four. Larry (Trigueiro Jr.) was giving me hand signals and he was trying to tell me (Thomas) Meseraull was coming on the bottom but I thought he was telling me to get to the bottom. It worked out though, thanks to the great equipment we have which is possible because of Red Line Oil, Wirtgen, Hoosier Tires, and all of our sponsors." (More)
Lewis sprints to 100-lap Trigueiro Classic loot - By Bobby Gerould - Madera, CA. - August 21, 2004. …The biggest race of the year for the USAC Western States Sprint Car Series took place Saturday night at warm and breezy Madera Speedway. The "Trigueiro Classic" honored the family that has produced winning race cars in Central California for 45 years. Appropriately it was the Larry Trigueiro Jr. wrenched Western Speed Racing #40 driven by Michael Lewis that emerged victorious in the 100-lap race. Lewis withheld a late challenge from teammate Tony Hunt by slicing through traffic with a surgeon's precision. "The car was awesome", said Lewis after his fifth win of the 2004 USAC Western States season. "To run 100-laps with a perfect car is unbelievable." (read it all)
Lewis is hot! Four for six in USAC Western States - By Bobby Gerould - July 17, 2004 - Monroe, WA. …To say Michael Lewis was dominant would be a huge understatement. The Noblesville, IN. pilot lapped up to sixth place in the 40-lap feature race at Evergreen Speedway Saturday evening. The victory in the United States Auto Club Western States Sprint Car Series was the fourth of the year for Lewis. Considering there have been only a half-dozen races so far this season, you could call Lewis red-hot! (more)
Lewis scores at South Sound - By Bobby Gerould - July 16, 2004 - Tenino, WA. …Beautiful weather and 28 United States Auto Club Western States sprint cars invaded South Sound Speedway Friday night. At the conclusion of the 40-lap feature event Michael Lewis, the defending series champion stood in the winner's circle after a non-stop drive on the 3/8's-mile paved oval. (more)
Michael Lewis a USAC Western States Flash at Madera - By Bobby Gerould - April 24, 2004 - Madera, CA. …Noblesville Indiana is the home of Michael Lewis but he has been making a living at Madera Speedway. For the second time in two tries this month, Lewis walked away with USAC cash in Central California. This time Lewis backed up his Midget win of 14 days ago with a strong run on the Madera pavement in a Western States sprint car. (more)
Michael Lewis Endures for 100 Lap USAC Western States Cash - By Bobby Gerould - Madera, CA. 04/10/04 …The United States Auto Club Western States and Bay Cities Racing Association came together for the 2nd Annual Fred Gerhardt Classic for midgets Saturday night. Under breezy conditions the speedy cars took to the one-third mile paved oval Madera Speedway for a 100-lap 'throwback' style race. Michael Lewis of Noblesville, Indiana walked away with the $3,000 winner's share after leading every lap of a caution filled endurance test. "When the car is as good as it was tonight, our job is easy", said Lewis from the winner's circle. "The guys that work on this Western Speed Racing #40 put in so many hours. 100 laps was hectic but there is not anywhere I'd rather be." (More)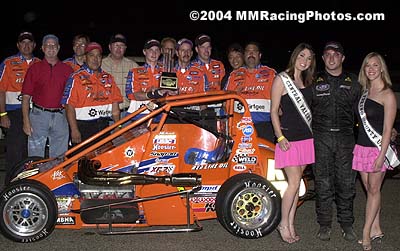 Michael Lewis was the winner of the 100-Lap midget contest at Madera Speedway in Madera, California, Saturday night.
...One of the dumb things I like to do is write the headline for a feature event before the race actually runs. I don't publish it. I just do it to gauge how my senses are operating. At Madera, Saturday, prior to midget qualifying I jotted onto the laptop, Michael Lewis Endures for 100 Lap USAC Western States Cash. That is exactly what happened. The race stopped often with a flurry of caution flags, and Lewis made it look easy.
Spring 2004: ...Michael Lewis is really good. Duh. I knew that too but when you see a guy handle traffic, and restarts, and look as smooth and fast as Lewis does, you appreciate him.
Lewis Madera Midget Flyer - By Dick Jordan - 09/20/03 ...Michael Lewis of Noblesville, Ind. won Saturday night's 50-lap 32nd "Harvest Classic 150" USAC/BCRA Western Midget Car race at Madera (Calif.) Speedway. He caught Marc DeBeaumont on lap 10 and led the rest of the way to beat Johnny Rodriguez, Jerome Rodela, DeBeaumont and Pete Davis. (read more)