Bumgarner Steals Tucson Win - By Bobby Gerould - 06/12/04 - Tucson, AZ. - Brad Bumgarner celebrated his 22nd birthday in style with a last lap, last corner pass of Brian McClish to win the United States Auto Club Western States Sprint Car feature event Saturday night at hot Tucson Raceway Park. (Read More)
HammerDown! Race Gear online store.
OPEN NOW. OPEN ALWAYS.
---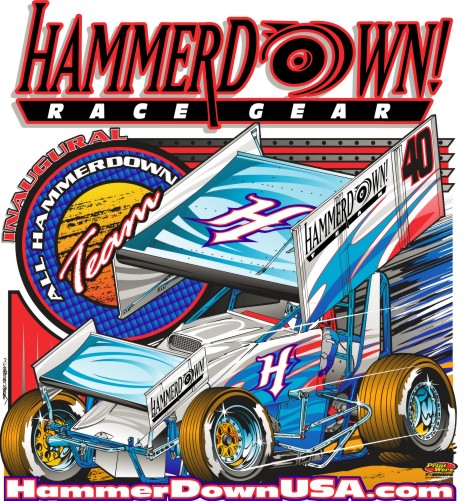 Images
Latest Projects:
Yearbook Headlines - ...Another HammerDown! "work-in-progress" that we enjoy sharing with our readers. Please check back often, as each year will be updated further.
25 Greatest Sprint Car Drivers of All-time
40 Most Exciting Drivers in NARC History
---
HammerDown! Race Gear
Always open.
Bumgarner, Hunt and Lewis Ready for Tucson - By Bobby Gerould, June 9, 2004. Fair Oaks, CA. …Race number four in the 15-event United States Auto Club (USAC) Western States Sprint Car Series is ready to rumble this Saturday at Tucson Raceway Park in Arizona. Practice will start at 4:00 PM on the 3/8's mile paved oval. The night will be capped with a 40-lap main event for the colorful and fast wingless sprinters. (More)
Spring 2004 ......Brad Bumgarner put the HammerDown! in the family #88. Brad grew up around a lot of really good drivers that steered his grandpa's winged sprinter. After a win in the semi-main, Brad was one of the fast guys in the feature and ended up fourth.