O'Reilly World of Outlaws Perris Auto Speedway February 22, 2003
Qualifying 1) Danny Lasoski, Stewart 20, 14.106 2) Brian Paulus, P&P Motorsports 28, 14.362 3) Brad Furr, Furr Racing 2, 14.373 4) Sammy Swindell, Roth 1, 14.384 5) Daryn Pittman, Sher-Don Motorsports 21, 14.450 6) Tim Kaeding, Cowen 7T, 14.457 7) Shane Stewart, MIN 4M, 14.462 8) Joey Saldana, Saldana 17, 14.475 9) Steve Kinser, Kinser 11, 14.485 10) Jason Sides, Hunting Catalog 7S, 14.492 11) Jac Haudenschild, Forbrook 5, 14.508 12) Dennis Moore, Jr., Williams 0, 14.580 13) Jeff Shepard, Helm 11H, 14.610 14) Tim Shaffer, Roth 83, 14.645 15) Doug Lippincott, Lippincott 4L, 14.721 16) Craig Dollansky, Karavan 7, 14.722 17) Calvin Landis, Landis 70, 14.746 18) Randy Hannagan, TH Racing 1X, 14.770 19) Toni Lutar, Lutar 4X, 14.773 20) Donny Schatz, Schatz 15, 14.824 21) Mark Kinser, Kinser 5M, 14.840 22) Jonathan Allard, Wright 35, 14.922 23) Jeremy Campbell, Campbell 10C, 15.012 24) Brian Coelho, Coelho 5C, 15.015 25) Willie Hernandez, Hernandez 1M, 15.225 26) Jason York, York 25, 15.763 27) Buddy Earle, Earle 95, 16.288 28) Randy Waitman, Waitman 69, 16.668
First Heat Race (8 laps, top 6 finishers transferred to A-feature)--1) Randy Hannagan 2) Jeff Shepard 3) Dennis Moore, Jr. 4) Danny Lasoski 5) Shane Stewart 6) Toni Lutar 7) Willie Hernandez 8) Tim Kaeding 9) Jonathan Allard
Second Heat Race (8 laps, top 6 finishers transferred to A-feature)--1) Calvin Landis 2) Jac Haudenschild 3) Tim Shaffer 4) Brian Paulus 5) Daryn Pittman 6) Joey Saldana 7) Donny Schatz 8) Jeremy Campbell 9) Jason York
Third Heat Race (8 laps, top 6 finishers transferred to A-feature)--1) Craig Dollansky 2) Jason Sides 3) Brad Furr 4) Steve Kinser 5) Sammy Swindell 6) Doug Lippincott 7) Mark Kinser 8) Brian Coelho 9) Randy Waitman 10) Buddy Earle
First Dash (5 laps, finishing order determined inside first 8 rows of A-feature)--1) Danny Lasoski 2) Brad Furr 3) Joey Saldana 4) Daryn Pittman 5) Tim Shaffer 6) Dennis Moore, Jr. 7) Craig Dollansky 8) Jason Sides
Second Dash (5 laps, finishing order determined outside first 8 rows of A-feature)—1) Sammy Swindell 2) Brian Paulus 3) Jac Haudenschild 4) Steve Kinser 5) Shane Stewart 6) Jeff Shepard 7) Doug Lippincott 8) Calvin Landis
B-main (12 laps, top 6 finishers transferred to A-feature)—1) Tim Kaeding 2) Donny Schatz 3) Mark Kinser 4) Brian Coelho 5) Jonathan Allard 6) Jeremy Campbell 7) Jason York 8) Willie Hernandez 9) Buddy Earle 10) Randy Waitman
A-main (30 laps)--1) Danny Lasoski 2) Brad Furr 3) Jac Haudenschild 4) Brian Paulus 5) Steve Kinser 6) Joey Saldana 7) Daryn Pittman 8) Craig Dollansky 9) Tim Shaffer 10) Shane Stewart 11) Jeff Shepard 12) Dennis Moore, Jr. 13) Jason Sides 14) Calvin Landis 15) Sammy Swindell 16) Donny Schatz 17) Mark Kinser 18) Randy Hannagan 19) Doug Lippincott 20) Brian Coelho 21) Jeremy Campbell 22) Tim Kaeding 23) Toni Lutar 24) Jonathan Allard
Lap leaders: Sammy Swindell 1-5, Danny Lasoski 6-30
Notes: Brad Furr changed engines after qualifying. Jonathan Allard and Tim Kaeding tangled at the start of the first heat race, with Allard getting upside down in turn 4. Neither driver was able to resart.
A-main Lap 1—Sammy Swindell got the jump off of turn 4 to take the lead. Jac Haudenschild passed Brian Paulus for 4th low exiting turn 4
Lap 4—Traffic. Sammy Swindell's lead 8 carlengths over Danny Lasoski
Lap 5—Brian Coelho and Jonathan Allard tangled in front of leader Sammy Swindell. Swindell did a 360 degree spin and dropped to 7th, giving the lead to Danny Lasoski. With 5 laps complete, caution for Sammy Swindell, who spun and stopped in turn 4. Swindell restarted.
Lap 8—Caution for Jonathan Allard, who stopped in turn 2 with brake problems. Allard pitted for repairs, and restarted.
Lap 12—Trafic. Danny Lasoski's lead 10 carlengths over Brad Furr. Shane Stewart took 7th from Daryn Pittman on the top in 3&4
Lap 14—Heavy traffic. Danny Lasoski's lead 5 carlengths
Lap 19—Shane Stewart took 6th from Steve Kinser on the top exiting turn 2
Lap 20—Steve Kinser passed Shane Stewart for 6th low in 1&2
Lap 22—Steve Kinser got by Joey Saldana for 5th low exiting turn 4
Lap 27—Craig Dollansky and Tim Shaffer got by Shane Stewart low in 1&2, with Craig Dollansky taking 8th, Tim Shaffer 9th, and Shane Stewart 10th
Lap 30—Danny Lasoski won by a straightaway
NEW!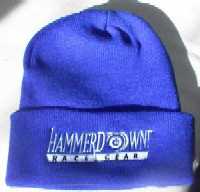 Royal Blue HammerDown! Beanies! $14.99 - BUY NOW!