HammerDown! Race Gear online store.
OPEN NOW. OPEN ALWAYS.
---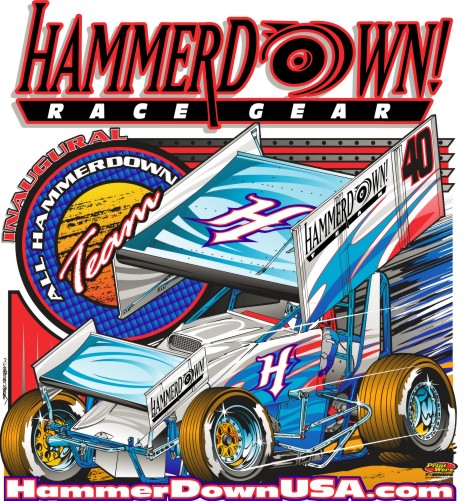 Images
Latest Projects:
Yearbook Headlines - ...Another HammerDown! "work-in-progress" that we enjoy sharing with our readers. Please check back often, as each year will be updated further.
25 Greatest Sprint Car Drivers of All-time
40 Most Exciting Drivers in NARC History
---
HammerDown! Race Gear
Always open.
Wally Pankratz
Pankratz to run as Rip Williams teammate - By Scott Daloisio - Perris, CA. 09/16/05 - When Temecula Valley Pipe & Supply presents the Valvoline USAC/CRA Sprint Cars at Perris Auto Speedway on Saturday night, west coast open wheel legends Wally Pankratz and defending USAC/CRA champion and current point leader Rip Williams will be teammates on the famous John Jory Corporation team. Pankratz will drive a black #3X that normally serves as a back up car for Williams. The Orange, California veteran, who turned 60 at the end of August, won the 2000 USAC Western States Midget Championship. The 2005 season has been Pankratz' farewell tour and he will retire after the running of the Turkey Night Grand Prix at the Irwindale Speedway on Thanksgiving Night. "Wally Pankratz is a good friend of mine," Williams said by telephone on Friday afternoon. "We just got the car finished for him to race with us on Saturday. I am looking forward to it." (More)

---

...Wally Pankratz made his 400th USAC Western Midget Car feature start Saturday night but was the first to exit the race. He had flipped during the opening heat race.