HammerDown! Race Gear online store.
OPEN NOW. OPEN ALWAYS.
---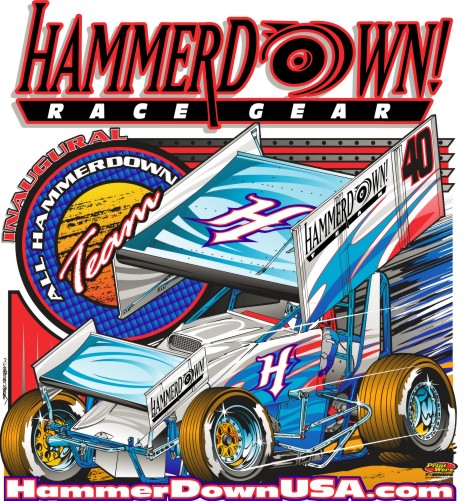 Images
Latest Projects:
Yearbook Headlines - ...Another HammerDown! "work-in-progress" that we enjoy sharing with our readers. Please check back often, as each year will be updated further.
25 Greatest Sprint Car Drivers of All-time
40 Most Exciting Drivers in NARC History
---
HammerDown! Race Gear
Always open.
DRIVERS
Mike Hubert III
...Mike Hubert III won the BCRA Midget race at Placerville Saturday. The 16 year-old now leads the points for the traveling series. "This is our third race out, but our first race on the dirt tonight and we we're struggling a bit earlier tonight," said Hubert. "My team and family put an awesome car together for me and I guess tonight it was just a case where I had to hang on to it the whole night."

...We enjoyed watching Michael Hubert III, a 16 year-old that looked like a pro racer on his way to a ninth place finish. He attacked the track.