World of Outlaws 25th Anniversary

Las Vegas Motor Speedway

TONIGHT! Thursday, February 28, 2002. Race #3.

We are receiving live reports via cell phone from our main man, Steve Gomez. We will post news and results as soon as we get the call.

Steve reports at 10:13 PM

Johnny Herrera wins. First race out for the new Maxim shod, Wilburn team.
The finish. 1. Herrera, 2. Swindell, 3. Pittman, 4. S. Kinser, 5. Haudenschild, 6. Saldana, 7. Brad Furr
Randy Hannagan finished 9th
Stevie Smith finished 10th.
Jeff Hodgson hit tires and flipped.

Steve reports at 9:58 PM

A-Main RUNNING - RED FLAG on lap 21. In heavy traffic, Dollansky got sideways, and collected second place running Lasoski, and 4th place Mark Kinser. Dollanksy flipped. All drivers okay.
Running order with 4 laps to go: 1. Herrera, 2. Daryn Pittman, 3. Swindell, 4. Steve Kinser, 5. Jac Haudenschild, 6. Joey Saldana
Donny Schatz flipped on opening lap of A-Main, junking a car after after hitting the unforgiving Vegas concrete.

Steve reports at 9:43 PM

A-Main RUNNING
Lap 14 - RED FLAG - Paulis was running 4th when he flipped.
Craig Dollansky has led every lap so far. He was passed by Danny Lasoski as the red came out for Paulis. The prelim feature is scheduled for 25 laps.
Running order at lap 14 RED - 1. Dollansky, 2. Lasoski, 3. Johnny Herrera (Wilburn #2w), 4. Mark Kinser, 5. Sammy Swindell.
It took 6 laps to get to traffic.

Steve reports at 9:15 PM

B-Main is over.
Brian Paulis set quick time, Craig Dollansky was second quick, Mark Kinser 3rd quick.
39 cars in the pits for the 3 day show.
Weather is getting chilly after a high of 77 degrees this afternoon in Vegas.
15 of the top 16 qualifiers made it through ther heat races
First Dash was won by Paulis
Mark Kinser was leading the second dash but broke something in his motor.
The crowd is sparse.
Jimmy Carter crashed into the wall after Jac Haudenschild made contact with him. Carter's car was destroyed but he pulled out a backup car.
Randy Hannagan is racing with a heavy heart after his brother Jimmy died Tuesday due to illness.
Roth Motorsports told Steve that Sammy Swindell will race the Mini Gold Cup at Chico next weekend.

Back to HammerDownUSA.com FRONT PAGE

HammerDown! Race Gear - LOOK!
Positivity by Bobby Gerould
Yearbook Headlines - (This is another HammerDown! "work-in-progress" that we enjoy sharing with our readers. Please check back often, as each year will be updated further in the coming days)
25 Greatest Sprint Car Drivers of All-time
40 Most Exciting NARC Drivers of All-time
HammerDownUSA.com is the ONLY place to get HammerDown! Race Gear.
Hats / Beanies / Baseball Shirts / Custom Sweatshirts / Tee-shirts SAVE!
BIG KAHONE CLUB T-SHIRTS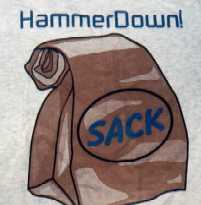 $9
WHILE SUPPLIES LAST