HammerDown! Race Gear online store.
OPEN NOW. OPEN ALWAYS.
---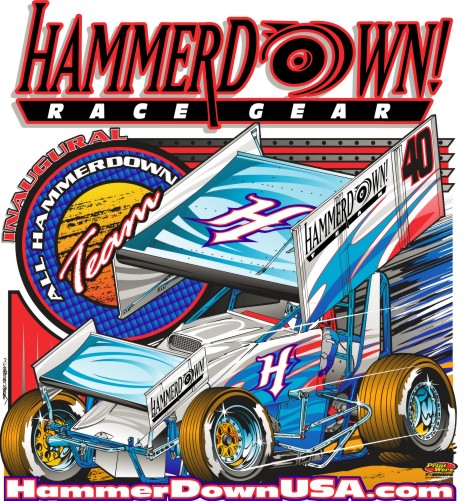 Images
Latest Projects:
Yearbook Headlines - ...Another HammerDown! "work-in-progress" that we enjoy sharing with our readers. Please check back often, as each year will be updated further.
25 Greatest Sprint Car Drivers of All-time
40 Most Exciting Drivers in NARC History
---
HammerDown! Race Gear
Always open.
DRIVERS
Destiney Hays
Destiney Hays powers to Las Vegas Bullring USAC win - HD Staff, 10/16/04 - Las Vegas, NV. ...Oroville California's Destiney Hays won her first USAC Western States Sprint Car feature event Saturday night at the Las Vegas Motor Speedway Bullring. The 21 year-old led laps 21-40 to win over Robert Beck, Michael Trimble, Brian McClish, and Jimmy Waters. Tony Hunt finished sixth and moved back into the points lead. Michael Lewis, the defending series champion finished 17th. (More)

...Oroville's Destiny Hays was quick qualifier on night number one of Chico's Fall Nationals. She earned the top spot with a time of 12.270.