World of Outlaws 25th Anniversary

Las Vegas Motor Speedway

TONIGHT! Saturday, March 2, 2002. Race #5.

We are receiving live reports via cell phone from Steve Gomez, and Mike Zieske. We will post news and results as soon as we get the call.

Mike Z. reports at 9:18 PM

A-Main RESULTS - (up to 12th) 1. S. Kinser, 2. Saldana, 3. Mark Kinser, 4. Stevie Smith, 5. Danny Lasoski, 6. Johnny Herrera 7. Schatz, 8. Meyers, 9. Shaffer, 10. Dollansky, 11. Sammy Swindell, 12. Paulis
No yellows after lap 11.
Sammy charged back to 11th.
Good racing!
Major slide jobs. Better race than last night. Track was fast and racey.
Off to Casinos - up at 8 AM for NASCAR action.

Steve reports at 9:15 PM

A-Main results: 1. S. Kinser, 2. Saldana, 3. Mark Kinser, 4. Stevie Smith, 5. Danny Lasoski, 6. Johnny Herrera

Mike Z reports at 9:08 PM

A-Main Running
Under Yellow - Lap 11.
Sammy Swindell running 2nd has a flat left front. Pulled in to change, and is coming back out now.
Steve slid Sammy for the lead - Mike Z. says, "Sick race."
Steve and Sammy pulled away.
Running Order: with 11 down, 19 to go: 1. S. Kinser, (3 lapped cars) - 2. Joey Saldana, 3. Mark Kinser, 4. Stevie Smith, 5. Tim Shaffer, 6. Johnny Herrera, 7. Jason Meyers, 8. Lasoski, 9. Haudenschild, 10. Schatz, 11. Dollansky

Steve reports at 9:01

A-Main Running
RED Flag lap 11 - Pittman flipped running 7th on lap 11. He is okay.
Steve passed Sammy and drove away. Good race from 3rd to sixth.
Tim Shaffer looks strong.
Sammy has a flat Left Front.
Danny Lasoski has fallen to back of pack.

Mike Z. reports at 8:54 PM

More on the B-Main...
Lawrence Edlund was 4th.,
Stephen Allard was 5th - did not transfer.
Lutar was leading B-main when #47 spun in front of him and he (Lutar) tipped over. Lutar pushed off and restarted but pulled into pits.
A-Main is lining up

HammerDown! Editor:

Temperature is now 43* at Las Vegas Motor Speedway.
LVMS has produced surprise winners in past races. Last year, Danny Wood won from 17th starting position on a prelim night.
In 1997, Jeff Swindell came through the B-main to win the A-main at LVMS.

Steve reports at 8:38 PM:

B-Main results: 1. Logan, 2. Faria, 3. Tarlton
Six minutes until A-main pushes off.

Mike Z. reports at 8:15 PM:

Dash results - 1. Swindell, 2. S. Kinser, 3. M. Kinser, 4. Saldana, 5. Pittman, 6. Herrera. ...14.033 -
During the dash, Sammy turned the 2nd fastest lap ever run at LVMS, a 14.033.
Sammy says, "I stepped into a pretty potent Beef Packers car. I just added some direction".

Mike Z. reports at 8:00 PM:

Heat Results:
Heat 1 - 1. Joey Saldana 2. Tim Shaffer, 3. Donny Schatz, 4. Randy Hannagan, 5. Jaime Barnes, 6. Toni Lutar
Heat 2. - 1. Johnny Herrera, 2. Jac Haudenschild, 3. Danny Lasoski, 4. Troy Murphy, 5. Tommy Tarlton
Heat 3. - 1. Brad Furr, 2. Steve Smith, 3. Craig Dollansky, 4. Calvis Landis, 5. Mike Faria, 6. Jimmy Carter. (Furr ran a 14.0 second lap in his heat, which is not far from the Vegas track record)
Heat 4 - 1. Jason Meyers 2. Danny Wood, 3. Brian Paulis, 4. Brian Coelho, 5. Ricky Logan, 6. Patrick Bourke
Uneventful heats. Narrow, follow the leader, track so far. Really fast.
Not as cold becuase the wind isn't as bad.
Herrera and Saldana are the two to join the dash.

HammerDown! Editor:

According to weather.com, the current temperature at Nellis Air Force Base is 46*. Nellis is directly adjacent to the track.

Steve reports at 7:18 PM

Tonights's Format: 4 heats - Heats are lined up by points from the first two preliminary nights of racing. Top four finishers in each heat transfer to the A-Main. The top four drivers in points from the first two nights do not have to run a heat. Those drivers are:

1. #83jr. Sammy Swindell
2. #11 Steve Kinser
3. #5m Mark Kinser
4. #21 Daryn Pittman

The dash will feature the top four drivers listed above, plus the next two highest point guys that make it through their heats.
Steve can see cars leaving still from the Busch race.
Once again it is cold.
Hot Laps are finished. Heats are getting ready to start.
The front chute grandstand is full and turn 4 bleachers are packed as well. The only place left to sit is on the back chute pit grandstands.
Back to HammerDownUSA.com FRONT PAGE

HammerDown! Race Gear - LOOK!
Positivity by Bobby Gerould
Yearbook Headlines - (This is another HammerDown! "work-in-progress" that we enjoy sharing with our readers. Please check back often, as each year will be updated further in the coming days)
25 Greatest Sprint Car Drivers of All-time
40 Most Exciting NARC Drivers of All-time
HammerDownUSA.com is the ONLY place to get HammerDown! Race Gear.
Hats / Beanies / Baseball Shirts / Custom Sweatshirts / Tee-shirts SAVE!
BIG KAHONE CLUB T-SHIRTS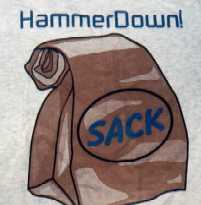 $9
WHILE SUPPLIES LAST