HammerDown! Race Gear Beanies - $14.99
25 Greatest Sprint Car Drivers of all-time.
Yearbook Headlines:
Images 1, 2, 3, 4, 5, 6, 7, 8, 9,
Positivity - By Bobby Gerould

HammerDown! Race Gear Beanies - $14.99
Old School DRIVERS
Dave Bradway JR.
...The Dave Bradway JR. Memorial race is getting a boost as usual due to the efforts of race fans, Dave and Diane Durica. The Saturday night race in Chico has 52 laps sponsored at $100.00 each. Also, The HoserVilleCa.com fan group is sponsoring the heat races. Trophies and an assortment of racing parts will be awarded to the winning drivers. Each heat race winner will receive a gift certificate for a right rear tire and front nose wing from Kaeding Performance Center, a $100 gift certificate from Spintech (mufflers), and a trophy. The presentation will be on the front straight after each heat race. After the presentation the driver will take the trophy to the stands and give it to a child.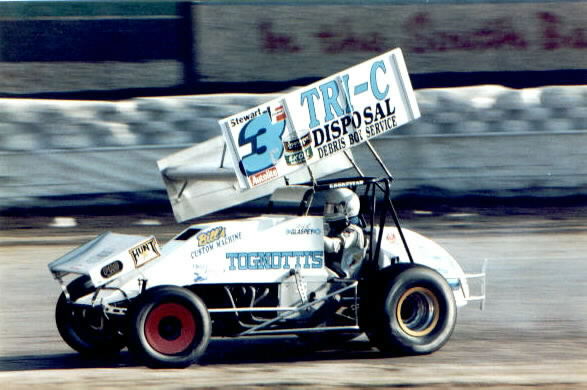 ...We hollered at Jeff Bradway for his recollections of his brother, the late, Dave Bradway Jr's first win at Calistoga Speedway. Jeff replied quickly, saying,

"I definitely remember. He was driving for Mike Murphy in the #5 Tognotti. That was a pretty interesting car to me. It was originally owned by KW (Kenny Woodruff). It was one of those (Rick) Ferkel designed Tognotti cars. Woodruff sent the car to Trostle and he cut the front and back of it off, and changed all the bar heights. KW ran the car most of year ('78 or '79 I think?) and then Rich Taylor bought it to run for awhile. Murphy got it from him and ran it in '82 until Dave started driving it in July. The car was later sold to Larry Perry who was a good friend of Dave and myself. I used to wrench on the car when Larry drove it for Friday night shows at Chico. I still remember where I was when I heard about Dave's win at Calistoga, I was at Knoxville for the Nationals on the Sunday night rain delayed feature. Sheila Ross walked up to me and told me about Dave's win. I was real happy for him because he had a rough summer driving for Jack McAfee. That was the summer where he landed upside down in the turn 4 sewer pond at Calistoga. He had many rough nights at that track that year. He ended up getting upside down twice on the 4th of July weekend there and Jack fired him after the Sunday night crash. The next day on Monday, he went to Baylands in his first time in Murphy's car and finished 2nd. He led 3/4 of the race and his neck was so sore from the earlier flips that weekend, that he just couldn't hold on. About Knoxville, do you remember the name of the guy who gave me an early wake up call while I was sleeping in Cheryl Glass' trailer at the track?"