This question is simple. Which driver that is no longer active would you like to see HammerDown! generate more information on? You may cast your vote in the HammerDown! Hero of the Past poll.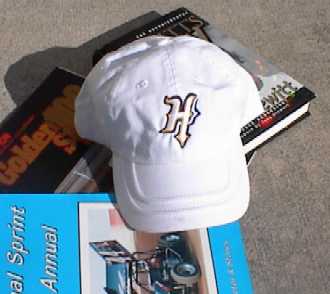 Art Spaulding Photography Portfolio
We finally finished the 2002 HammerDown! Hundred listing of the 100 biggest sprint car, midget, or champ-dirt car races. Check it out!
Featured Writers
Latest Projects:
Tangents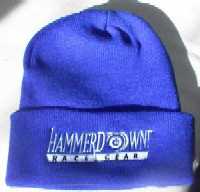 Good field of cars and great weather in Vegas. Roger Crockett flipped in warm ups. He is okay. 33 cars. Craig Dollansky was quick-timer. Heat wins to Brian Paulus, Kraig Kinser, Randy Hannagan, and Jason Sides. At the start of the first heat, Toni Lutar flipped wildly also getting Dollansky involved. However, Dollansky returned and transferred to the Main Event. Several top drivers did not transfer through their heats and will have to run the B-Main. They include Danny Lasoski, Terry McCarl, and Paul McMahan. ...First Dash taken by Sammy Swindell. Dollansky second, Steve Kinser third, followed by Sides, Kraig Kinser, Hannagan, Erin Crocker, and Jon Allard. Second Dash was won by Paulus. Tim Shaffer was runner-up, Shane Stewart third, Donny Schatz fourth, followed by Daryn Pittman, Joey Saldana, Dennis Moore Jr., and Dean Jacobs. ...B-Main won by Lasoski. Also transfering Paul McMahan, Terry McCarl, and Jeff Hodgson.

A-Main - Green Flag - Sammy Swindell leads lap one.

Lap 2 - CAUTION - Saldana spins with flat left rear in turn two. Also Jason Meyers had damge to the left front wheel, and drag link. ...Shane Stewart looks fast. Sammy will lead the restart over Paulus, Shaffer, Stewart, and Dollansky.
RESTART Lap TWO - Stewart by Shaffer for third.
Lap 4 - Shaffer gets him back. Schatz by Steve Kinser for fifth.
Lap 7 - Sammy leads in traffic. Shaffer second.
RED FLAG - Donny Schatz flipped in turn one. He is okay. Schatz dicing with S. Kinser for position ran over a a lapped car's wheel, and flipped. 8 laps down. 17 to go.
RESTART - Lap 9 - Sammy takes off.
Lap 11 - Daryn Pittmanmoving up. He is now 7th.
Lap 12 - Dollansky and Shaffer swap third twice.
Lap 13 - Sammy in traffic. Paulus still second. Shaffer third.
Lap 15 - Sammy smoking but still leading.
Lap 16 - CAUTION. Sammy's #83JR. up in smoke. Lead goes to Brian Paulus. Top ten at lap 16 restart will be Paulus, Dollanksy, S. Kinser, Stewart, Shaffer, Pittman, McMahan, Lasoski, Tyler Walker, and Dennis Moore Jr.
Lap 17 - Walker started 23rd, now up to 8th.
Lap 18 - Walker by McMahan for seventh.
Lap 19 - Ten car lengths seperate top three. Paulus, Dollansky, and Steve.
Lap 21 - Dollansky gaining on Paulus. TRAFFIC!
CAUTION - Shane Stewart into the wall in turn three and four. He has a flat left rear. He was running fifth. 23 laps down. Steve got by Dollansky. Walker is up to sixth! Can Paulus hold back the King? Stewart will not return.

Lap 23 RESTART Upcoming. 28, 11, 7, 83, (16), 21, 5, 20, 11h, 7s, 2.

FINISH - Steve Kinser wins. Dollansky 2nd, Paulus 3rd. Shaffer fourth, Lasoski fifth.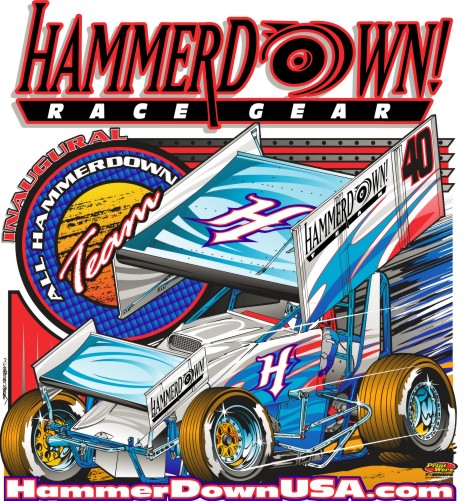 HammerDown! T-Shirts at the E-Store